LF2 basketball 2012-2013
Back to 14 teams

The information of the week concerning LF2 basketball for 2012-2013 is that the clubs Etoile de Voiron and SO Armentières have been reintegrated into the championship to simplify the weekly regular season standings calculation.
This implies that the 12 active teams are awarded a 20-0 victory and 2 points during the week of the cancelled games.
Trouvez en bas du page des informations en français sur la 3ième journée en L2F.

This round started in mid week with the final game from round 1 in which US Laveyron made light work of the CFBB (85-43).

Shenita Landry led the way with a double-double of 23 points and 11 rebounds while Elena Vishnyakova added 21 points.
For the CFBB Fleur Devillers was the top scorer with 14 points.
Laveyron's second game of the week was away visiting COB Calais and coming off second best (69-73).
Calais raced off to a (12-1) lead after four minutes and dominated the first quarter (23-12) but went to sleep during the second quarter and were lucky to get into the locker room leading (39-37).
Calais did most of their work inside the paint but it was their captain Aurélie Cibert that got them out of jail with her 17 points, 4 assists and 4 steals.

Angers are not as new to LF2 basketball as people think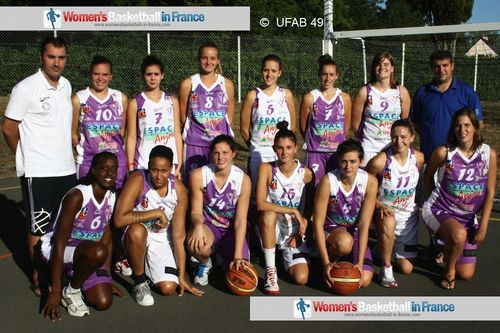 Angers (UFAB49) have a roster full of former youth internationals, CFBB and Bourges Basket youth players.
Carine Brossais was playing for Nantes-Rezé (2008-2009) in the LFB but decided for educational reasons to join Angers in 2009.
Camille Aubert who was at the CFBB with Brossais joined the club this season with the ambition of rediscovering the joy of playing basketball after three years of injury set backs. The third player from the CFBB class of 2009 also new for this season is Carole Leclair.
In addition Sophie Le Marrec and Aurélie Favre from the 91 age group joined, both having played at Bourges Basket while Elise Prodhomme who played at Rennes is also a former youth international.
This weekend Angers pushed aside Léon Tregor (73-49) with nobody playing more than 26 minutes and all 10 players scoring. They restricted Oumou Kalsoum Touré to just 8 points and 8 rebounds.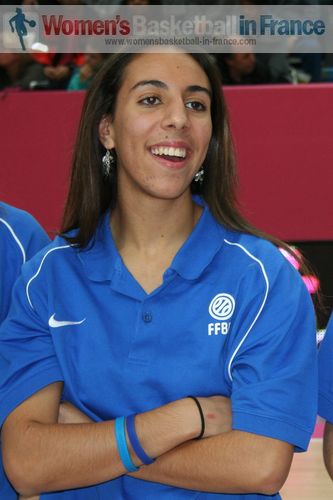 The rest of the LF2 basketball news:
Last week Roche Vendée lost Gabriela Kubatova for the season when she tore her ACL against Cavigal Nice. She has been replaced by Sabrine Bouzenna (in picture) for the rest of the season.
However Bouzenna's presence did not help Roche Vendée as they fell on the road to Reims BF (68-73). Emmanuelle Gorjeu who is in her first season at Reims fired in 23 points for the hosts.

Limoges did not play well for the first 35 minutes which allowed their guests Pau Lacq Orthez to build up a 21-point lead. Limoges had the best of the last five minutes but once again they came out second best (55-69).
Illkirch-Graffenstaden (SIG) were beaten at home against Cavigal Nice (54-81). The SIG conceded 25 points from 23 turnovers, telling us more or less the story of the match.
The results of the LF2 basketball weekend:
Limoges 55-69 Pau Lacq Orthez
COB Calais 73-69 US Laveyron
Reims 73-68 Roche Vendée
Angers 73-49 Léon Trégor
Illkirch-Graffenstaden 54-81 Cavigal Nice
---
N'oublions jamais
les deux équipes forfaitaires

En mi-semaine la journée 1 se termine avec une victoire facile de US Laveyron contre la CFBB (85-43). Par contre à la fin de la semaine en journée 3, US Laveyron échoue dans sa mission de remporter une victoire sur le parquet de COB Calais (69-73).

Le weekend montre que pour cette saison le promu d'Angers a plus que le maintien en tête. En regardant plus près, cette formation se présente avec des joueuses d'expérience en LFB et/ou sur la scène internationale, venant de la CFBB et de Bourges Basket en comptant Camille Aubert, Carine Brossais (dans l'image), Carole Leclair et encore Sophie Le Marrec, Aurélie Favre et Elise Prodhomme.
Donc ce n'est pas étonnant de voir un des favoris en LF2, Léon Trégor vaciller et tomber sous son adversaire (49-73).
Et l'autre promu de NF2, Pau Lacq Orthez domine Limoges (69-55) quoique Reims s'impose contre Roche Vendée (73-68) avec Emmanuelle Gorjeu contribuant 23 points pour l'équipe gagnante.
Illkirch-Graffenstaden souffre à nouveau une défaite. La formation alsacienne succombe face à un club ambitieux Nice (54-81).

Et les deux formations supprimées, Voiron et Armentières sont réintégrées afin que chaque équipe active est accordée une 20-0 victoire pour chaque forfait et les 2 points.


---
Visit our home page
Visit our "What's New" page
Visit our LF2 Basketball 2012-2013 page

picture credits:
womensbasketball-in-france.com
UFAB 49
FFBB

Date created: 15 October 2012


Like this page / Aimez cette page