Célia Mauler's view on
playing basketball and studying
In the second of our series on playing basketball and studying, womensbasketball-in-france.com catch up with Célia Mauler from Illkirch-Graffenstaden.
Trouvez en bas de page la vidéo et un résumé sur Célia Mauler en français.
She is 19 years old and has been an active basketball player since she was 5. She followed the standard path for the best players from the 1993 generation in the Alsace by representing her region in youth competitions (Bas-Rhin and Alsace).
After a short passage at the now defunct Racing club de Strasbourg, she joined the SIG (today Illkirch-Graffenstaden) in 2006.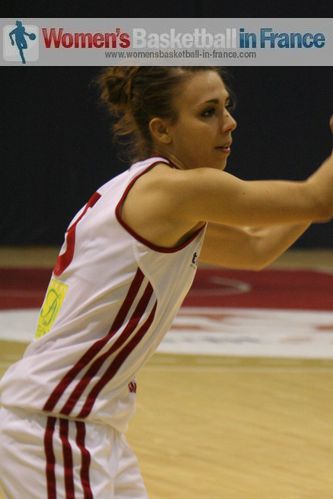 In 2008 she was a member of the SIG U15 dream team that included  Sabrina Bouzenna, Jodie Cornelie, Justine Jeannelle, Céline Pflister and Fatim Traore that became French Champions for the first time in this age group.
She speaks about her playing career in our video interview.
In the second part of the interview she speaks about her education and the issues she had with successfully pursuing her basketball career and studying medicine at university. Today she is playing basketball and studying chemistry in harmony.
At the end of the interview Mauler speaks about her 34-point career night including seven three-pointers.

De Strasbourg à Strasbourg

La Strasbourgeoise Célia Mauler travaille dure. Elle commence le basket à 5 ans et à l'age de 12 ans, elle intègre l'équipe du Bas-Rhin pour après se qualifier pour l'équipe d'Alsace en se mesurant contre d'autres équipes régionales.
Elle reste fidèle à sa région et joint la SIG en 2006. A 19 ans, elle joue depuis quatre ans dans l'équipe 1 de Illkirch-Graffenstaden en L2F et en même temps étudie la chimie à l'université à Strasbourg.
Dans notre interview, Mauler nous dévoile comment elle réussit à jouer à un haut niveau et faire ses études. Elle reste positive par rapport à son futur et nous lui souhaitons une bonne continuation.

---
Like this page / Aimez cette page