Taelor Karr, an American playing for
Dunkerque Malo Basketball Club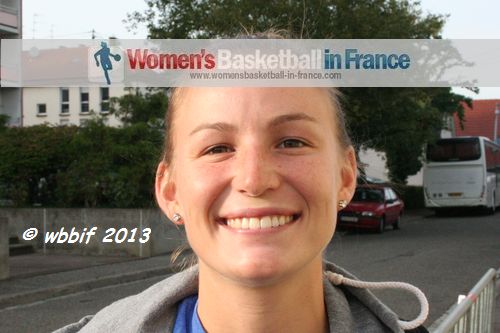 Dunkerque Malo Basket Ball Club (DMBC) in the Ligue Féminine 2 is the new home of Taelor Karr for the 2013-14 basketball season.
Karr who recently graduated from the University of Gonzanga (2013) with a degree in Business Administration and a concentration in Marketing is playing outside of America for the first time in her career.
Karr hooked up with womensbasketball-in-france for a one-on-one session on her transition from student-athlete to a full time professional basketball player.
Veuillez trouver en bas de la page des informations en français sur Taelor Karr qui joue pour la première fois en tant que professionelle.

Taelor Karr finished her university career with 1228 points, 389 assists while starting 122 games of the 131 played. She ended her last season with the West Coast Conference Player of the Year title.
As the video interview was conducted in English, this article only contains a brief summary in English about her below while the rest of the article is in French.
Karr explains at the beginning of the interview about her transfer from Kansas State University to the University of Gonzanga without having to sit out a year.
She then talks about all the things she never had to do while at College such as washing her own kit.
She also speaks about why she chose to come to France with the interview ending with her assessment of the team.
Une jeune Américaine à Dunkerque Malo

Taelor Karr, née dans l'état de Kansas (Paola), se lance dans sa carrière professionnelle au sein d'une équipe du nord de la France, Dunkerque Malo, sous les yeux vigilants de l'entraîneur Sébastien Devos.
Karr vient de terminer ses études supérieures à l'université de Gonzaga en Business Administration.
En tant qu'étudiante-athlète, elle a eu des mérites surtout dans sa dernière année en remportant le titre de la meilleure joueuse de West Coast Conference.
Elle avait un total de 1228 points, 389 passes décisives et était dans les cinq du départ dans 122 matchs de 131. Elle joue deux positions, celle de la meneuse et de l'arrière.

Au début de son interview elle compare sa situation actuelle avec celle de son équipe à l'université.
Elle se rend compte qu'il ne faut pas seulement s'adapter à des nouveaux règles de jeu en basket mais aussi à un autre style de vie, voir faire les choses soi-même comme laver ses vêtements du basket au lieu de les donner au coach.
N'ayant jamais quitté son pays natal, les États-Unis, elle doit aussi apprendre les règles de FIBA ce qui n' la décourage pas. Elle prend toutes les changements comme un apprentissage dans son statut de basketteuse.
Karr ajoute qu'elle commencera également à apprendre la langue française pour mieux s'intégrer à Dunkerque et au sein de l'équipe.
En plus, Karr définit la composition de son équipe équilibrée: les joueuses les plus expérimentées, les plus jeunes avec leur peps et celles comme elle qui sont entre les deux catégories qui apprennent ce métier avec envie.
---
Like this page / Aimez cette page