COB Calais' LF2 perfect record gone
Free throws so important this week

For the first time in the 2013-2014 LF2 season the top three suffered defeats during the same weekend. Charnay Basket's loss at home to promotion rivals Chartres leaves them in a difficult position at the wrong end of the table.

Veuillez trouver des informations en français sur la dix-huitième journée de L2F en 2013-14 en bas de la page.
For the first time this season a match from LF2 was broadcast live on television. Limoges ABC used the opportunity in the week leading up to women's day (8 March) by putting their game against third placed Pau Lacq-Orthez.
Limoges led for most of the game despite shooting poorly. However their ability to get to the free-throw line (23-of-31) secured the victory (68-66).
Pau made only 7 trips to the charity stripes of which they converted 5. Cyrielle Recoura fired in 20 points for the hosts while Brookilyn Pope helped herself to 20 rebounds and 15 points.

Emilienne Vidal finished with a double-double of 16 points and 10 rebounds for the visitors. Pau and Limoges remain in third and fourth place in the LF2 regular season standings.

The rest of the news from LF2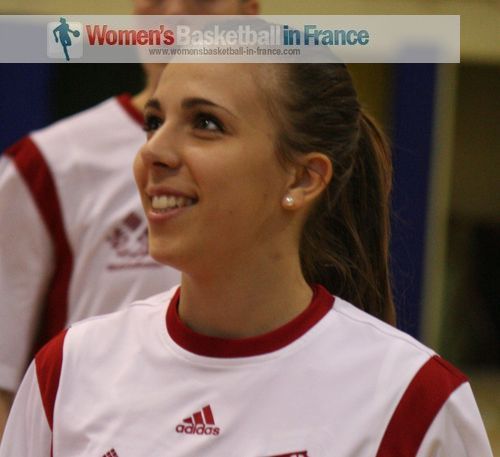 After 3 consecutive defeats Illkirch-Graffenstaden picked themselves up to overrun Dunkerque Malo (81-51). Célia Mauler (in picture) came off the bench and knocked down 18 points to lead her team to victory.
With five players in double digits the SIG's collective game was much better than the individualistic one of their opponents. Dace Pierre Joseph was the only player from Dunkerque in double digits with 20 points of which 11 came from the charity stripes.
Léon Trégor had no issues in seeing off the CFBB (77-46). The yongsters from the CFBB did not get to the foul line once in this match.
Illkirch-Graffenstaden and Léon Trégor find themselves in no man land in the LF2 regular season standings. They are 6th and 7th respectively, close enough to challenge for 4th place and yet just two games clear of the teams in the relegation zone.

Chartres pulled off an important road victory against Charnay (71-64). Chartres were aggressive and adventurous. They got to the free-throw line 31 times and converted 28. Magali Mendy was the game's top scorer with 19 points. Charnay also got to the free-throw line 27 times but only converted 23.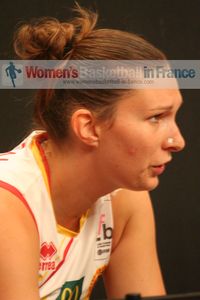 COB Calais hit their free throws (14-of-15) but with 4 three-pointers less than Perpignan Basket they ended up dropping their first game of the season (61-71). Fatou Dieng, Elodie Bertal (in picture) and Pauline Lo hit 19, 18 and 16 points respectively for the victors.
Jenny Fouasseau was the leading scorer for Calais with 17 points.  Despite the loss Calais' lead at the top remains the same. However Perpignan Basket are now a strong candidate for a place in the LF2 final four.
Reims never trailed and scored 27-from-30 free throws in holding off Roche Vendée (68-63).
Pauline Lithard was the best player on the free-throw line with a perfect 10-of-10. She finished with 16 points and 5 assists. Anaïs Jomby also scored 16 points. Roche Vendée's difficulties with the officials resulted in Gabriela Kubatova and Johanna Tayeau fouling out.

This victory allowed Reims to move out of the LF2 relegation zone and above their next opponents Aix-en-Provence.

Le Havre edged out Aix-en-Provence (65-62), a victory that pulls them out of the relegation battle and puts them back into the LF2 final four picture. Aix-en-Provence played much better basketball than their hosts. But they failed to stop Aïda Fall (10 points and 10 rebounds) and Sarah Ousfar (19 points) at the end of the match while Ljiljana Tomasevic helped herself to 9 assists.
---
La 18ième journée en L2F
Chartres et Reims remportent des victoires importantes

Les deux promus s'affrontent avec Chartres s'imposant contre son hôte pendant que Roche Vendée s'incline à Reims BF.
Le leader COB Calais, par contre, perd à domicile contre Perpignan Basket mais reste premier dans le tableau de classement.

Diffusé à la télévision, quatrième dans le classement Limoges ABC fait l'exploit à domicile pour battre le troisième placé Pau Lacq-Orthez (68-66).
Limoges manque de l'adresse mais mène pendant tout le match et gagne cette rencontre grace aux nombreux lancers francs (23 sur 31). Son adversaire convertit que 5 de ses 7 lancers francs.
Meilleures marqueses dans cette rencontre sont Cyrielle Recoura qui contribue 20 points à la victoire pendant que Brookilyn Pope a 20 rebonds et 15 points pour Pau et Emilienne Vidal a 16 points et 10 rebonds.
Après trois défaites d'affilées, Illkirch-Graffenstaden sort vainqueur triomphant contre Dunkerque Malo (81-51) avec une Célia Mauler en bonne forme (18 points) et encore quatre co-équipières marquant plus de 10 points: Aline Fischbach, Céline Schmitt, Louise Dambach et Amélie Voynet.
Seule Dace Pierre Joseph de l'équipe Nordistes essaie de se révolter avec 20 points (dont 11 points de ses lancers francs).
Léon Trégor se débarasse des jeunes joueuses de la CFBB (77-46) et reste septième au classement pendant que la SIG est sixième.
Après cinq défaites consécutives Chartres renoue avec la victoire en gagnant face à son hôte Charnay (71-64). C'est le succès à la ligne de lancer franc qui divise les deux équipes avec Chartres marquant 28 de ses 28 et Charnay que 23 de ses 27 essais.
Perpignan Basket affronte le leader COB Calais et gagne grace à son adresse au panier prime (61-71). Ce sont Fatou Dieng, Elodie Bertal et Pauline Lo qui mènent leur équipe avec 19, 18 et 16 points chacune pour Perpignan pendant que Jenny Fouasseau est la meilleure joueuse avec 17 points pour Calais.
Les 27 de 30 lancers francs réussis sauvent Reims qui gagne contre Roche Vendée (68-63).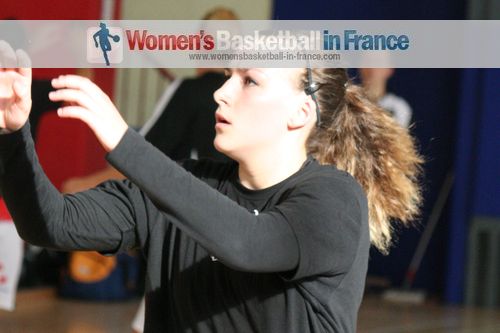 Pauline Lithard (16 points, 5 passes décisives - dans l'image) est parfaite aux lancers francs avec 10 sur 10 pendant que La Roche voit deux joueuses sorties pour 5 fautes: Gabriela Kubatova et Johanna Tayeau.

Cette victoire permet à Reims de sortir de la zone de relégation.

Le Havre arrache une victoire face à Aix-en-Provence (65-62) dont Aïda Fall (10 points, 10 rebonds) et Sarah Ouasfar (19 points) sont les facteurs importants aux dernières minutes de la rencontre pour le vainquer. Ljiljana Tomasevic fait 9 passes décisives.
---
Picture credits:
womensbasketball-in-france.com

Date created: 02 March 2014
Like this page / Aimez cette page