CFBB enjoy first LF2 victory
of the 2013-2014 season

The CFBB recorded their first LF2 victory in a hard fought match against Roche Vendée while Limoges made it seven wins in a row. Elsewhere Illkirch-Graffenstaden and Pau Lacq-Orthez bounced back from defeats in round 13. At the bottom end of the table Aix-en-Provence continue to struggle.
Veuillez trouver des informations en français sur la quartorzième journée de L2F en 2013-14 en bas de la page.
COB Calais got off to a flying start with the starting five all scoring during the first seven minutes of their game against Aix-en-Provence. In the first quarter Calais opened up a double-digit lead (25-13) and stayed in front all the way to the end (78-65).
All seven players from Calais scored at least 6 points in the victory while Jenny Fouasseau helped herself to 18 points, 5 assists and 3 steals in leading the way to victory.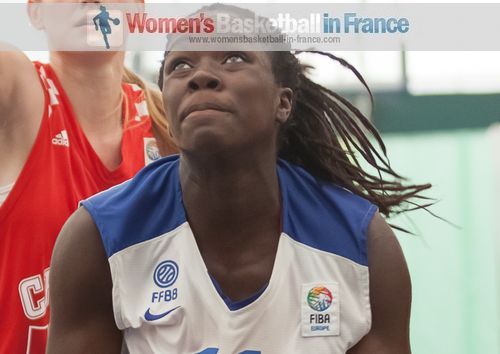 The CFBB had had to wait until week 22 to record a victory on the hardwood of the LF2 during the 2012-13 season. This time it took 14 rounds with their surprise victory against Roche Vendée (73-70). Marylie Limousin and Ornella Bankole (in picture) scored 16 and 15 points each in the win.
The CFBB went in front for good towards the end of the third quarter and led by as many as 12 points with three minutes to play.

A number of changes to the starting five for Roche Vendée did not pay off as they suffered their second consecutive defeat while dropping to third place in the regular season table.
Limoges continue winning and remain in fourth place. This time around they beat Reims (71-62). Limoges never trailed and only turned the ball over 9 times. Their captain Manon Sinico stepped up offensively during the second half of the match to finish the game with 19 points and 5 assists.
Illkirch-Graffenstaden (SIG) went 13-of-25 from beyond the arc in their victory against Le Havre (90-62).
It is hard to beat the SIG when they play as a unit. Their 34 baskets came from 24 assists. Céline Schmitt-Sendner led the attack with 25 points while Bettina Kadila (in picture) took care of the rebounds with 10. Louise Dombach filled the stat sheet with 14 points, 4 steals and 4 assists while Police woman Aline Fischbach went 5-8 from beyond the arc scoring a total of 17 points.
Davorka Balic who has replaced Kelsey Sigl knocked down 18 points in defeat.

It has been a tough LF2 week for Charnay. In midweek they lost at home to Perpignan Basket (46-54). Their captain Charlotte Ducos hurt herself and is out for the season with a serious knee injury. Awa Diallo and Laure Belleville also had not finished that game after knocks to their ankles and shoulders respectively.
Yet the latter two players were able to play this weekend. But Charnay were pipped at home (60-62) by Pau Lacq-Orthez who move into second place in the LF2 regular season standing.
Fatou Dieng had her best game statistically for Perpignan Basket as her side walloped Léon Trégor (89-58). Dieng scored 23 points and dished out 7 assists while Elodie Bertal helped herself to 27 points and 15 rebounds for the player-of-the-week award.
Perpignan Basket with three wins are just one victory behind Aix-en-Provence and Charnay in the LF2 regular season table.
---
La 14ième journée en L2F
Roche Vendée échoue contre la CFBB

Il n'y a pas de surprise pour le leader en L2F. COB Calais enregistre à nouveau une victoire. Par contre en haut du tableau, Roche Vendée perd une place pendant que Illkirch-Graffenstaden et Pau Lacq-Orthez gagnent leurs rencontres respectives. En danger sont Aix-en-Provence et Charnay.

Perpignan gagne son troisième match mais reste encore en bas du tableau derrière Aix-en-Provence et Charnay.
Pendant cette semaine, Perpignan Basket s'impose contre Charnay (54-46) et ce weekend c'est Léon Trégor qui s'incline (89-58) contre les Perpignaises.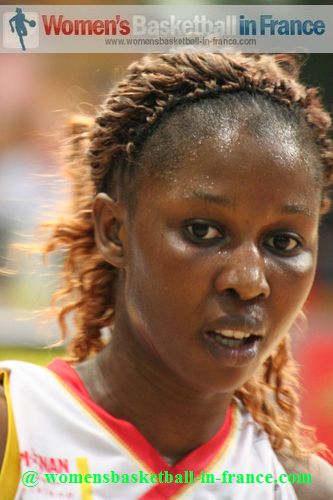 Fatou Dieng contribue 23 points et 7 passes décisives pendant que Elodie Bertal a 27 points et 15 rebonds pour les victors.
Après sa défaite en mi-semaine, Charnay joue contre Pau Lacq-Orthez - sans son capitaine Charlotte Ducos qui s'est blessée auparavant - et qui échoue à nouveau par 2 points (60-62).

La situation de Aix-en-Provence n'est pas non plus si rose après avoir perdu contre COB Calais (65-78).
Les Nordistes ont l'avantage dès le début et c'est Jenny Fouasseau qui est la meilleure joueuse inscrivant 18 points, 5 passes décisives et 3 interceptions.
Pour Roche Vendée, sa défaite contre le CFBB (70-73) les fait perdre une place en haut du tableau. Ce sont Marylie Limousin et Ornella Bankole avec 16 et 15 points qui brillent pour les jeunes de Paris.

Après un mauvais début dans la saison, Limoges gagne pour la septième fois consécutive. Limoges bat Reims (71-62) avec une belle prestation de Manon Sinico (19 points, 5 passes décisives) et se place quatrième.
Illkirch-Graffenstaden remporte une victoire à domicile contre Le Havre (90-62) avec plus que 50% de réussite en shoot à trois points (13 sur 25).

Céline Schmitt-Sendner est en forme avec 25 points pour la SIG contre Davorka Balic (qui remplace Kelsey Sigl) de l'équipe adversaire avec 18 points.
---
Picture credits:
womensbasketball-in-france.com

Date created: 19 January 2014
Like this page / Aimez cette page