Underdogs strike back in LF2

The fight to escape relegation from LF2 has become more interesting with big wins for teams whose backs are towards the wall.

Veuillez trouver des informations en français sur la vingt-et-unième journée de L2F en 2013-14 en bas de la page.
Chartres gave their survival bid in the LF2 a big boast by beating Le Havre (61-44) with a 9-0 run to finish the match. With this win they have a better head-to-head record against them if the two teams finish the season with identical records.
Rosalie Marie Ciss took her new role as captain seriously and won 17 of her team's 31 rebounds for herself while scoring a couple of points.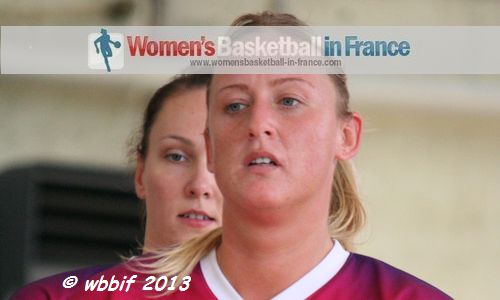 Dace Pierre-Joseph (in picture) loves playing for Dunkerque Malo. When she is on fire, she cannot be stopped. She knocked down 32 points in her side's victory (97-69) over third place Roche Vendée.
Dunkerque had five players in double digits as they ended the hopes of Roche Vendée of catching COB Calais at the top of the table. Dunkerque are not out of danger (11th place) but they have a one game advantage over Charnay.
Perpignan made it 10 wins in a row by knocking off Charnay (66-57). Yet it was not as easy as the result looks. Charnay led by as many as 12 points during the third quarter before they self-destructed. Charnay remain in the first relegation spot.

Margaux Okou-Zouzouo helped herself to 19 points in leading Perpignan to another LF2 victory while Julie Legoupil was the leading scorer for Charnay with 18 points.
Reims BF went back to basics and shot the ball from far (9 from 19) while also taking more rebounds than their opponents. They walked away with a much needed road win against Léon Trégor (73-70) to avoid dropping down the table. Carolyn Davis with 18 points and 12 rebounds was the top scorer for Reims while Amélie Pochet from Léon Trégor top scored in this game with 24 points and 11 rebounds.

Elsewhere no exploits, COB Calais as expected walked over the CFFB (87-43) while Pau Lacq-Orthez cruised over Illkirch Graffenstaden (83-61).
Limoges ended their negative run with a  hard fought road victory against Aix-en-Provence (68-60).
Limoges are safe from any relegation problems but are out of the play-off race. They can use the remaining games to start preparing for their next season in LF2.
---
La 21ième journée en L2F
La Roche succombe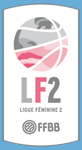 Roche Vendée ne perd pas seulement la rencontre contre Dunkerque mais aussi la possibilité de s'approcher du leader COB Calais dans le haut du tableau.

Chartres bat Le Havre (61-44) avec une belle performance de la nouvelle capitaine Ciss qui prend 17 rebonds des 31 de son équipe. Par contre la meilleure marqueuse est Magaly Mendy avec 16 points. Elle ajoute aussi 8 rebonds, 1 passe décisive et a 3 interceptions. Les 16 points de Caroline Misset ainsi que les 16 rebonds de Sarah Ouasfar ne suffisent pas pour éviter la défaite.
Roche Vendée ne réussit pas à s'imposer contre Dunkerque Malo et les co-équipières de Dace Pierre-Joseph (32 points, 8 rebonds, 2 passes décisives, 2 interceptions et 7 fautes provoquées) qui creusent l'écart dans la deuxième mi-temps pour battre les hôtes (97-69). Pour La Roche c'est Gabriela Kubatova qui mène l'attaque avec 15 points, 6 rebonds, 7 passes décisives, 2 interceptions.

Perpignan Basket enchaîne des victoires. Emmené par Margaux Okou-Zouzou (19 points), Perpignan revient au score dans la deuxième mi-temps pour faire tomber Charnay (66-57), plus maladroite au shoot. Julie Legoupil marque 18 points en vain.
Reims BF vaint leur hôte Léon Trégor de justesse (73-70) en prenant plus de rebonds et essentiellement dans le tir à distance avec 9 trois-points (dont quatre de Emmanuelle Gorjeu et trois de Anaïs Jomby) contre un des Bretonnes.
Le CFBB s'incline contre COB Calais (87-43) pendant que Pau Lacq-Orthez, mené par Lakevia Boykin (21 points) bat facilement Illkirch Graffenstaden (83-61).
Après plusieures défaites, Limoges gagne contre Aix-en-Provence (68-60) en profitant de nombreuses balles perdues. Shenita Landry marque le plus de points pour Aix (23 points, en ajoutant 18 rebonds mais a aussi 8 balles perdues). Mélanie Devaux contribue 21 points à la victoire de son équipe.

Avec cette victoire, Limoges ne peut plus être relegué.
---
Picture credits:
womensbasketball-in-france.com

Date created: 28 March 2014
Like this page / Aimez cette page