LF2 weekend with
Charnay deeper in relegation trouble

While Pau Lacq-Orthez failed to dislodge LF2 leaders COB Calais in the game of the week, Limoges and Roche Vendée defeated direct challengers for a place in the end of season Final 4. At the bottom of the league table, Charnay's struggle continue with a fourth consecutive reversal.

Veuillez trouver des informations en français sur la seizième journée de L2F en 2013-14 en bas de la page.
Pau Lacq-Orthez gave COB Calais a scare for the first 25 minutes of the match. The visitors led for most of the game and at one stage by as many as 10 points.
But Calais dominated the rebounds (41-23). With Tiffany Clarke and Aurélie Cibert (10 points) finding their scoring touch during the final quarter with 16 of their team's 17 points, their side cruised to victory number 15 (70-62). Clarke finished with 30 points, 12 rebounds, 4 steals and 1 block while Mélanie Arnaud chipped in 19 points.
For Pau Lakevia Boykin scored efficient 19 points while Mariame Dia picked up another double-double with 13 points and 11 rebounds.
With this defeat Pau drop to third place in the LF2 standings but are still three games clear of the teams in fifth place.

The rest of the news from LF2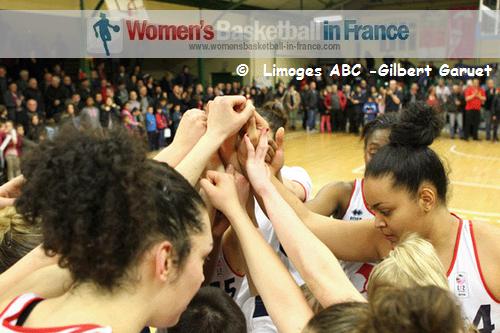 Limoges were involved in a crazy match with Léon Trégor. Although they trailed by 15 points after 18 minutes (25-40), Limoges ended up winning this LF2 encounter (82-65).
They were a perfect 8-of-8 from the free-throw line while knocking down 8 shots from downtown. Yet it was their pressing which led to many of their opponents' 25 turnovers and more importantly to them being the victors.
Léon Trégor have become a five-player team in recent weeks with the bench players not really given a run. Off the bench for Limoges, Tiphaine Mélois and Manon Morel were decisive with 11 and 10 points respectively. Limoges remain in fourth place and with two victories over Léon Trégor they have a big advantage in the battle for a top 4 finish.
With a road victory against Illkirch-Graffenstaden (57-52), Roche Vendée are back on track for the LF2 Final 4.
In an untidy game, the hosts once again were trigger happy beyond the arc with 5-of-20 while the guests concentrated working inside the paint and getting to the free-throw line (11-from-14). Gabriela Kubatova secured the victory for the visitors with 4 free throws in the last 20 seconds.

The 22 points and 11 rebounds by Aminata Diop for the winners were neutralised by 21 points and 10 rebounds from Céline Schmitt-Sendner.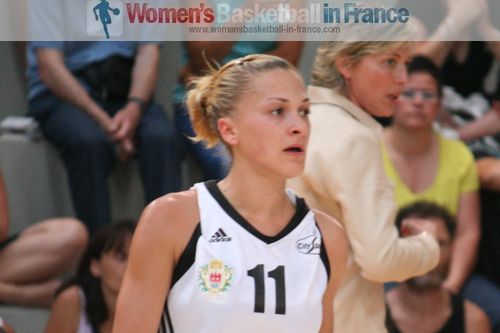 The retirement of Elodie Decker (in picture) did not last long. Due to the season ending injury to Charlotte Ducos, she has signed a medical replacement contract. Yet she is treated as a transfer player, meaning that Charnay must have five players under the age of 23 on the team sheet or one of the four professionals signed this season must sit out for Decker to play.
Decker's first match since the LF2 Final 4 in May 2013 did not go that well despite scoring 6 points and dishing out 2 assists as her side lost to Aix-en-Provence (45-53). With this defeat, Charnay are alone in the first relegation position, two games behind the team directly above them.
Le Havre may have ended Reims BF's dream of a L2F Final 4 with a victory (68-64). Reims led for most of the match but fell apart during the last 90 seconds. They allowed Aïda Fall (26 points, 10 rebounds) to dominate them in the paint and to secure the victory.
Dunkerque Malo were not perfect but made no mistakes in beating the CFBB (63-51) while Perpignan can once again thank Elodie Bertal (25 points) to edge out Chartres (75-68).
---
La 16ième journée en L2F
 Ce qui l'attend, n'est pas une médaille
aux Jeux Olympiques mais l'accession à la LFB

Après la quatrième défaite consécutive en L2F, Charnay ne voit pas la vie en rose en se trouvant en bas de la zone de relégation pendant que COB Calais et les trois autres équipes du haut du tableau, Roche Vendée, Pau Lacq-Orthez et Limoges se voient déjà disputer pour une place en LFB dans la finale 4.

Malgré avoir eu un avantage pendant presque toute la rencontre, Pau Lacq-Orthez s'incline face à son hôte COB Calais (62-70) qui se reprend grace à l'adresse au tir pendant le dernier quart par Aurélie Cibert (10 points) et Tiffany Clarke (30 points, 12 rebonds, 4 interceptions, 1 contre) et la domination au rebond (41-23).
Mélanie Arnaud contribue 19 points pour Calais pendant que pour Pau ce sont Lakevia Boykin avec 19 points et Mariame Dia (13 points, 11 rebonds) qui réalisent des belles parties.
Après cette défaite, Pau se place troisième au classement.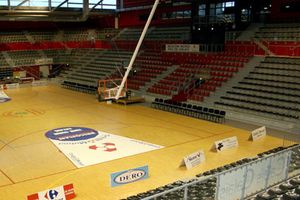 Limoges est sorti vainqueur contre Léon Trégor (82-65) malgré un départ raté. Les visiteurs mènent de 15 points après 18 minutes. Mais la défense de Limoges et 25 balles perdues leur permet de revenir au score pour finalement battre les Bretonnes et reste quatrième du classement.

Meilleure marqueses pour les hôtes sont Brooklyn Pope (18 points, 13 rebonds, 5 passes décisives), Mélanie Devaux, Tiphaine Mélois (11 points) et Manon Morel (10 points).

Céline Schmitt-Sendner (21 points, 10 rebonds) ne peut pas sauver Illkirch-Graffenstaden d'une défaite contre Roche Vendée - qui se trouve après cette victoire (57-52) deuxième dans le tableau. Marquant 22 points et 11 rebonds Aminata Diop est à son avantage.
Charnay signe Elodie Decker qui avait joué pour les Niss'Angels la saison précédente pour prendre la place de la blessée Charlotte Ducos. Mais le sort pour Charnay ne change et succombe (45-53) contre Aix-en-Provence.
Le Havre s'impose contre Reims BF (68-64) dont la performance de Aïda Fall (26 points, 10 rebonds) est la clé du succès.
Dunkerque Malo bat le CFBB (63-51) pendant que Chartes passe tout près de l'exploit contre Perpignan (68-75) dont la performance de Elodie Bertal (25 points) est impressionnante.
---
Picture credits:
womensbasketball-in-france.com
Gilbert Garuet
Date created: 09 February 2014
Like this page / Aimez cette page