LF2 player of the week
Dace Pierre-Joseph

Two of the pre-season favourites to qualify for the LF2 final four, COB Calais and Roche Vendée share first place with a perfect 3-out-of-3.

Veuillez trouver des informations en français sur la troisième journée de L2F en 2013-14 en bas de la page.
Roche Vendée quickly put their guests Illkirch Graffenstaden on the back foot and led (13-4) after five minutes.
The hosts pushed hard for the rest of the first quarter (28-13) and then maintained a double-digit lead for the rest of the match.
Aminata Diop helped her self to a double-double of 18 points and 10 rebounds in the (81-64) victory.

COB Calais were given a scare by their hosts Pau-Lacq-Orthez who reduced an 18-point deficit to just 4 points with two minutes to play.
Calais held their nerve on the free-throw line with 4-from-6 to win the match (62-56). Tiffany Clark had 18 points and 8 rebounds for Calais.

Chartes who did not play this weekend dropped to third place in the LF2 regular season standings while COB Calais and Roche Vendée share first place.
The rest of the news from LF2 round 2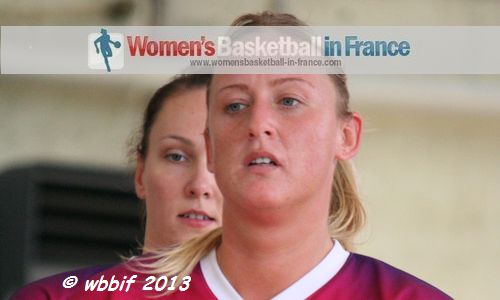 Limoges trailed (29-40) at half time against Léon Trégor but ended up winning their first game of the season (75-72). Cyrielle Recoura was the lady on fire for Limoges with 23 points.
Dunkerque ended their negative series with a victory against the CFBB (80-56). Dace Pierre-Joseph (in picture) did most of the damage with 40 points and 14 rebounds. She was also fouled 12 times for a statistical triple-double.
Aix-en-Provence beat Charnay Basket (74-52) from the free-throw line. They went 26-of-35 while Charnay were just 5-from-11.
Aix-en-Provence pulled away during the first quarter (26-13) and stayed in front the rest of the way for their second win of the season. Bérengère Dinga M'bomi took the game's MVP honours for leading the Aix attack with 18 points.
It was an emotional evening for the players from Reims losing
Anita Mészáros two minutes into the game. They managed to pull themselves together during the last three minutes to pull out a victory (67-63) against Le Havre.
Anaïs Jomby hit 3 three-pointers in a row during money time to lift her side to victory. She finished the match with 20 points and 8 rebounds.
This was the first defeat for Le Havre in all competitions this season.

---
Les feuilles tombent, mais L2F s'est enflammée

COB Calais reste invaincue après avoir été sérieusement challengée par son adversaire grignotant les 18 points pour trainer par juste 4 petitis points dans les dernières minutes. Sauvée à la ligne de lancer franc, les Calaisiennes avec une bonne performance de Tiffany Clark (18 points et 8 rebonds) gagnent (62-56).
Par contre sa troisième victoire consécutive a été facile : Roche Vendée entame la rencontre contre Illkirch-Graffenstaden à toute vitesse pour mener tout au long du match pour gagner (81-64) avec une Aminata Diop en forme (18 points, 10 rebonds).
Cyrielle Recoura avec 23 points sur son compte aide Limoges à renverser l'avantage de leurs adversaires pour remporter la victoire contre Léon Trégor (76-72).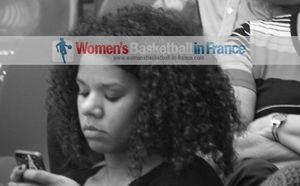 Logiquement Dunkerque gagne contre le CFBB (80-56) avec une Dace Pierre-Joseph contribuant 40 points et 14 rebonds.
Le lancer franc a été au menu pour Aix-en-Provence pour battre Charnay Basket (74-52) avec 26 sur 35 contre 5 sur 11 de Charnay.
Les 18 points de Bérengère Dinga M'bomi lui ont fait gagné le titre de MVP.
Reims perd Anita Mészáros mais gagne le match (67-63) contre Le Havre sur le dos de Anaïs Jomby (dans l'image) avec 20 points et 8 rebonds.
---
Picture credits:
womensbasketball-in-france.com

Date created: 27 October 2013
Like this page / Aimez cette page