Pau Lacq-Orthez end
Roche Vendée's perfect LF2 season


COB Calais are the only team with a perfect record in LF2 after 9 rounds of games. Roche Vendée lost their unbeaten record while Perpignan picked up another victory without playing. The CFBB are still in quest for their first victory.
Veuillez trouver des informations en français sur la neuvième journée de L2F en 2013-14 en bas de la page.
The CFBB are yet to get their first win of the season after falling at home to Limoges (63-73). Despite the defeat Ornella Bankolé gave a demonstration of her skills with 20 points and 10 rebounds.
Limoges did not have a great game. But with their captain Manon Sinico hitting 14-from-15 free throws and scoring a total of 22 points, they always had the edge.
Limoges were also supported by a number of Calais fans who came down to cheer on Mélanie Devaux and Sinico.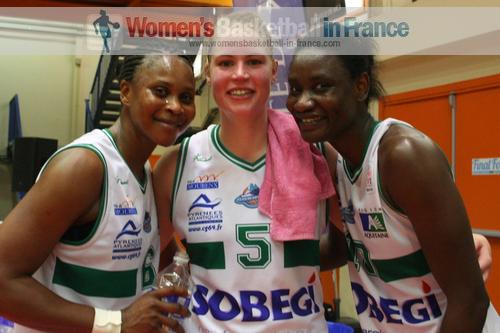 Awa Gueye (23 points), Marion Arfelis and Mariame Dia (all in picture above) were part of a new starting line-up this weekend for Pau Lacq-Orthez.
The plan was simple for Pau, keep the ball away from Aminata Diop from Roche Vendée. This worked because Diop did not get on the scoreboard until the 17th minute. She finished with 8 points and 9 rebounds.
In the meanwhile Dia was having a perfect game. She hit 7-from-8 shots from the floor, 5-from-5 from the free-throw line for a total of 21 points. She also picked up 11 rebounds, had 3 assists and 2 steals to get the LF2 player of the week award in the (80-62) victory.
COB Calais dominated the first quarter (22-9) against Charnay Basket and then - paced by Tiffany Clark with 22 points -  they claimed another victory (69-55).
Chartres made home court advantage count, especially during the second half of the match, to beat Illkirch-Graffenstaden (64-56). Magali Mendy (5 assists) and Lisa Bacconier (4 assists) with 19 and 15 points did most of the damage.
Dunkerque never led and disappointed their supporters with a poor shooting display in their loss to Aix-en-Provence (43-48). Kelly Corre with 3 assists and 13 points was the match winner for the visitors.
Marie Butard hit 27 points in lifting Léon Trégor past Le Havre (87-61).
The future of this season's championship is in the balance with the boycott against Perpignan Basket. The President of the French Basketball Federation (FFBB) and the presidents of the 12 clubs in the second division are to meet before the next round of games.
According to the rules, two forfeits imply an automatic withdrawal from the competition. If the current boycott continues, this should leave the CFBB and Perpignan as the only clubs in this LF2 championship.

---
Roche Vendée vacille !

COB Calais est dorénavant la seule équipe sans défaite en L2F cette saison après que Pau Lacq-Orthez s'impose contre le leader Roche Vendée.
La seule équipe qui n'a pas encore joué mais toujours gagné, est Perpignan Basket pendant que les jeunes du CFBB n'ont pas encore remporté une seule victoire.

Pau Lacq-Orthez s'impose contre Roche Vendée (80-62) en empêchant Aminata Diop (8 points, 9 rebonds) d'être une arme offensive pendant que Awe Gueye (23 points) et Mariame Dia (21 points, 11 rebonds, 3 passes décisives, 2 interceptions) s'affirment.
Sous la houlette de Tiffany Clark (22 points), COB Calais gagne contre Charnay Basket (69-55) pendant que Marie Butard (27 points) aide Léon Trégor à vaincre Le Havre (87-61).
A domicile Chartres bat Illkirch-Graffenstaden (64-56), emmené par Magali Mendy (5 passes décisives) et Lisa Bacconier (4 passes décisives) avec 19 et 15 points respectivement.
Dunkerque, sans conviction dans leur adresse au shoot, perd contre Aix-en-Provence (43-48) dont la performance de Kelly Corre (13 points, 3 passes décisives) est la seule lueur dans ce match decevant.
Limoges s'impose, mais pas sans difficulté, contre le CFBB (73-63) dont Ornella Bankolé (20 points, 10 rebonds) se révolte contre les co-équipières de Manon Sinico (22 points).
---
Picture credits:
womensbasketball-in-france.com

Date created: 08 December 2013
Like this page / Aimez cette page