Calais are running away in LF2,
elsewhere the battle is interesting

It was an exciting weekend of LF2 basketball with plenty of suspense and passion with COB Calais once again demonstrating why they are the best team in this division.

Veuillez trouver des informations en français sur la quinzième journée de L2F en 2013-14 en bas de la page.
COB Calais managed to hold off Dunkerque Malo (67-55) with just five players. Three off-the-bench rotation players were not fit to play.

Jenny Fouasseau was the only player from the starting five not to play 40 minutes. She was on the court for 38 minutes and filled the stats sheet with 15 points, 6 assists, 1 block and 1 steal while her team-mate Tiffany Clark scored 20 points.
Dunkerque got off to a flying start in opening up a double-digit lead (13-3) with less than five minutes played. Despite home court advantage and a deeper bench they were not able to hold on to the advantage.
The lead changed nine times while the game was tied on just two occasions. Taelor Karr who took almost 40% of Dunkerque's shots was the team's top scorer with 17 points.

The rest of the news from LF2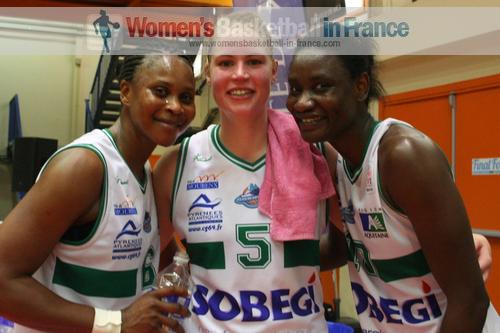 Pau Lacq-Orthez avenged their defeat against Perpignan from last week with a home victory (73-60) in the return game. The end-of-first-half buzzer beater by Marion Arfelis (middle in picture above) for the hosts (34-30) turned into the turning point of the match. François Gomez, the coach from Perpignan, could not hold back his anger at his players.
Aurélie Lopez' team returned after the break with a 7-0 run starting with a three-pointer by Arfelis. Pau stayed in front the rest of the way and matched their opponents foul for foul.
Lakevia Boykin (20 points) ended the game with another buzzer beater for the hosts that not only secured the victory but also the aggregate score victory over the two games. Mariame Dia was yet again player of the match with 21 points while Elodie Bertal knocked down 16 points in defeat.
The team from Mourenx are second in the LF2 regular season standing and are in a very strong position to qualify for the LF2 Final 4 in May.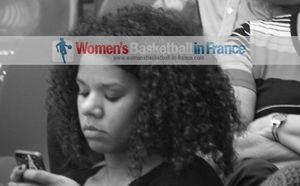 It goes without saying in LF2, that you do not allow Anaïs Jomby (in picture) from Reims time to shoot because she does not miss. She went 4-of-5 from beyond the arc and a perfect 4-of-4 from the free-throw line in helping Reims down Illkirch-Graffenstaden (86-65).
Limoges' winning streak came to an end in a bruising encounter with Le Havre (72-78) and both teams losing three players with five fouls. Le Havre were much more accurate with their shooting. They took 16 shots less than their opponents and converted a much higher percentage of their free throws. However the player of the match came from the losing team, Tiphaine Melois with 25 points.

Léon Trégor did not have it all their way at home. But with a more collective game they overcame Chartes (69-60) while Aix-en-Provence ended their four-game negative series with a comfortable victory against the CFBB (73-59). 
Aix-en-Provence led (64-41) going into the final quarter. So Damien Leroux gave additional playing time to some of his younger players.
Roche Vendée also ended their three-game losing streak with a big win over Charnay (84-56). The contest was more or less over by the end of the first quarter with the hosts leading (23-6).
---
La 15ième journée en L2F
 Les 5 majeures de COB Calais assurent

COB Calais continue sa sans faute pendant que Reims se reprend et Aix-en-Provence gagne contre la CFBB. Roche Vendée est de retour pendant que Perpignan subit une défaite.

Dans le derby du Nord, c'est Dunkerque Malo qui s'incline (55-67) contre le numéro 1 de la L2F, COB Calais dont les cinq majeures jouent presque toutes 40 minutes. Les meilleures marqueses de l'équipe gagnante étaient Jenny Fouasseau (15 points, 6 passes décisives, 1 contre, 1 interception) et Tiffany Clark (20 points) et pour Dunkerque la performance de Taelor Karr (17 points) ne change point le résultat.
Pau Lacq-Orthez s'impose contre Perpignan (73-60) et renverse en même temps sa défaite du match aller. Deuxième au classement, l'équipe de Mourenx montre ainsi son intention de se qualifier pour la finale 4 en mai.
C'est Marion Arfelis qui sonne la révolte avec un buzzer à la mi-temps pour les hôtes et c'est ainsi que Lakevia Boykin (20 points) termine cette rencontre aussi avec un panier au buzzer pour mettre la cerise sur le gâteau pour une victoire sans contestation. 
Anaïs Jomby réalise la performance de la rencontre pour Reims avec une sans faute pour que Illkirch-Graffenstaden échoue (65-85).

Le Havre s'impose contre Limoges (78-72) dans un match plein de fautes commises par les deux équipes. Pourtant c'est Tiphaine Melois (25 points) de Limoges qui est la meilleure joueuse de cette rencontre.
C'est grace à un son jeu collectif que Léon Trégor réalise cette victoire contre Chartres (69-60).
Aix-en-Provence renoue - après quatre défaites - avec une victoire contre la CFBB (73-59) pendant que Charnay subit une lourde défaite contre Roche Vendée (56-84).
---
Picture credits:
womensbasketball-in-france.com

Date created: 03 February 2014
Like this page / Aimez cette page