Reims BF open LF2
2013-14 season in style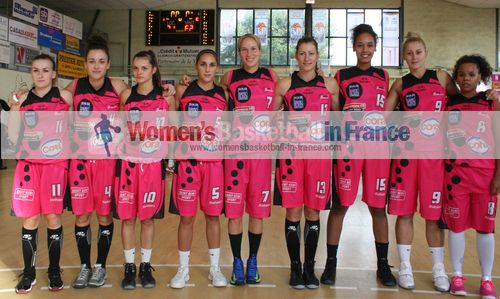 Philippe Sauret, the General Manager of Reims BF, believes his club is ready to be one of the LF2 Final 4 challengers for the 2013-14 season.

Veuillez trouver des informations en français sur la première journée de L2F en 2013-14 sur les Rémoises ainsi qu'un résumé de ce weekend en bas de la page.
With Maud Lesoudard no longer the secret weapon Guillaume Rassineux brought in two new players for this season: Finnish international Heta Korpivaara (who had played in Germany last season) and Marième Badiane (Roche Vendée LF2).
Both players add extra height to the backcourt. This gives the team a better guard/forward balance which was not the case last season. Jessica Poret is also back at the club after being loaned out a season to AJA Betheny.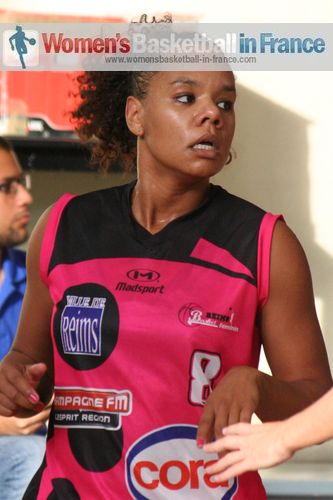 The full LF2 roster, with positions played, is: Pauline Lithard (1), Marine Cotereau (1), Anaïs Jomby (2), Emmanuelle Gorjeu (2/1), Élodie Pélissou (2/3), Maud Lesoudard (4/3), Anita Mészáros (5/4), Jessica Poret (2/1), Heta Korpivaara (3/4) and Marième Badiane (5/4).
Head coach: Guillaume Rassineux and assistants: Mickael Sommesous, Johan Patino
This season the club is playing in tunics instead of the traditional shorts.
Anaïs Jomby (in picture) who is a full-time teacher in Chalons-sur-Marne handed over the Reims' captain job to Maud Lesoudard who is about to start her internship as a doctor.
These two players alongside Pauline Lithard are the three longest serving players of the team.

All the news from LF2 round 1

Reims BF crushed Limoges (87-63). They led from start to finish knocking down 63% of their shots in the paint.
Anita Mészáros (10 rebounds) and Pauline Lithard led the way with 17 points each. Heta Korpivaara, Maud Lesoudard and Marième Badiane contributed 14, 13 and 11 points apiece while Mélanie Devaux knocked down 22 points for Limoges.
Roche Vendée had no problems in overpowering the CFBB (68-42). The good news for Roche Vendée is that Cora Duval completed her first game in almost two years.
Dunkerque Malo failed in making home advantage count despite 26 points from Dace Pierre-Joseph. Instead newly promoted Chartres savoured the victory (67-54) with 21 points from Lisa Bacconnier.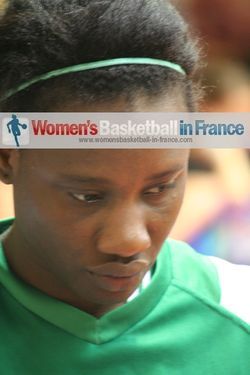 When it comes to drama then Pau Lacq Orthez is the team to watch: after 17 lead changes and 13 ties they escaped with the victory (66-64) against newly promoted Charney Basket.
Mariame Dia (in picture) finished the game with 17 points and 10 rebounds to seal the victory for the hosts with 30 seconds to play.
She hit a pair of free throws that put her team in front for good (65-64). Charney failed to score again. A split pair by Ingrid Bunel with seven seconds remaining then put the icing on the cake.
Lakevia Boyin, a freshly graduated American from the NCAA, had an interesting début for Pau with 15 points.
COB Calais as expected beat Aix-en-Provence (72-57) despite playing on the road while Le Havre blasted Illkirch-Graffenstaden at home (83-68).
Joelly Belleka (26 points) and Mélissa Mendes (20 points) did most of the damage for Le Havre. The SIG were without Kathleen Bourdin and Aline Fischbach.
La forteresse Reims
construit son attaque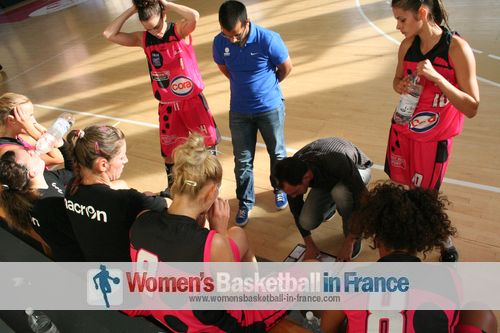 Ancien entraineur de la première équipe de Reims, le manager général Philippe Sauret, admet - avec un sourire - qu'il a des ambitions pour le club. Il vise la final 4.

Maud Lesoudard, Anaïs Jomby, Pauline Lithard, les trois piliers de l'équipe, sont prêtes pour l'attaque avec deux nouvelles recrues - qui ne font pas mouche - et aussi saluent leurs quatre co-équipières de la saison dernière et Jessica Poret.
Avec l'internationale de Finlande Heta Korpivaara et Marième Badiane de Roche Vendée, l'équipe a tout de suite retrouvé son rythme en emportant leur premier match de la saison (87-63) contre Limoges.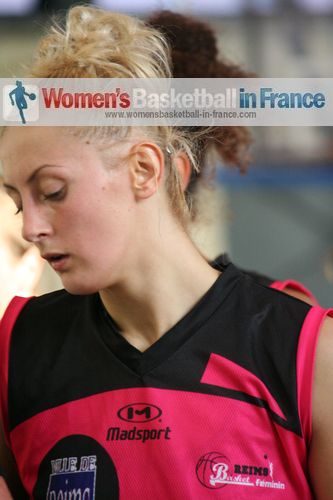 Anita Mészáros (dans l'image) contribuait 17 points et 10 rebonds dans la victoire pour les Rémoises.

La CFBB était une proie facile pour Roche Vendée et succombait (42-68). Mais le plus important évènement de cette rencontre était le fait que Cora Duval de La Roche - après presque deux années d'absence à cause des blessures - était capable de jouer et terminer le match.

Enfin deux des trois nouvelles promues avaient du succès ce weekend: Le Havre a battu Illkirch-Graffenstaden (83-68) dont l'équipe n'était pas au complet. Pour Le Havre Mélissa Mendes a bien débuté cette saison après avoir passé les cinq dernières années aux Etats-Unis.

Ensuite Chartres a battu Dunkerque (64-57) avec Lisa Bacconnier, ancienne espoir de Bourges, en bonne forme avec 21 points.

Le troisième club, Charnay, sur le parquet de Pau Lacq-Orthez, n'a pas eu la chance d'emporter une victoire (66-64). Le tout pour le tout se jouait pendant les 30 dernières secondes où son adversaire marquait 3 sur 4 lancer franc.
Finalement Aix-en-Provence, après avoir joué en élite pendant 33 ans, n'a pas su se révolter contre une équipe de Calais bien huilée et a perdu (57-72).

---
Picture credits:
womensbasketball-in-france.com

Date created: 13 October 2013
Like this page / Aimez cette page