2014 LF2 Final 4
COB Calais in final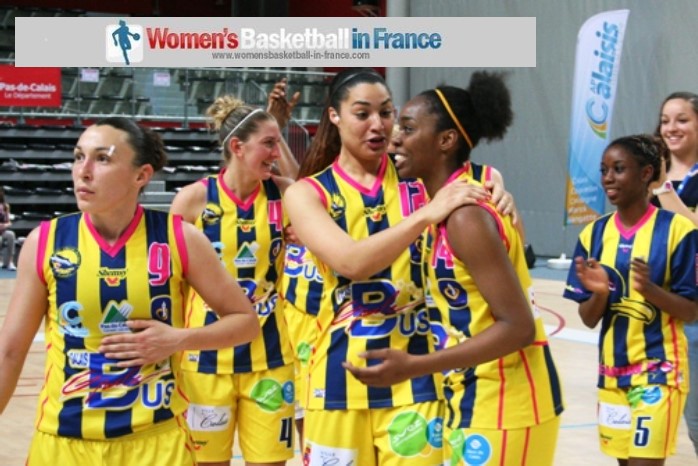 COB Calais, as hosts of the LF2 Final Four, are under pressure to succeed, especially after what happened in 2013 when they left the final four empty handed.
Not surprisingly that Calais made hard work of beating Pau Lacq Orthez (Mourenx) (69-66) to qualify for the final.

Veuillez trouver des informations en français sur le deuxième match de la Final Four de L2F de la saison 2013-14 en bas de la page.
COB Calais raced off to a (21-8) first-quarter lead after hitting (9-from-13) shots from open play. Calais was so good that Kévin Brohan, the coach from Calais, was able to start his bench rotation from the fifth minute of the game.
Despite not hitting as many shots in the second quarter, Calais controlled the tempo and despite not connecting that regularly went into the locker room leading (35-21).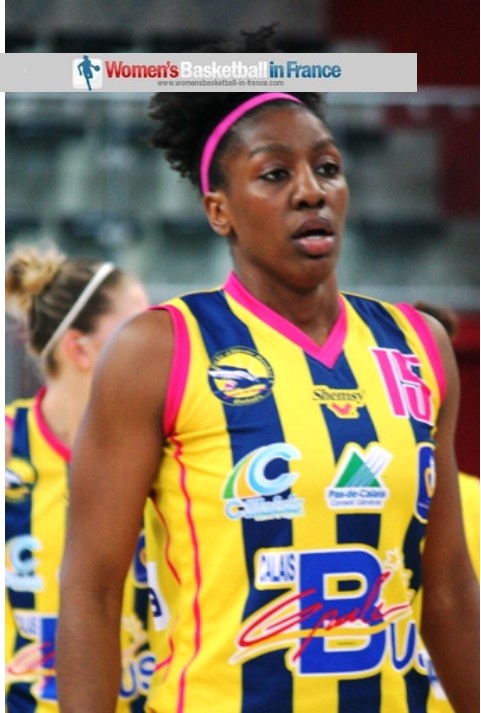 After the break Pau were a different team. Ingrid Bunel and Lakevia Boykin started to hit the target with regularity while Awa Gaye stepped up aggressively.
Calais were all over the place. By time the third quarter ended their advantage had dropped to under 10 points for the first time since the fifth minute of the game.
Pau's offensive effort started to pay off as they came to within 3 points of the host (48-51) on the back of a three-pointer by Mariame Dia.
The Calais coach used a time-out to break the guests' momentum and worked out a new plan for his team. Tiffany Clark (in picture) and Awa Sissoko delivered the points that enabled Calais to have a little breathing space with five minutes to play (56-48).
Pau refused to get intimidated. With 45 seconds left to play they drew level off a three-ball by Bunel. Marie-Bernadette Mbuyamba once again restored the lead for Calais.
The last 15 seconds of the game were littered with time-outs and free throws.
In the end end Pau needed a three-pointer to take the game into overtime with five seconds to play. Aurélie Cibert from Calais took a charge from Emilienne Vidal and despite falling to the floor managed to push the ball away.
By the time Vidal picked up the ball with the time almost up, so she attempted to throw the ball up from the other side of the court but failed.
Calais made it to the LF2 final championship game for the first time in their history.
COB Calais

Jenny Fouasseau 10 points
Natacha Ahamada DNP
Awa Sissoko 4 points
Onayssa Sbahi 2 points
Aurélie Cibert 8 points
Mélanie Arnaud 2 points
Amamdine Bourgeois DNP
Dominique Allen 11 points
Marie-Bernadette Mbuyamba-Tshimanga 11 points
Tiffany Clarke 21 points (11 rebounds)





Pau Lacq Orthez

Julie Borde 2 points
Lakevia Boykin 6 points
Awa Gueye 13 points
Marline Brouca DNP
Marion Arfelis 7 points
Velia Bosch 2 points
Mariame Dia 17 points (15 rebounds)
Emilienne Vidal  5 points
Ingrid Bunel 14 points
Martha Chrzanowski 0 point


---
L2F Final Four
COB Calais est dans la finale

Dominant dans le premier mi-temps, COB Calais fait sa rentrée - pour la première fois - dans la finale de la Final Four en LF2 après avoir échapper de belle d'une défaite contre Pau Lacq-Orthez (69-66).

Les co-équipières de Aurélie Cibert et Tiffany Clarke mènent le jeu dès l'entâme du match pendant les vingt premières minutes creusant un écart après quatre minutes (11-4). Le reste du premier quart reflète la dominance des Calaisiennes dans toutes les registres en faisant subir un (21-8) aux joueuses de Mourenx.
Calais continue à infliger une bonne raclée à Pau Lacq Orthez dans le deuxième quart-temps avec une présence à l'intérieur des deux côtés du terrain et une bonne adresse au shoot pendant que Pau subit.

Après la première mi-temps, Mourenx domine et prend le dessus en grignotant le retard. A sept minutes de la fin de la rencontre, l'écart est de 3 petits points.

Mais Tiffany Clarke et Awa Sissoko remettent les pendules à l'heure (56-48) avec cinq minutes à jouer. Pourtant Pau n'abdicte pas et challenge son adversaire en se rapprochant (57-59) dans le money-time.
Ingrid Bunel égalise à 45 secondes de la fin pour Pau. Puis c'est à Marie-Bernadette Mbuyamba de marquer à l'intérieur pour l'hôte. Un tir primé de la part de Bunel donne l'avantage à Pau (63-62). Puis Cibert marque calmement ses lancers francs pour Calais. En réponse, Julia Borde redonne l'avantage à Pau. A la fin, l'adresse au lancer franc du côté calaissiene, fait la différence pour que Calais remporte ce match (69-66).
---
LF2 Final Four picture credits:
womensbasketball-in-france.com

Date created: 18 May 2014
Like this page / Aimez cette page