2014 LF2 Final 4
Perpignan down Roche Vendée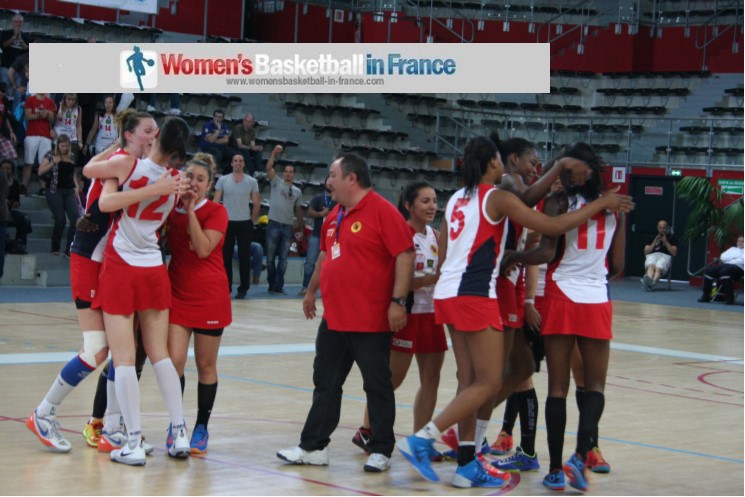 Perpignan Basket 66 booked their place in the LF2 championship game after seeing off Roche Vendée (55-53) in a dramatic fashion with 4 points from Maire-Frédérique Ayissi in the last five seconds of the game.
Veuillez trouver des informations en français sur le premier match de la finale 4 en bas de la page.
It was a bitter end for Roche Vendée who led by 10 points with just under three minutes to play. They were five seconds away from winning their first final four semi-final.
Elodie Bertal's clutch three-pointer with 2:30 to play was a dagger blow for Roche Vendée who failed to find the target themselves after that shot.
Bertal hit another shot from the land of many with 64 seconds to play that set the game alight with Perpignan's deficit reduced to 2 points (51-53).

Bertal finished the game as leading scorer and rebounder with 23 points and 11 rebounds respectively while game hero Marie-Frédérique Ayissi finished with 15 points.

Perpignan in another LF2 final cliff hanger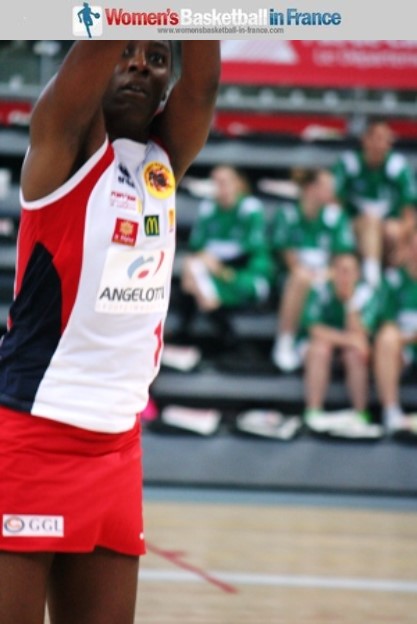 In 2012 when Perpignan had won the championship they had been taken to overtime by Toulouse in the final. This time around they were five seconds away from elimination.
When Maire-Frédérique Ayissi (in picture) was left free under the basket, she took the opportunity to score and brought the teams level (53-53) while she also picked up a foul. Although she missed the free throw, after a scramble, the ball went out of bounds and returned to Perpignan. 
There were two seconds left on the game clock. Once again Ayissi was left free under the basket and she scored as the buzzer went off to win the game.
Roche Vendée were punished for not attacking the basket in money-time as they had decided to run down the clock each time they had the ball while forgetting to score.
The first quarter was a strange affair with Bertal scoring her team's first 7 points while Gabriela Kubatova knocked in a couple of three-pointers for her team.
It was Perpignan's steady shooting from the free-throw line (6-of-8) that allowed them to edge the first quarter (15-12).
Roche Vendée pushed up the tempo during the second quarter. Johanna Tayeau started to find her way to the basket and shared 11 points with captain Kubatova as they took the lead going into the break (29-26).
The third quarter was all about defense with just 20 points scored between the two teams. Perpignan regained the advantage but were unable to control the game.
An aggresive drive by Sabrina Bouzenna put Roche back in front (39-38).
For the first seven minutes of the final quarter Roche Vendée did everything right and led by as many as 10 points. But like in 2010 and 2011 they missed out of qualifying for the LF2 championship game.

Gabriela Kubatova was her team's leading scorer with 13 points while Johanna Tayeau - playing on one leg - helped herself to 12 points and 4 assists. Cora Duval was the the only other player to reach double digits with 10 points.
The other key factor in this match was the defense of Fabienne Constant from Perpignan on Aminata Diop-Nar who consequently only managed 5 points.

Perpignan Basket 66

Fabienne Constant 7 points
Myriame Benkada DNP
Fatou Deng 5 points
Elisa Esteve DNP
Laura Datchy 2 points
Margaux Okou-Zouzo 1 point
Marie-Frederique Ayissi 15 points
Pauline Lo 2 points
Elodie Bertal 23 points
Rose Abenkou DNP



Roche Vendée Basket Club

Chloé Pavageau DNP
Sabine Bouzenna 4 points
Beleta Mukoko 0 point
Sarra Querghi 6 points
Leslie Fournier 3 points
Cora Duval 10 points
Gabriela Kubatova 13 points
Johanna Tayeau 12 points
Coralie Brisson DNP
Assetou Traore DNP
Aminata Diop-Nar 5 points

---
Roche Vendée échoue à nouveau
de se qualifier pour la finale de la Final Four en LF2

Roche Vendée fait une erreur dans leur tactique à la fin de la rencontre, menant de 10 points à trois minutes de la fin. Au lieu de mettre plus de paniers, les joueuses de La Roche tiennent le ballon au profit des Perpignanaises qui marquent dans le money-time pour renverser leurs adversaires.

Le début de ce duel entre les deux équiped de LF2, Perpignan et Roche Vendée est marqué par les deux tirs primés de Gabriela Kubatova pour Roche Vendée et par l'adresse au shoot à l'intérieur de Elodie Bertal (dans l'image) avec 7 points pour Perpignan. Après le premier quart, les Perpignanaises ont l'avantage (15-12).
L'aggressivité dans la défense et le jeu rapide permettent aux Vendéennes d'intercepter des ballons et mettre des paniers faciles pour enchainer un 8-0 pour prendre une avance de 3 points à la mi-temps (29-26).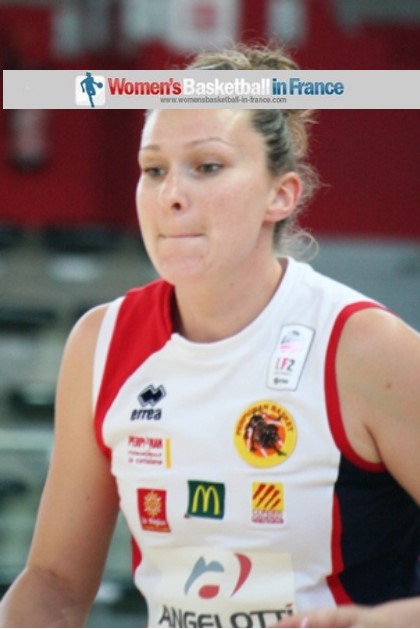 Les deux équipes continuent leur chassé-croisé. Mais c'est Perpignan qui prend le dessus sur 2 lancers francs de Bertal (34-32). Les Vendéennes renversent le résultat, poussées par Sabrine Bouzenna, et repassent devant (38-37) à la fin du troisième quart-temps.

Pendant les quatre premières minutes du quatrième quart, La Roche conserve son avantage en raison de la maladresse et de nombreuses balles perdues de son adversaire (44-40). Mais avec un tir primé de Fatou Dieng et deux d'Elodie Bertal, les Perpignanaises s'approchent du score (51-53) à moins de deux minutes de la fin.
Dans le money-time, c'est Marie-Frédérique Ayissi qui égalise sous le panier. Quand La Roche perd la possession du ballon, c'est à nouveau Ayissi - au buzzer - qui signe la défaite de La Roche (55-53) et devient le héro de ce match.

---
Picture credits:
womensbasketball-in-france.com

Date created: 18 May 2014
Like this page / Aimez cette page