Pau-Lacq-Orthez take
LF2 bronze medal

After a slow start the LF2 bronze medal match finished with an explosion with Pau-Lacq-Orthez coming out on top (70-67) despite trailing for practically the whole game.
Click on the following links which take you to the
Veuillez trouver en bas de page un résumé en français sur le match Pau-Lacq-Orthez vs. COB Calais, suivi d'une vidéo avec des interviews.
Ingrid Bunel came away with crucial defensive plays in the last 15 seconds that enabled her to win the game for Pau with a perfect 4-of-4 from the free-throw line.
Calais' nightmare started with their captain Aurélie Cibert picking up her 5th foul with 4:46 left to play. Without her on the court Calais were unable to take care of the ball and turned the ball over and over again for the victory to escape them.
So the 2012 NF1 champions are the LF2 bronze medallists in 2013.

Pau-Lacq-Orthez have the last laugh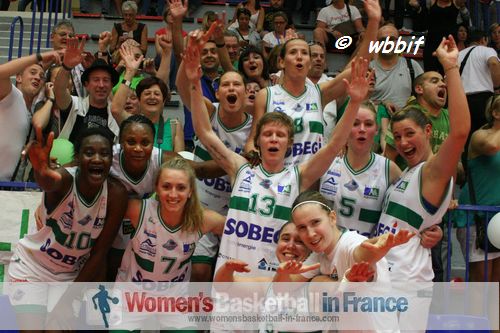 An unsportsmanlike foul after 25 seconds by Aurélie Cibert led to the only points scored by Pau - with a pair of free throws by Laurie Lapeyre - during the first five minutes.
Calais, playing quickly and more aggressively, rattled in 10 unanswered points for an early lead (10-2).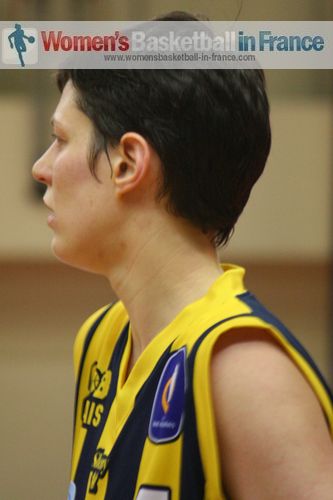 Pau finally scored from open play through Lapeyre. But their missing and turnover festival continued while Calais cruised to a first-quarter lead (20-10) with Floriane Herrscher (in picture) and Manon Sinico leading the way with 7 and 6 points each.
The second quarter was more balanced with neither side controlling the game. Pau took advantage of Calais' rotations to reduce their deficit slightly (20-27) with four minutes to play in the first half.
However once Calais reverted to their stronger line-up they quickly regained control and finished the first half with a buzzer beater by Mélanie Devaux to lead (34-23) at the break.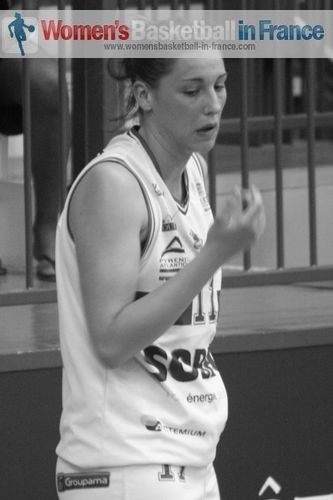 The combination of turnovers and the individual exploits of Devaux made Pau fall further behind (30-46) with four minutes left in the third quarter. However with Émilienne Vidal (in picture) suddenly hitting everything in sight the advantage came down to just 7 points going into the final quarter (43-50).
Calais were in trouble for the first time in the game with Pau trailing by just 2 points (51-53) before Sinico converted a 3-point play.
Pau's destiny changed completely with back to back three-pointers by Marion Arfélis for Pau to lead for the first time since the opening score (57-56) with six minutes to play.
The rest of the match was a dog fight. However with Aurélie Cibert fouling with 4:46 to play and Kierra Mallard not able to play Calais had nobody able to battle with Vidal and Bunel.
The end was not pretty and with 15 seconds to play Pau got the break they needed with Bunel hitting the 2 free throws. Calais' last chance resulted in another turnover and the rest is history.
COB Calais: Jenny Fouasseau 5, Floriane Herrscher 11, Natacha Ahamada 0, Marine Capon 0 , Pauline (Melissa) Diawakana 5, Aurélie Cibert 2, Mélanie Arnaud 8, Manon Sinico 20, Mélanie Devaux 16, Kierra Mallard 0

Pau: Julia Borde 3, Marion Arfélis 10, Awa Gueye 9, Nina Moral DNP  Laurie Lapeyre 14, Vélia Bosch 6, Mariame Dia 5, Émilienne Vidal 14, Ingrid Bunel 9, Martha Chrzanowski 0
---
There are extended game highlights from the final match with scenes from the after-match celebration while the interviews with Aurélie Lopez and Ingrid Bunel start at the 5:05 point.
Dans la vidéo sur les dernières scènes du match et les célébrations, veuillez trouver les interviews avec Aurélie Lopez et Ingrid Bunel commencent à 5:05.
---
Pau-Lacq-Orthez: chanceux

Pourtant mené par COB Calais pendant tout le match, c'est Pau, grace au sang froid de Ingrid Bunel au lancer franc dans les dernières secondes, qui remporte la victoire pour la troisième place au LF2 Final Four (70-67).
Le moment que la capitaine de Calais, Aurélie Cibert, a été éliminée à 4:46, son équipe a perdu son momentum pour Pau d'en profiter. Le fait que Kierra Mallard ne pouvait plus jouer a aussi affaibli Calais dans sa quête d'une victoire pendant ce weekend.

---
Picture slideshow
---
Like this page / Aimez cette page