Angers first to qualify
for LF2 final

Angers' team spirit simply was the key factor in their qualification for the LF2 final four final as they powered their way past COB Calais (68-59). In the first half Elise Prodhomme was the catalyst with 11 points while Johanna Cortinovis' aggressiveness and Camille Aubert's calmness down the stretch secured the victory.
Jump to some video highlights as well a picture gallery and after-match comments.

Veuillez trouver en bas de page notre reportage sur le match en français.
In a lively opening three minutes both teams went on the offensive with Calais having the advantage (7-6). David Girandière, the coach from Angers was not too happy and called the first time-out of the match.
The Elise Prodhomme first-half show for Angers began after the time-out with a three-pointer that rolled all round the ring before falling into the basket. Then Angers went on to score 4 more points in a 7-0 run to take the lead (13-7) with just over five minutes played.
Manon Sinico ended Calais' barren spell with a driving lay-up as both teams started to get physical. Calais adopted a player-on-player marking system while Angers switched to zone as the play became scrappy and scoring next to impossible. Angers held on to edge the first quarter (15-13).
The second quarter belonged to Prodhomme (in picture) who hit two more three-pointers infecting her team-mates Carine Brossais, Julie Barennes and  Aurélie Favre to all connect from behind the arc. Angers were able to open up a double-digit lead by half time (34-22).

Calais started the second half with Sinico scoring almost immediately after the restart followed by a three-pointer by Jenny Fouasseau.
But the joy was short lived for Calais because Camille Aubert knocked down a three-pointer from the top of the arc and then provided 2 assists for Aurélie Besson (41-29).
Calais clawed themselves back with long distance bombs by Sinico and Mélanie Devaux (35-43) which forced Angers to call a time-out with 4:20 to play in the quarter.
Calais had knocked down their deficit to just 4 points (39-43) with 2:40 to play in the third quarter before Angers woke up to finish with a 9-0 run to regain control (52-39).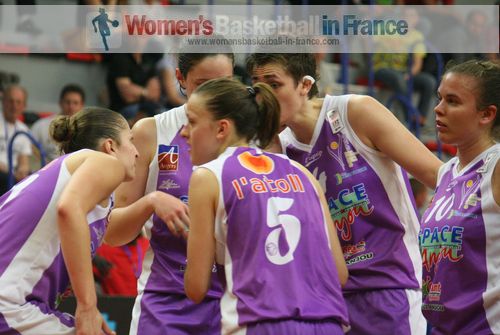 The last quarter became more interesting with Calais trailing (47-56) due to Angers playing zone. Calais were forced to call a time-out. Yet with sharp shooting they came back to within 4 points (54-58) with a three-ball by Devaux.
But Angers played smart and with Aubert and Johanna Cortinovis on fire they went 9 points clear (65-54) with 1:12 to go.
Then Cortinovis put the icing on the cake with a couple of free throws for her side to win (68-59).
COB Calais: Jenny Fouasseau 10, Floriane Herrscher 2, Natacha Ahamada 0, Marine Capon DNP, Pauline (Melissa) Diawakana 0, Aurélie Cibert 5, Mélanie Arnaud 12, Manon Sinico 12, Mélanie Devaux 8, Kierra Mallard 10

Angers: Johanna Cortinovis 15, Camille Aubert 8, Carole Leclair 1, Mélodie De Sousa DNP, Julie Barennes 7, Aurélie Favre 5, Aurélie Besson 4, Elise Prodhomme 14, Carine Brossais 10, Sophie Le Marrec 4
You may watch the after-match comments from David Girandière, Sophie Le Marrec and Camille Aubert as well as pictures and some game highlights below:

---
L'envie d'Angers de gagner était la clef du succès

L'équipe d'Angers peut déjà célébrer: avec leur discipline et leur adresse dans les trois-points surtout dans la première mi-temps, les joueuses ont montré qu'elles sont prêtes pour la finale.
Dans le premier mi-temps, c'était à Elise Prodhomme de montrer aux adversaires comment prendre des shoots à distance pendant que le coach continua à tourner son équipe aussi pendant la deuxième mi-temps.
Les co-équipières de Sophie Le Marrec et Carine Brossais, Camille Aubert et Johanna Cortinovis terminaient ce match avec beaucoup d'aggressivité et du sang froid en remportant une belle victoire pour accéder à la finale de la final 4 de la LF2.

---
Like this page / Aimez cette page