2014 LF2 Final 4
Perpignan Basket are the
champions of France

Perpignan Basket 66 lifted their second LF2 Final Four Championship medal after crushing hosts COB Calais (76-56) in the final. Elodie Bertal (in picture) who scored 15 points in the game was voted MVP for the Final Four weekend.

With this victory, Perpignan Basket 66 have won the right on the basketball court to be promoted to the LFB. For Calais who had won the regular season, their defeat was their third one to Perpignan this season.

Veuillez trouver des informations en français sur la finale de la Final Four de L2F de la saison 2013-14 en bas de la page.
Calais started the game well with Tiffany Clarke scoring on the very first attack. In addition Awa Sissoko, on fire, added 7 quick points. However Marie-Frédérique Ayissi was also on fine form for Perpignan with 8 first-quarter points.

With a 9-0 run, Perpignan were able to pull away starting with a three-pointer by Pauline Lo. With just under two minutes remaining in the first quarter, Kevin Brohan called his first time-out for Calais.

Calais switched to their running and shooting from far game and hit a couple of big shots to reduce their deficit by the end of the first quarter (15-24).

Clarke from Calais was more aggressive under the basket at the start of the second quarter and provoked fouls. This enabled her to score some free throws as the hosts started to chase after the score.

Ayissi (in picture in blue) on the other hand was unstoppable and continued to score as Perpignan opened up a double-digit lead (28-18) with five minutes played in the quarter.

Calais finally found a way to stop Perpignan from scoring with an aggressive player-to-player marking system while chipping away at their deficit to finish the first half trailing (26-30).
In a game of contrasting styles Perpignan's collective play enabled them to keep the youthful individual exploits of their opponents at bay. However this did not stop Calais from setting the hall on fire.

Once again Sissoko got the third quarter off to a flying start with a spectacular one-hand buzzer beater. But the duo of Fatou Dieng and Elodie Bertal enabled the guests to extend their advantage (43-33) half way through the quarter.

Perpignan's better shot selection paid off as they stretched their lead by the end of the third quarter (63-43) to 20 points with a buzzer beater by Ayissi.
The shooting festival by Perpignan continued with Bertal taking over from Pauline Lo from the land of many to more or less kill the game off as a contest with her first shot of the fourth quarter (66-43). Calais had no more answers and Perpignan cruised to their second LF2 Championship title in a match in which seasoned LFB veterans prevailed over youth (76-56).

COB Calais

Jenny Fouasseau 5 points
Natacha Ahamada 0 point
Awa Sissoko 12 points
Onayssa Sbahi 8 points
Aurélie Cibert 0 point
Mélanie Arnaud 2 points
Amandine Bourgeois 0 point
Dominique Allen 4 point
Marie-Bernadette Mbuyamba-Tshimanga 0 point
Tiffany Clarke 14 points


Perpignan Basket 67



Fabienne Constant 12 points
Myriame Benkada 0 point
Fatou Dieng 14 points (8 assists)
Elisa Esteve 0 point
Laura Datchy 1 point
Margaux Okou-Zouzo 0 point
Marie-Frédérique Ayissi 16 points
Pauline Lo 18 points
Elodie Bertal 15 points
Rose Abenkou 0 point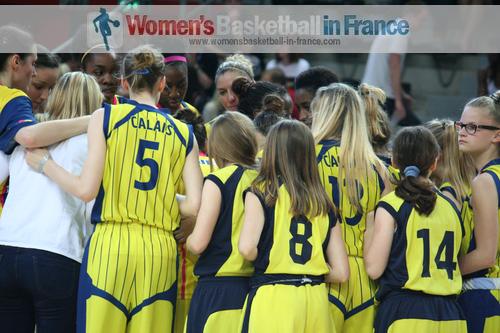 ---
L2F Final Four
Les Perpignanaises : victorieuses à Calais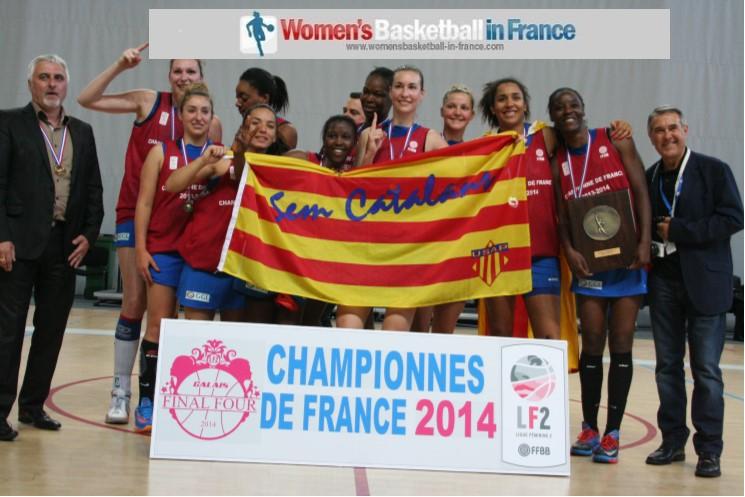 Perpignan Basket 66 domine la finale contre COB Calais. Son age et son expérience lui donne une victoire bien savoureuse contre une jeune équipe Nordiste (76-56). Puis Elodie Bertal de Perpignan remporte aussi le titre de MVP de la Finale Four en LF2 2014.

Calais débute le match avec beaucoup de l'énergie. Tiffany Clarke et Awa Sissoko survoltent. Mais Marie-Frédérique Ayissi répond avec 8 points elle-même pour Perpignan.

Puis Perpignan creuse un premier écart avec 9 points consécutifs : commençant avec un tir primé par Pauline Lo.

Après un temps mort par Calais, les Nordistes changent de la tactique pour pouvoir réduire leur déficit à la fin du premier quart-temps (15-24).

Clarke, plus aggressive sous le panier, provoque des fautes et marque ensuite ses lancers francs pour permettre à Calais de se rapprocher du score de son adversaire.
Mais une nouvelle fois, Ayissi met des paniers pour Perpignan afin d'élargir l'avantage (28-18) après cinq minutes jouées dans le deuxième quart-temps.

Enfin Calais trouve des moyens pour empêcher Perpignan à marquer avec une défense très agressive et ainsi réduit l'écart à (26-30).
Le jeu collectif de Perpignan est opposé à celui de Calais avec des exploits individualistes. Sissoko marque tout de suite au début du troisième quart pour enflammer les Calaisiennes.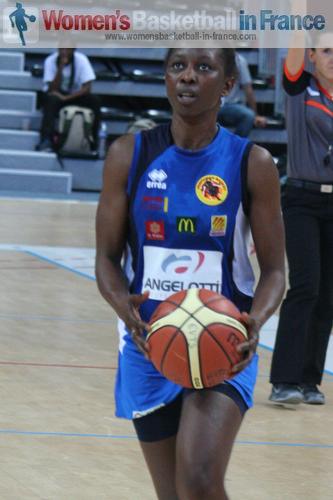 Mais Fatou Dieng et Elodie Bertal continuent à creuser l'écart pour Perpignan (43-33) dans les cinq premières minutes de ce quart et puis c'est encore une fois Ayissi qui confirme la supériorité des Perpignanaises avec la dernière balle dans ce quart pour aggrandir l'avantage à 20 points (63-43).
Les dix dernières minutes, c'est du sens unique. Des shoots de longue distance par Pauline Lo et Bertal font l'effet et COB Calais capitule.
Perpignan Basket 66 gagne le titre des Championnes de France en LF2 et le droit de jouer en LFB la saison prochaine, si tout va bien.
---
LF2 Final Four picture credits:
womensbasketball-in-france.com

Date created: 18 May 2014
Like this page / Aimez cette page