International youth basketball
12 players selected for France U20

The international youth basketball programme for the U20 women this year was changed because the U20 European Championships are normally the first FIBA Europe tournament of the season.

France started their preparation in June with a 3-match series against Lithuania and finished with a 2-match scrimmage against Serbia during the same time France was winning a silver medal at the Olympic Games.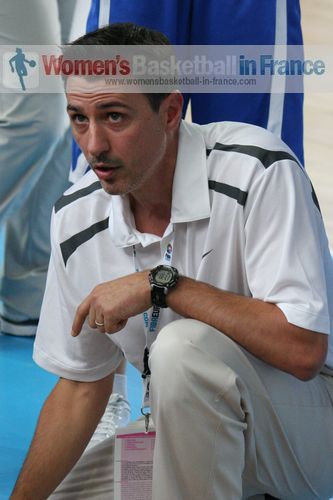 Grégory Halin is once again the head coach and his assistants Alban Le Bigot and Vincent Bourdeau are back again for another adventure.
The lateness of the European Championship this year meant that the French Federation needed to negotiate with the clubs of the players in LF2 or lower because their players will miss part of the pre-season.
An initial group of 22 players were named for the first training camp which was held in June but only 19 players attended.
At the end of the first training camp France played Lithuania in two official games which they won (57-41) and (60-40).
The team continued their training in Bourges before heading off to Bourg-en-Bresse for the traditional 4-nation international tournament. France beat Serbia (65-43) and Belgium (74-43) but lost to Russia in the final game (55-61).
France travelled to Spain for their last test series with the final roster and came out on top with victories against the Netherlands (58-50), Poland (53-28) and hosts Spain (55-50).
From the 12 youth basketball players selected only three players are from the 1992 generation. Héléna Akmouche and Adja Konteh were part of the French team that won the U16 Championship in 2007 with Coach Halin.
France are drawn in Group C and will play Portugal, Turkey and Ukraine in the first round of the U20 international youth basketball championship in Hungary.

The 12 players selected are as follows

| First name | Surname | Height | Birth year | Posistion | Club |
| --- | --- | --- | --- | --- | --- |
| Héléna | AKMOUCHE | 1,74 | 1992 | Shooting Guard | SO Armentières |
| Romane | BERNIES | 1,70 | 1993 | Point Guard | Bourges Basket |
| Sara | CHEVAUGEON | 1,75 | 1993 | Small Forward | Challes-Les-Eaux Basket |
| Jodie | CORNELIE | 1,93 | 1993 | Pivot | Dayton Flyers (USA) |
| Agathe | DEGORCES | 1,67 | 1992 | Point Guard | Toulouse Métropole Basket |
| Christelle | DIALLO | 1,93 | 1993 | Pivot | Bourges Basket |
| Margaux | GALLIOU LOKO | 1,82 | 1993 | Small Forward | Bourges Basket |
| Adja | KONTEH | 1,78 | 1992 | Shooting Guard | Arras Pays d'Artois |
| Marie-Bernadette | MBUYAMBA | 1,83 | 1993 | Small Forward | USO Mondeville |
| Alice | NAYO | 1,86 | 1993 | Power Forward | ESB Villeneuve d'Ascq |
| Sarah | OUSFAR | 1,85 | 1993 | Power Forward | Basket Landes |
| Claire | STIEVENARD | 1,83 | 1993 | Small Forward | Nantes Reze Basket |
---
---
Picture credits:
womensbasketball-in-france.com

Date created: 14 August 2012
Like this page / Aimez cette page