FIBA Europe U20 European Championship - Day 3

On day 3 of this competition FIBA Europe and the Local Organisation Committee were still involved with the teams on the issues surrounding the players' sickness.

Portugal, for the second day, could not use their full roster. They had to play with eight players. Serbia who had managed to field eight players on day 2 were down to six. Some of the other teams were also not able to present a full team for the same reason.
However there was some good news from the Netherlands and Jill Bettonvil who gave everybody a scare on day 2 is okay and was present for the final group game.
At the end of the day's basketball action there were tears from the players of Great Britain, Latvia, Italy and Portugal because of having to play in the new format of FIBA Europe's relegation round.

---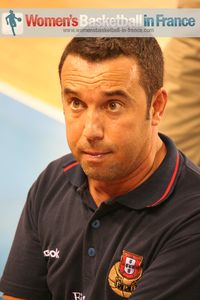 Whether you are a fan of Portuguese basketball or not you have to take your hat off to Eugénio Rodrigues who is the coach of U20 team.
He has been involved in the youth basketball international scene for a number of years. When Portugal finally won promotion to Divison A, it was a big reward for him and his staff.
He came to this tournament with ambition but he lost six players after the first match. Yet in the two games his six players played some good basketball.
They needed to beat Ukraine to stand any chance of avoiding the relegation round. They matched Ukraine for 25 minutes but with two players on 4 fouls they had to stop defending.
Alina Iagupova from Ukraine was then free to cause riot. She hit shot after shot on her way to a game high 29 points in the victory (64-47).
All credit to the players and staff from Ukraine who did not celebrate the victory: they just shook hands and walked off the court.

In the other game from Group C Turkey beat France (61-56) to clinch first place in the group. For Portugal they must now fight for their FIBA Europe Division A status.
Poland found energy to see off Italy in a classic encounter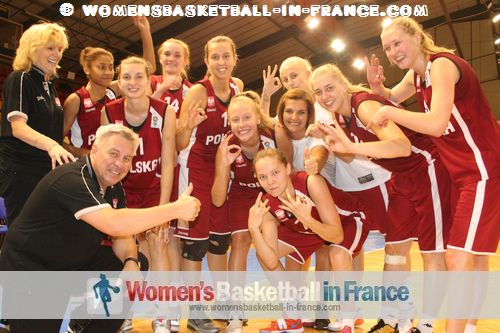 Luckily our friend who is preparing the highlight clips for FIBA Europe was at the game between Poland and hopefully you will be able to see some of the action from this game. (Our video interview with Polish head coach Iwona Jablonska is below. )

The match was an excellent advertisement for international youth basketball with plenty of engagement and some unbelievable plays.
Although Italy had lost the match Caterina Dotto still scored an unbelievable basket (her team's last). She got the ball in the basket with a scoop shot despite being blocked by at last three players.
For Poland Magdalena Zietara and Ramona Cossengue did a lot of work and it was Zietara with a dagger three-ball with about 16 seconds to play that sealed the victory.
Poland won (54-47) and survived to play another day for the title while Italy have to play in the relegation round.
Earlier in the day in the other Group B game the Netherlands beat Sweden (54-52) with two free throws by Marlou de Kleijn.
In the rest of the day actions Russia huffed and puffed to victory against Serbia (64-57) to clinch Group D title, while Slovak Republic beat Great Britain (74-61).
Spain continued their perfect competition on the court with a comfortable victory against Latvia (57-43). But off the court two more players fell sick: Yurena Diaz and Maria Espana.
In the other Group A game Belarus beat Lithuania (72-66) thereby eliminating Latvia.
---
---
FIBA Europe picture credits:
womensbasketball-in-france.com

Date created: 18 August 2012
Like this page / Aimez cette page