FIBA Europe U20 Championship
One on one with Erin Mc Garrachan

After one successful season of Great Britain at the FIBA Europe A Division event the expectations for the U20 women was to finish in the top 12 despite having on paper a difficult draw. We caught up with team captain Erin Mc Garrachan who gave us a her view on this championship.

Erin Mc Garrachan is the only player at this championship to have played in all three divisions of the youth European championships.
The soft spoken Mc Garrachan is the only Scottish player on the Great Britain roster this year. Last season she was one of five Scottish players in the squad which was a major landmark for Scottish basketball.
Mc Garrachan was MVP for the U16 Division C Women tournament in 2008. She missed out on a place in the 2010 Great Britain Division B championship team but went to make her Scottish senior début in the Small Nations tournament (Division C).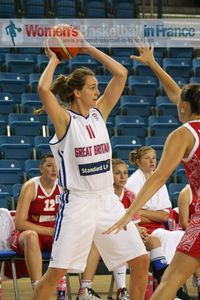 Mc Garrachan explained a little bit about her role as captain in what has turned into difficult times with illness and injury. She also talked about her efforts off the court to lift the team's moral.
Although Great Britain were not wiped out in the same manner as Portugal and Serbia they had their fair share of bad luck. Gemma Bullard was the first player to go down with the food bug and has not even stepped on court. Maisie Elston joined the list of players who became ill while playing on the first day. Elston has since returned home.
Rosie Haynes learned the hard way about the importance of mouth guards after a freakish accident during warm-up while the brave Vanessa Akra broke her wrist in the defeat against Italy.
Mc Garrachan also talked about her expectation before the tournament and what she desired for the remaining games.
As a player Mc Garrachan is a "fighter" and will continue to lead the team with all her energy in the remaining games.
---
Picture credits:
womensbasketball-in-france.com

Date created: 24 August 2012
---
Like this page / Aimez cette page