Latvia hope in keeping U20 FIBA Europe Division A status

Latvia's first objective at the 2012 FIBA Europe U20 European Championship for Women Division A has almost been achieved with their victory against Belarus (67-64) in attempting to avoid the relegation round.

Belarus on the other hand need to Lithuania to have a chance of staying in the title race. They will use their last preliminary round game to prepare for the rest of the competition in the relegation group or the second round.

The match itself was not a classic as both teams struggled to get aything going offensively. But they produced a cliff hanger finish with a free throw and heroic defending to settle the game.
Dita Rozenberga was the hero for Latvia but had to sit out practically all of the final quarter because she was erroneously credited with 5 fouls. However in her absence Paula Tomsone hit some clutch shots.
You will be able to view some after-match comments by Guna Lagzdina and Dita Rozenberga (English and Latvian) and watch the team's celebration huddle.

Latvia took the risks and won the game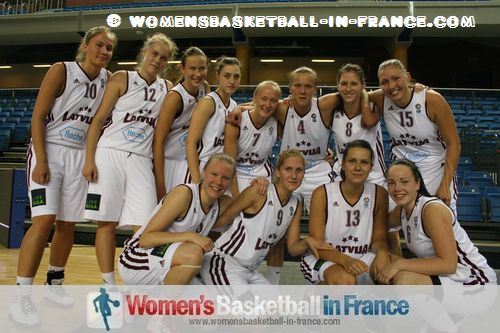 Belarus had the perfect start with a three-pointer by Maryia Papova on the very first attack to then race off to a (9-0) opening run.
Latvia finally broke the deadlock with a split pair from the free-throw line with a split pair by Renate Reine after almost four minutes of play. This was followed by a trey by Krista Bridina.

The game finally opened up during the final five minutes of the quarter with both teams defending aggressively.

No real systems appeared to be played which suited Dita Rozenberga from Latvia as her team came storming back into the game.

However with Papova scoring and clutch plays by Maryia Filonchyk and Maryna Ivashchanka, Belarus edged the first quarter (17-21).

In the second quarter Latvia switched to a player on player marking system which enabled them to close down the opponents.
Belarus started to struggle and Latvia became more aggressive around the basket.
Latvia also started to collect more second chance opportunities as they slowly took control of the game.

Latvia's tactics continued to work and with Ance Aizsila hitting the big shots they went 5points clear (30-25) with 17 minutes played.

Rozenberga brought the first half to an end with a reverse spin drive to the basket at the buzzer for Latvia to go into the loker room leading (33-30).

The third quarter was played slowly which turned into a big mistake by Belarus because the pace allowed Rozenberga to cause mayhem at both ends of the court. Her energy was such that on one of her coast to coast runs, she was knocked flying and finished up knocking down the advertising boards.

Sabine Dukate's shot from downtown on a fast break transition (45-36) forced the Belarus coach to use a time-out with just over three minutes to play in the third quarter.

Belarus needed to be more aggressive because their opponents were not afraid to be physical.
Belarus started fighting for the ball and more importantly reduced their deficit (45-48) with 30 seconds to play in the quarter,

However they made one mistake by allowing Rozenberga to go coast to coast for 2 points and a free throw.

Latvia still had an 8-point advantage to start the final quarter (53-45) but Rozenberga fouled out 28 seconds into the quarter. However the game was held up for five minutes because only 4 fouls showed up at the FIBA official stats sheet.
Two minutes later Belarus also lost a key player when Filonchyk fouled out.

Latvia continued to be aggressive but Belarus with Darya Lipinskaya on fire were 2 points down with a minute to play.
The Latvian players defended as if their lives depended on it and were diving all over the floor.
Belarus did not score again while Latvia hit just one free throw (67-64). Latvia will be back next year for sure while Belarus' FIBA Europe U20 Division A status depends on them winning in the relegation round.

Belarus: Natallia Baklaha 4, Aliaksandra Musatava 7, Krystsina Turomsha DNP, Nastassia Haryna DNP, Maryia Filonchyk 8, Maryia Papova 22, Alena Holubeva 2, Darya Lipinskaya 13, Maryia Rashchenia 0, Ksenija Voishal 0, Katsiaryna Urbanovich 0, Maryna Ivashchanka 10

Latvia: Dita Rozenberga 18, Ance Aizsila 12, Ilze Jakobsone 2, Asnate Fomina 0, Renate Reine 2, Krista Bridina 3 Sigita Dzarcane DNP, Ruta Veidere 5, Paula Langina 2, Paula Tomsone 15, Sabine Dukate 7, Guna Lagzdina 1
---
---
FIBA Europe picture credits:
womensbasketball-in-france.com

Date created: 17 August 2012
Like this page / Aimez cette page