FIBA Europe U20 Championship
Ukraine beat France

France's second match at the FIBA Europe U20 European Championship for Women Division A did not go according to plan because they were beaten by Ukraine (75-66).

This defeat leaves France in a strange position that could see them as group winners provided they beat Turkey. Otherwise they could become relegation group candidates if Portugal beat Ukraine.
France like many teams here were without a full roster because of the virus that has hit this competition.
Ukraine were more aggressive from the start and never allowed France to settle and were the deserved winners.
FIBA Europe and the Local Organising Committee biggest concern before the final preliminary round games.

Ukraine were too aggressive for France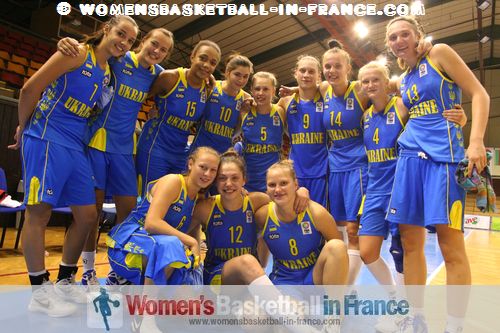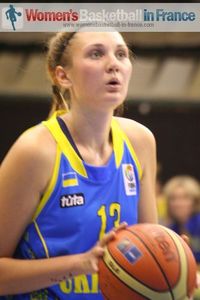 Ukraine started the game very aggressively. Oleksandra Chek and Alina Iagupova were throwing themselves around and playing at high speed which helped them to rush off to an early lead (14-6) after five minutes.
Gregory Halin, the French coach had no choice but to call a time-out because his players were missing too many baskets and were committing too many fouls.
After the time-out France went on the rampage with Marie Mbuyamba and Christelle Diallo doing the work in the paint while Claire Stievenard did all the unselfish tidying up.
France scored 9 uncontested points to lead briefly. But Anna Kiriyenko'(in picture above) free throw allowed Ukraine to win the first quarter (18-17).
The first three minutes were up and down basketball with not much structure with points coming from indivual exploits and not set plays. This resulted in both coaches using early time-outs.
Yet the Ukraine still had the advantage (27-23).
France continued to struggle defensively and were lucky that Iagupova's three-pointers were missing the target. Otherwise they would have been trailing by more than 9 points at the break (33-42) with Iagupova as the leading scorer with 19 points.
France were still absent defensively and trailed (51-39) midway through the third quarter as Ukraine continued to be adventurous.
Although France finally defended to stop Ukraine from scoring they did not score either apart from a baseline trey by Adja Konteh.
Ukraine were gifted too many trips to the charity stripes as the French players were powerless to stop them.
However France finished the quarter in style with a three-point buzzer beater by Romane Bernies to bring down the deficit (48-59).
France turned on the turbo at the start of the final quarter at both ends of the court causing Ukraine problems.
When Iagupova came storming down the court (8:42) charging into Diallo to knock her flying to the ground, it seemed that the French player injured herself. Yet she was able to pick herself up after a minute.

France's good run did not last because with 5.48 to play Iagupova was left wide open at the top of the arc to hit a rain-maker three-pointer (66-54).
The Ukraine continued to be aggressive in defense while Kiriyenko and Iagupova took care of the scoring to win the match (75-66).
France: Romane Bernies 6, Agathe Degorces 6, Claire Stievenard 4, Alice Nayo 2, Margaux Galliou-Loko DNP, Hélèna Akmouche DNP, Sara Chevaugeon 15, Adja Konteh 7, Jodie Cornelie 2, Sarah Ousfar 0, Christelle Diallo 10, Marie Mbuyamba 6
Ukraine: Nataliya Pokrovenko 2, Xeniya Afanasyeva 2, Olga Krayevska 0, Kateryna Demchenko 5, Mariya Tkach 2, Alina Iagupova 25, Larysa Stadnik DNP, Viktoriya Karyeva DNP, Oleksandra Chek 6, Anna Kiriyenko 17, Lyudmyla Naumenko 8, Miriam Uro-Nile 8
---
---
FIBA Europe picture credits:
womensbasketball-in-france.com

Date created: 17 August 2012
Like this page / Aimez cette page