FIBA Europe Division A
for Portugal at U20

Eugénio Rodrigues has been involved in FIBA Europe competitions for a decade. A little over 12 months ago he was on top of the world when at last a youth women's team had won promotion.

The Portugal Basketball Federation has developed a youth basketball academy at a national level where the best players at various ages are grouped. These players normally return at weekends to play for their clubs.
However due to the recent economic crisis, the U16 programme has been stopped. In the early days of the programme there had been organised joined training camps with other national programmes.
With the academy in place the teams started to slowly progress and a top 8 finish was celebrated as a victory. In more recent years the teams started fighting for medal places and pushing for promotion became a project.
In the summer of 2011 the U20 team gained their ticket to Division A by finishing second to Sweden, while this year (2012) it was the turn of the U18 team to gain promotion.

However things have been difficult for the U20 team at the current U20 championship because six players had come down with an infection due to contaminated food.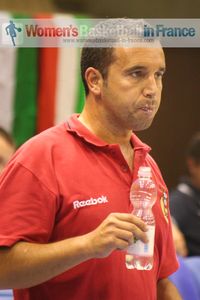 They opened their competition against France with a full roster of 12 players but unknown to Rodrigues some of his players were already sick. This could explain the drop of energy level during the final 10 minutes. As soon as the game finished Laura Ferreira was being treated by the local doctor.
For the next two matches Portugal had only six fit players and despite a spirited effort they lost both games and found themselves in the relegation round.
They were beaten by Italy in the first game of the second phase, still with six players. However for the second game three of the sick players returned for limited play time against Latvia.
Although Rodrigues' team was trailing by 9 points going into the final quarter his players somehow forced overtime before winning the game (60-57).
This interview was conducted before Portugal played Great Britain who they also beat.
In the interview the Portuguese coach revealed his feelings about the victory and what it meant for him and the team.
We have also put a little tribute picture slide show together before the second part of the interview.
---
---
FIBA Europe picture credits:
womensbasketball-in-france.com

Date created: 23 August 2012
Like this page / Aimez cette page