2012 FIBA Europe U20 European Championship - 8 teams for the title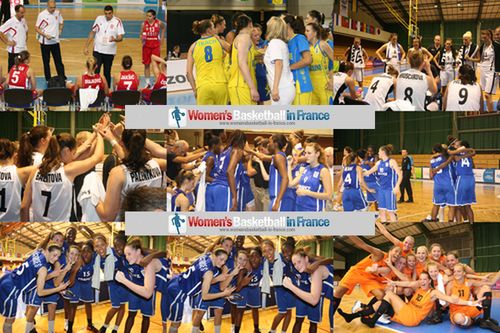 After six days of basketball at the FiBA Europe U20 European Championship Women Division A, eight teams still have a chance of winning the title after finishing in the top 4 of their qualifying group.
The quarter-final pairings are as follows:

Spain vs. France
Ukraine vs. Netherlands
Sweden vs. Russia
Turkey vs. Belarus
---
Sweden made it five wins from six games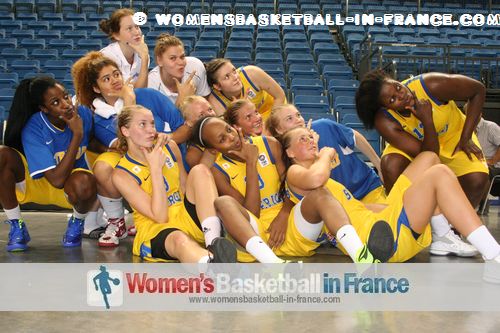 Sweden completed the second phase of the competition with a comfortable victory over the already eliminated Lithuania (73-58) to finish on top of Group E.
After a tight first half Sweden that were leading (33-32) stepped on the turbo during the third quarter. Then they put together a 16-0 run which they completed in the final quarter (60-39) to kill the game as a contest.
Farhiya Abdi top scored with 21 points. However it was a full team effort with all but one player getting on the score sheet.
Frederik Joulamo, the Swedish coach shared his thoughts with womensbasketball-in-france after the game. You may listen to his comments and those of Ida Christensen, Ellen Nyström and Binta Drammeh.
Ukraine pushed aside Serbia with a little help from Alina Iagupova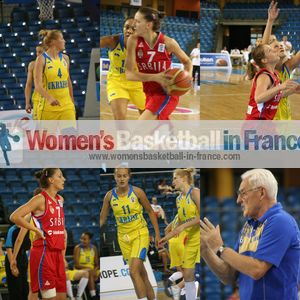 Serbia have been managing sick players from the first day of the competition and in this match a number of players were still unwell.
Although the will was present their bodies could not take it and the game was lost by the end of the first quarter (17-26).
Serbia's situation does not take away the performance of Alina Iagupova who finished with a triple-double of 24 points, 13 rebounds and 10 assists. Her team-mates Oleksandra Check and Lyudmyla Naumenko combined for 36 points in the (85-63) victory.
We spoke with Iagupova after the game who first thanked us for the congratulations about her performance. She explained about her shooting and how much work she had put into it. She said that she did enter a basketball academy when she was younger. She finished the interview up by talking about her team-mates and how they worked from game to game. We would like to thank the Ukraine Basketball Federation in helping us with interview and the translation.

>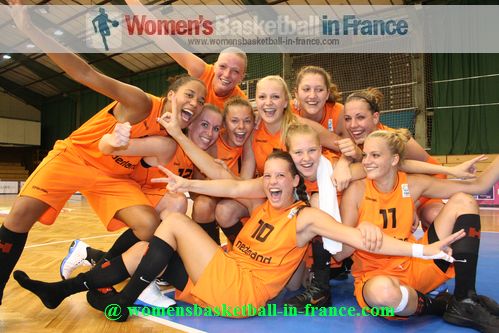 More history for Netherlands U20 Basketball

The Netherlands needed a victory to book their place in the last 8 for the U20 Division A for the first time in their history although they had already won a Division B championship title in 2009.
The Dutch raced out to a (30-13) first-quarter lead with a master class display in the art of long distance shooting.
Belarus never recovered and the Dutch cruised to victory (84-59) with Zera Butter leading the way with 30 points.
Despite the loss Belarus were assured a place in the quarter-final and will face Turkey.
René Spandauw, the Dutch coach and Zera Butter spoke with us after the game.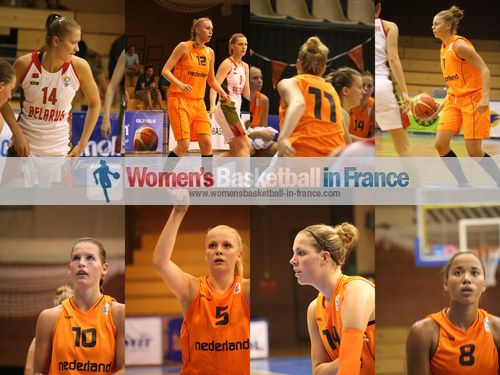 Elsewhere on day 6: Nothing but bad luck for Great Britain

Turkey remain unbeaten after beating Russia (62-57) in a game that had nothing at stake for either team (dead rubber).

Spain bounced back from their day five defeat to knock out Poland (71-54). Spain were complete for the first time since day 1 while France squeezed past the Slovak Republic (68-63).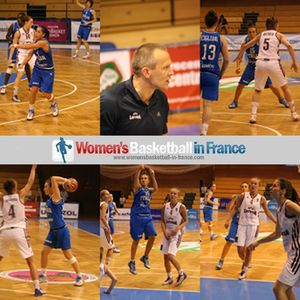 In the relegation round Italy have completed the first phase with a perfect record after seeing off Latvia (68-59) while Portugal walloped Great Britain (66-39).

For Great Britain this has become a FIBA Europe tournament to forget.
Gemma Bullard has been sick from day 1 and is yet to play while Maisie Elston who lasted just seven minutes in the first game has returned home.
The freakish accident to Rosie Haynes and the wrist injury to Vanessa Akra just about sums everything up about their tournament.
Anyway they need to start winning by big scores and the rest of the teams have to drop games to avoid relegation.
So the time has come for "defense hustle" and some support from their fans of Great Britain.
---
---
FIBA Europe picture credits:
womensbasketball-in-france.com

Date created: 22 August 2012
Like this page / Aimez cette page