It is time for Dunkerque Malo
to establish themselves
Le lourd héritage de Dunkerque
du père au fils

Sébastien Devos has been in charge of Dunkerque Malo Basket Club since 2009 when he took over from his father. His appointment was seen as the beginning of a new era for the team.

However the journey has been rough after a promising beginning with a 6th place finish in 2010.
In 2011 the club was punished with a 1-point deduction for exceeding their agreed salary budget which left them close to relegation. They survived and decided not to charge an entry fee for the final game of that season.
In 2011-2012 Dunkerque Malo were forced to rebuild as most of the players from the previous season had left. They finished 8th after a roller-coaster season.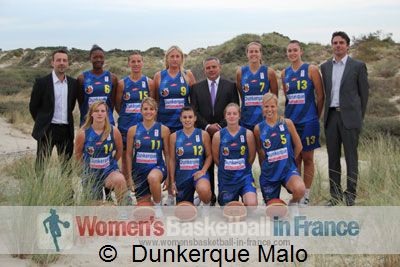 For this season Sébastien Devos expressed his one wish to win all home games. (At the time of finalising this article Dunkerque had been beaten in the opening game of the season.)
His belief is that once his side takes care of business at home in the "salle Burnod" then they should be okay.
This season he has a full roster to work with. The five new players coming in are: Coralie Desprez, Kékelly Elenga, Liza Faurez, Judit Fritz and Mélissa Micoletto. Sonia Bal is also back in the line-up after taking a season off.
Without the pressure of relegation this year the time has come for Sébastien Devos to rise from the shadow of his father and stamp his own identity at Dunkerque Malo Basket.
The arrival of speedy Mélissa Micaletto at the point guard position may add a new dimension to the way Devos likes his team to play basketball.

Tel père tel fils à Dunkerque Malo ?

Après un long règne de son père au DMBC, Sébastien Devos, dans sa quatrième année en tant que entraineur de l'équipe 1 à Dunkerque, doit enfin se confirmer.
Avec l'ancienne meneuse Fresnais plus dans l'effectif, Devos recrute Micaletto (dans l'image) pour apporter à l'équipe l'agressivité qu'il cherchait pour tirer l'équipe vers le haut.
D'autres nouvelles recrues sont Elenga de Le Havre, Desprez de Charleville Espoirs, Fritz de D2 Italie et Faurez de Villeneuve d'Ascq Espoirs.
Est-ce que la réussite va finalement sourir aux Dunqerquoises ?

Départs :• Lucie Carlier, Taisiia Bovykina (Ukraine), Amélie Fresnais, Elodie Dubasque (CSP Rezé)

Arrivées• : Kékélly Elenga (Le Havre), Coralie Desprez (Charleville), Mélissa Micoletto (Reims), Judit Fritz (D2 Italie), Liza Faurez (Villeneuve-d'Ascq)

Effectif :• Kékélly Elenga (intérieure, 1,86 m, 21 ans), Judit Fritz (arrière-ailière, 1,85 m, 25 ans), Sabrina Scott (ailière-forte, 1,90 m, 31 ans), Coralie Desprez (meneuse, 1,68 m, 18 ans), Dace Pierre Joseph (intérieure, 1,87 m, 30 ans), Aurélie Durand (arrière, 1,70 m, 24 ans), Mélissa Micaletto (meneuse, 1,66 m, 22 ans), Liza Faurez (ailière forte, 1,87 m, 18 ans), Marie Lecoustre (arrière-ailière, 1,78 m), Sonia Bal (ailière forte, 1,82 m, 31 ans)

Entraîneurs : Sébastien Devos et Régis Fichelle

---
Visit our home page
Visit our "What's New" page
Visit our LF2 Basketball 2012-2013 page

picture credits:
womensbasketball-in-france.com
Dunkerque Malo
Date created: 15 October 2012
Like this page / Aimez cette page