Basketball news
The regular season is finally over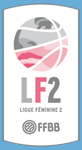 In the last few weeks of the season a lot of basketball news focused on the financial ability of clubs to survive in the Ligue Féminine 2.
All the clubs have had to become more professional and must have a basketball academy certified by the Federation.
The maintenance of the academy and the obligation to run more youth teams in addition to a second senior team cost the clubs money.
In addition all the teams were required to have at least three players on the team sheet for each game under the age of 23 (from next season the clubs must have four players).
This is the last year of having 16 teams playing in the second division. Next season there will only be 14 teams. This is why the relegation battle was so intense.
However from next season only 2 teams will be relegated.
The CFBB will continue to play in LF2 even if they continue to finish the season in last position.
Basketball news: Dunkerque Malo smile at last
Dunkerque Malo's management decided not to charge an entrance fee for the winner-take-all match against AL Aplemont Le Havre hopping that more people would attend the game.
The public turned up and were treated to an intense game with neither team able to control the match long enough to open up a lead of any significance.
With five minutes to play the teams were still together (54-54) and it took back to back scores from Mariame Dia (19 points and 12 rebounds) to put the hosts in the lead for good.
Dunkerque went on to win (65-58) despite the 20 points and 3 assists by Alexandra Tchangoué.
Bénédicte Fombonne (top right) was able to end her career with a victory.
In Illkirch-Graffenstaden, the loudest cheer of the evening was given to Nadège Drago 30 seconds from the end of the match when she hit her free throws for her only points of the game against Voiron.
Drago who dished out 5 assists in the victory (63-57) has decided to end her career. Amina Njonkou fired in 20 points and pulled down 13 rebounds to help the SIG to victory.
In a dress rehearsal of the LF2 final four semi-final Reims BF beat Lyon BF (75-53) with 24 points coming from Anaïs Jomby.
Roche Vendée beat Angers (61-51) and finished the regular season in second place. Cavigal Nice squeezed by the CFBB (66-65) and held on to third place.
Armentières jumped into fifth place after beating Pleyber-Christ (59-58). Kelly Corre in her last game for Pleyber-Christ got herself ejected in the last quarter while her side was leading (49-44).
Maria Ruzickova fired in 27 points as Perpignan edged out Pau Lacq Orthez (74-66). Limoges lost at home to Rennes (61-66).
Results of week 30:
CFBB 65-66 Nice
Limoges 61-66 Rennes
Armentières 59-58 Pleyber-Christ
Angers 51-61 Roche Vendée
Illkirch-Graffenstaden 63-57 Voiron
Reims BF 75-53 Lyon BF
Dunkerque Malo 65-58 Le Havre
Perpignan 74-66 Pau Lacq Orthez

All the stories from round 29 of LF2.
---
Return to Ligue Basketball news page
Return to women playing basketball in France Home page
GO Back to the top of the page
---
LF2 basketball news picture credits:
womensbasketball-in-france.com
FFBB

Date created: 08 May 2011
---