The second part of the NF1 basketball for 2009-2010 looks at the NF1 team rosters for Roche Vendée Basket Club, Nice BC 06, Dunkerque Malo Basket Club and Avenir de Rennes.
You will be able to select whichever team you are interested in by clicking on the club links below.
is back for a second season at the helm of the club.
He will be hoping that his team can secure a play-off spot. Last season they were not considered to be one of the favourites. Yet they led the division during the first half of the season.
One from the six players, Jennifer Garland, is not returning for the NF1 basketball adventure this season, as she is expecting a baby.
Christelle Morel returns to NF1 after a difficult season at COB Calais in the LFB. Elodie Gérald comes from Nice. Stéphanie Dufour who won all the youth honours with Mondeville's youth teams will start her senior career with a coach who was used to working with basketball academy players at Challes-les-Eaux.
The club Roche Vendée plays their home games in the sport complex in Roche-sur-Yon. The club's challenge for promotion this season will depend on their form away from home.
Surprise defeats on the road last season ended their play-off ambition. However with the experience gained, Roche Vendée are expected to be one of the clubs challenging for the title.
Laura Barreteau, Gabriela Kubatova (Slovak Republic), Sylvaine Grelier, Elodie Gérard, Mylène Balat, Elodie Demortier, Christelle Morel, Maïté Fouquez, Stéphanie Dufour, and Livia Libicova. The head coach is Matthieu Chauvet.
Who are Nice Basket Competition 06?
The decision was made by the general council in Nice, that the town would support only one club in Nice. So Nice COB and Nice CAB had to find a solution.
Nice COB and Nice CAB merged to form Nice BC 06 with the coaching staff of Nice CAB running the show.
This merger means that Nice will have a structure that supports a basketball academy (Centre de Formation) and maintain an Espoir (U21) structure.
Nice COB and Nice CAB will continue to play amateur basketball in the lower leagues.
This change meant that Odile Santaniello was no more part of the coaching staff and Olga Tarasenko who was the coach of Nice CAB in NF2 will be the coach of the NF1 team for this season.
No players from Nice COB are part of the new roster.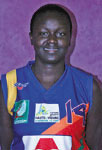 Emilie Petiteau-Silbande returns to basketball after having a baby.

Nice are expected to survive the season without creating any waves.

The Nice BC 06 roster is:

Barbara Cousin, Morgane Plestan, Emilie Petiteau-Silbande, Laura Désert, Laura Dessus, Madinina Donivar, Marylène Guerra, Jézabel Richard, Fabienne Constant, Eléonore Luhaka, and Jeanne Senghor with the head coach Olga Tarasenko.
---
---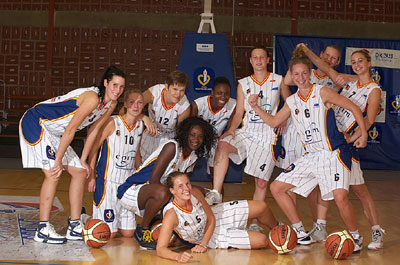 New era for Dunkerque
Christian Devos handed the reigns of head coach over to his son Sébastien Devos. Yet Christian Devos continues to participate in Dunkerque's fate and has become the General Manager of the club.

The retirement of Virginie Delépine, Jéhanne Detry and Emilie Venier from basketball and the maternity break of Sonia Bal brings an end to an era of basketball at the club.

In addition Dace Brumermane who planned to return for another season has had to withdraw for personal reasons.
Dunkerque have had a good pre-season. With experienced players such as Bénédicte Fombonne and Mariame Dia (right) they will be hoping for a much better season than last year.
However they are not expected to challenge for the title. At the same time Dunkerque are not expected to be involved in the relegation battle.
The Dunkerque roster is:
Amélie Fresnais, Marlène Duquesne, Leslie Matanga, Sonia Adler, Bénédicte Fombonne, Sophie Watrelot, Lucie Carlier, Mariamé Dia, Katalin Kurtosi with the new head coach Sébastien Devos.
They also have players from the second team that may play in NF1 during the season.
---
Frédérique Prud'homme has plans for Rennes
Prud'homme took two years to get acquainted with NF1 basketball. But for her 2009-2010 roster she did not waste much time in the transfer market at the end of last season.
She signed just one new player Milijana Evtoukhovitch replacing Nadja Morgan who will play for Voiron.
Rennes have been known for their work with youth players and it is starting to benefit. Kadidia Minté is a product from the Rennes basketball academy. She played for France this summer at the U18 European Championship and the U19 World Championship. Minté was not on the French radar screen in 2008.
Maud Médénou, who came from the CFBB, has stepped up. She is another player that has benefited from the Rennes' approach with young players.
The expectation this season is that Rennes are likely to be one of the contenders for the title.
All the young players in the squad have been involved at one time in their career at youth international basketball level. In addition all the players have had experience in NF1 or LFB basketball in the last three seasons.
The 2009-2010 roster for Rennes is:
Virginie Kévorkian, Aurélie Durand, Emmanuelle Gorjeu, Elise Prodhomme, Yvette Assilaméhou, Carole Leclair, Lorraine Lokoka, Maud Médénou, Kadidia Minté, Milijana Evtoukhovitch with Frédérique Prud'Homme as the head coach.
---
Return from NF1 Amateur Basketball Nationale Féminine 1 to index page
Return from NF1 Basketball news to women playing basketball blog page
The other NF1 Basketball Previews for 2009-2010
Hainaut, Reims, SIG and Charleville-Mézières

Voiron, Laveyron, Pleyber-Christ and CFBB

FC Lyon, CSP Rezé, Charnay-Macon and Tours

NF1 basketball picture credits:

womensbasketball-in-france.com
LFB
Roche Vendée
Nice BC 06
Limoges ABC

Date: 12 September 2009

---