The third chapter in the NF1 basketball preview for 2009-2010 looks at the clubs that finished in the lowest positions last season.
Top level amateur basketball in France focus on the development for future players for their senior team.
Illkirch-Graffenstaden are the best example at the moment in NF1 in taking youth players all the way to the top.
Etoile de Voiron Féminin and Pleyber-Christ are clubs that have similar programmes with a lot of first-team players coming from the youth programmes.
However they have struggled to make an impact playing Nationale Féminine 1 basketball. US Laveyron, CFBB and Pleyber-Christ all finished in the relegation zone last season.
You will be able to select whichever team you are interested in by clicking on the club links below.
She will be joined by Pierrette Sylva who was at Basket Landes last season.
The club will be without Jessica Clémonçon who is going to Canada for a year as an exchange student and will continue playing basketball at the University of Windsor.
The club continues in their tradition of promoting players from the youth academy to the first team.
However the players are still young and with not much youth international basketball experience they tend to struggle in NF1.
The club is expected to finish in the bottom half of the table but should escape relegation.
Kathleen Bourdin, Sarah Simon, Julie Hildebrand, Stéphanie Pognon, Clémence Ruibet, Charlotte Plumère, Clémentine Elong-Epée, Cyrielle Recoura, Pierrette Sylva, Nadja Morgan.
The head coach is Thierry Dornez.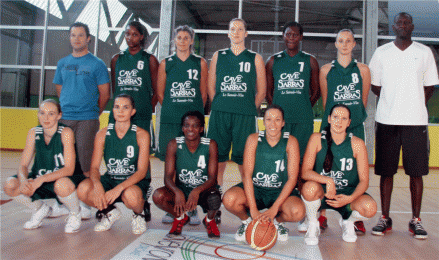 Laveyron are now ready for NF1 basketball
Aurélie Carmona and Katia Forel have played for US Laveyron at all levels in all the divisions from departmental basketball to NF1 and are back for another season.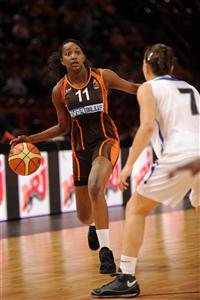 Last season they introduced Kalia Papadopoulou to NF1 basketball.
She will not be with them this season but they have gone for youth. Manon Cherubim (19) and Bourges Basket Espoir Madou M'Bengue (left) (18) will have a chance to start their NF1 careers.
They have also acquired the service of Rasa Zemantauskaïte who is making her return after having a baby.
The Greens, "les verts" of US Laveyron learned a lot last season. They recovered well by the end of the season to move out of the bottom place. They are not expected to be involved in the relegation fight this season.
The NF1 team roster for 2009-2010:
Pulchérie Ayi, Fanny Maisonnas, Vanessa Candelier, Manon Chérubini, Mathilde Joud, Wahiba Aïssani, Rasa Zemantauskaïte, Madou M'Bengue, Aurélie Carmona, Katia Forel, Khadidiatou Gassama.
The head coach is Etienne Faye.
---
---
Pleyber-Christ are back again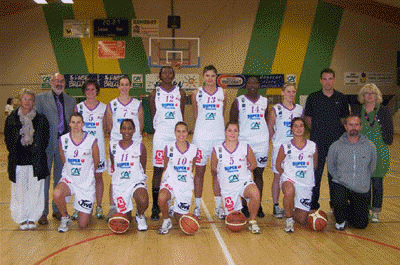 It is sad to announce that a club is favourite for relegation before the season starts.
But Pleyber-Christ falls into this category. They have won a total of 22 games in their three seasons in NF1 basketball.
They have always finished in the relegation zone and yet are re-elected due to clubs forfeiting their rights for NF1 basketball.
Pleyber-Christ's budget is such that they tend to restrict their recruiting to local players - that is they look out for local players who would like to play in NF1.
This season is no different with most of the players coming from clubs in lower divisions in the region.
However Naignouma Coulibaly is returning to the club she left for an adventure in the LFB with Basket Landes last season.
Coulibaly who was released on medical grounds from Basket Landes will give Pleyber-Christ the rebounding presence they lacked last season.
They are expected to struggle. But with most of the players from the first and second team being at the club for so many years (youth training programme) they will not require much adjusting time.
This may be the season they finally leave the relegation zone.
The roster is:
Aude Kernevez, Alexandra Thos, Jennifer Prat, Caroline Le Fé, Céline Boubala, Chéryl Malédon, Géraldine Brisset, Mélanie Venier, Malgorzata Puc, Rose-Marie Ciss, Naignouma Coulibaly, Ramata Diakhité (Mali), Charlène Gelebart (17) and their head coach Franck Simon.
---
Not much to say about the CFBB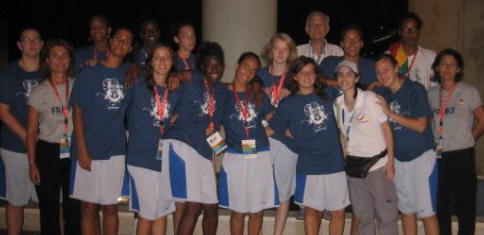 The last two seasons the CFBB have not been competitive in NF1 basketball. However the same players have done well in the youth international basketball competitions.
With the France U18 team looking for qualification for the U19 World Championship in 2011 and the U17 World Championships in France in 2010 it is more than likely the CFBB players will spend most of the season preparing for next summer's events.
Furthermore some NF1 games need to be rescheduled as the CFBB NF1 team is selected to represent France at the Francophone games in Lebanon from 27 September until 6 October 2009 in Beirut Lebanon.
Fhe following players should be playing for NF1:
Héléna Akmouche, Marion Lemonnier, Laura Kébé, Adjah Konteh, Florine Basque, Eléonore Grossemy, Anaïs Manceau, Manon Morel, Morgiane Eustache, Sabrine Bouzenna, Claire Stievenard, Laure Mercier, Christelle Diallo, Alice Nayo and Jodie Cornelie.
The head coach is Grégory Halin.
---
Return from NF1 Amateur Basketball Nationale Féminine 1 to index page
Return from NF1 Basketball news to women playing basketball blog page
The other NF1 Basketball Previews for 2009-2010
Hainaut, Reims, SIG and Charleville-Mézières

La Roche-sur-Yon, Nice BC 06, Dunkerque and Rennes

FC Lyon, CSP Rezé, Charnay-Macon and Tours

NF1 basketball picture credits:

FFBB
Etoile de Voiron FémininUS Laveyron
Pleyber-Christ Basket
womensbasketball-in-france
Date: 12 September 2009

---