Two teams for one place in the
2013 LF2 Final Four

Angers spoiled the LF2 regular season championship celebration for Cavigal Nice with a comfortable victory (67-54).
Pau-Lacq-Orthez needed a win this weekend and and a defeat for Léon Trégor to secure their place in the F4. Alas neither happened, they lost at home (58-64) to Roche Vendée while Léon Trégor won.
So we have to wait until the final weekend to know who will meet Cavigal Nice in the second semi-final during the Final Four.

Léon Trégor move back into 4th place after beating Dunkerque Malo (73-67). What this result implies is that if Pau-Lacq-Orthez lose next weekend then they cannot qualify for the F4.

If Pau-Lacq-Orthez win next weekend, then Léon Trégor must also win to remain in 4th place. But if Pau and Léon Trégor lose then Roche Vendeé takes 4th place.

COB Calais continue in their preparation for the LF2 Final Four with a comfortable victory against the CFBB (93-54).
Mélanie Arnaud and Jenny Fouasseau both led the scoring for Calais with 18 points. One interesting statistic in the game was that Calais only attempted 4 three-pointers.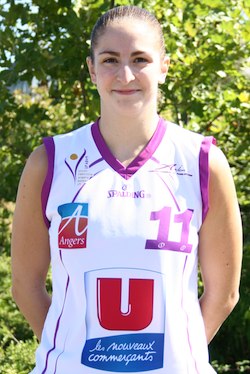 Elise Prodhomme (in picture) who played for just three minutes last weekend was the hero for Angers in their victory against Cavigal Nice (67-54). She connected 6 times from beyond the arc in 9 attempts and finished the game as the top scorer with 20 points. 
Cavigal Nice, a little rusty from not having played since the 6 April when they had defeated Léon Trégor also were in difficulty with Elodie Decker, Guiday Mendy and Jeanne Senghor-Sy all in foul problems.
As a consequence they were unable to make up the 19-point deficit that they picked up during the second quarter (10-29).
Angers will face COB Calais in the first semi-final of the Final Four as they can finish no lower than third.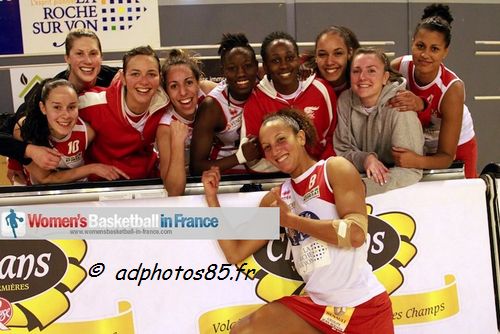 Pau-Lacq-Orthez played their first official game in four weeks. It showed as they made many unforced errors while their shooting was off in their home defeat against Roche Vendée (58-64).
Roche Vendée on the other hand were much sharper. They made the decisive break during the third quarter and opened up a 10-point lead (54-44).
Johanna Tayeau was again the leading scorer with 17 points for Roche Vendée while Mariame Dia led the hosts with 16 points.
Roche Vendée are back in the race for a place in the Final Four after their defeat against US Laveyron from round 13 was removed from the records after the club forfeited the season.
Roche Vendée do not play next weekend but may qualify for the LF2 Final Four if Pau-Lacq-Orthez and Léon Trégor lose next weekend.

You may read our article about and watch some highlights from the encounter between Illkirch Graffenstaden and Limoges by clicking on this link.
L2F round 25
CFBB 54-93 COB Calais
Léon Trégor 73-67 Dunkerque Malo
Illkirch Graffenstaden 79-61 Limoges
Pau-Lacq-Orthez 58-64 Roche Vendée
Angers 67-64 Cavigal Nice

---
Like this page / Aimez cette page