The curtain closes on
EuroLeague Women for 2012

Bourges Basket closed 2012 with a nice EuroLeague Women victory against Sparta&K Moscow Region Vidnoje (77-72). Cathy Joens and Céline Dumerc combined for 47 points.
Elsewhere Maria Stepanova was back in action for UMMC Ekaterinburg while the future for Romanian club side Municipal Targoviste is unclear.

In EuroLeague Women Group A Rivas Ecópolis got back on track after two consecutive defeats and beat Tarsus Belediye (74-62).
Spanish international Anna Cruz helped herself to 22 points while her team-mate Aneika Henry compiled a double-double of 17 points and 10 rebounds in the victory. Queralt Casas was also on good form with 12 points and 7 steals.

For the hosts it was the vetaran pairing of Amaya Valdemoro (21 points) and Delisha Milton-Jones (16 points) who did most of the scoring.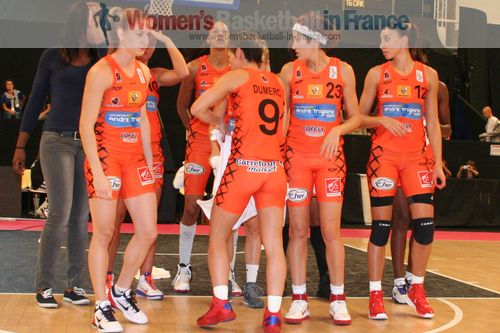 In the other Group A encounter Sparta&K M. R. Vidnoje led (7-0) with less than 90 seconds played against Bourges Basket.
It took then Bourges Basket 18 minutes to draw level (32-32) for the first time after a three-ball by Cathy Joens.
The teams went into the locker room tied (38-38). Sparta&K regained the advantage going into the final quarter (57-52).
However the final quarter belonged to Céline Dumerc who scored 13 points which included 3 three-pointers as the fireworks started.
In a space of 75 seconds, Dumerc scored 8 points to tie the match twice before putting Bourges in front for good with 70 seconds to play (73-70).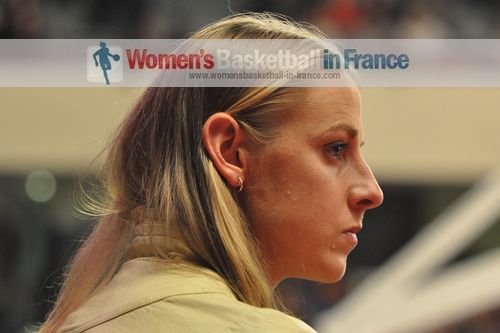 Joens (in picture) went 6-of-6 from the free-throw line as Bourges went on to win the match (77-72). Nwal-Endéné Miyem also had another big game with 18 points and 7 rebounds while Joens and Dumerc finished with 26 and 21 points each.
For Spartak Seimone Augustus and Isabelle Yacoubou (7 rebounds) were the leading scorers with 20 and 16 points each. Sonja Petrovic who had played for Bourges Basket during the 2006-2007 season added 8 points.
Despite the defeat Sparta&K M. R. Vidnoje remain on top of EuroLeague Women Group A on points difference over the games against Bourges.
Hungarian club side Uni Györ beat Wisla Can-Pack (83-67) in the final game of round 9. Not only that Györ connected with 57% of their shots, they also had 27 assists to neutralise the threat of Tina Charles.

Uni Györ were led by Natalie Hurst who scored 21 points while Charles and Justyna Zurowska had 18 and 16 points respectively in their defeat.

Standings: Sparta&K 6-2, Bourges 6-2, Györ 4-4, Wisla 4-4, Rivas 4-3, Brno 2-5, Tarsus 1-7
EuroLeague Women Group B -
Arras' chances are getting less

George Dikaioulakos (in picture), the coach from Municipal Targoviste, found out recently that his club had financial issues and that he and many of the players might have to leave the club after the Christmas break. So it was not surprising that their match against Fenerbahçe was a non-event.
Fenerbahçe won (89-60) with Agnieszka Bibrzycka leading the way with 21 points. Targoviste still held on to fifth place and can still qualify for the play-offs if the club can afford to continue participating in the competition.

Although Arras did not have a game in the EuroLeague Women this week, the chances of qualifying for the play-offs have been reduced. Nadezhda-Orenburg and Fenerbahçe SK need to win just one more game to stop Arras from having a chance of finishing higher than fifth place in the group.
In the FIBA TV game of the week Nadezhda-Orenburg almost blew a 20-point half-time lead. Yet they just held off Group B leaders Famila Schio (65-61). As so often at home this season Nadezhda were involved in a nail biting finish. Dewanna Bonner was the match winner with 17 points and 12 rebounds while Danielle McCray led all scoring for the visitors with 19 points.

Sopron once again failed to win a close game. They fell at home to Good Angels Kosice (64-69). This victory seals the play-off qualification for Good Angels because neither Arras nor Sopron can overtake them in the final standings.
Standings: Schio 6-2, Kosice 6-2, Nadezhda 5-3, Fenerbahçe 5-2, Targoviste 3-5, Sopron 2-6, Arras 0-7
EuroLeague Women Group C - Welcome back Maria Stepanova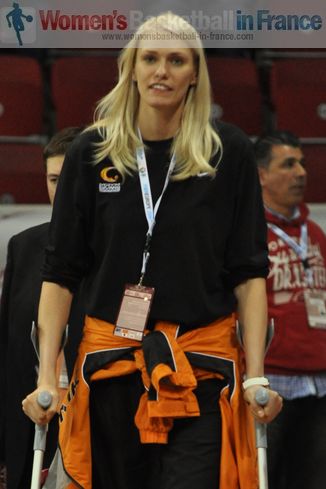 We at wbbif were at the EuroLeague Women Final 8 in Istanbul when Maria Stepanova went down with an ACL injury. Her first game back in the ELW was easy for her team UMMC Ekaterinburg. They won (101-70) against Novi Zagreb. Stepanova played for 11 minutes and scored 3 points.
All 12 players from UMMC got on the score sheet. Six players finished in double digits with Diana Taurasi on top with 16 points. For Novi Zagred Mirna Mazic and Sandra Mandir scored 17 points each.
Slyvia Fowles stepped up big for Galatasaray MP with 22 points and 10 rebounds in their road victory against ZVVZ USK Prague (66-52).
CCC Polkowice keep their play-off ambitions alive with a comfortable victory against Perfumerías Avenida (74-63). Belinda Snell who played for Avenida in the competition of 2010 was the leading scorer for CCC  with 20 points.
Standings: Galatasaray 7-1, UMMC 7-0, Mondeville 4-3, USK Prague 3-5, Polkowice 3-5, Avenida 2-6, Novi Zagreb 1-6
ELW round 9 results:
Nadezhda-Orenburg 65-61 Famila Schio
Tarsus 62-74 Rivas Ecópolis
CCC Polkowice 74-63 Perfumerías Avenida
Novi Zagreb 70-101 UMMC Ekaterinburg
Bourges Basket 77-72 Sparta&K M. R. Vidnoje
ZVVZ USK Prague 52-66 Galatasaray MP
UE Sopron 64-69 Good Angels Kosice
Targoviste 60-89 Fenerbahçe SK
Uni Györ 83-67 Wisla Can-Pack 
---
Visit our 2012-2013 EuroLeague Women page

Visit our home page
Visit our "What's New" page
picture credits:
womensbasketball-in-france.com

Date created: 20 December 2012
Like this page / Aimez cette page