2014 EuroCup Women
Eurocoupe féminine 2014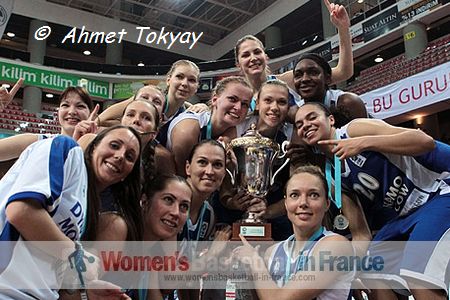 The 12th edition of the FIBA Europe EuroCup Women (ECW) competition is scheduled to run from 6 November 2013 until 27 March 2014.

The format of the competition remains the same as in the previous two seasons with a regular season and then a knock-out phase. The winner of the EuroCup is considered as a candidate for a wildcard in the next EuroLeague Women competition.

Veuillez lire des informations en français sur l'Eurocoupe féminine, édition 2013-2014, en bas de la page.
This season the participants are split into two conferences in order to reduce travel costs. However only 28 teams from 11 countries are registered.
The participating teams are divided into seven groups of four teams.
The first two teams from each group and the two best third placed clubs qualify for the elimination phase of the competition (Eighth-Finals).
The draw (brackets) for the rest of the competition is determined by the teams' ranking at the end of the first phase.
Not many games are broadcast live but depending on media rights and availability some matches may be streamed on our web-tv page. Yet it is possible to follow the play-by-play live actions of all the matches here.
This page is updated throughout the season with links to all our stories to be found on the bottom of this page. You can also follow our updates by subscribing to our RSS Feed.
You are able to find all the roster information of the EuroCup Women competition - on the FIBA Europe website - by clicking below on the clubs of interest.
Que 28 équipes en Eurocoupe 2013-14

28 équipes (voir en haut du tableau) se sont engagées pour cette édition, organisée par FIBA Europe, débutant le 6 novembre 2013 dont quatre équipes françaises, Basket Landes, Nantes Rezé, Tarbes et Villeneuve d'Ascq.
Le tournoi se déroule comme les deux dernières années. Après la première phase avec sept poules de quatre équipes, deux équipes de chaque poule ainsi que les deux meilleures équipes en troisième place se qualifient pour le huitième de finale.
Les 16 équipes se disputent alors pour les huitièmes de finale sous la forme de coupe avec des matchs aller-retour. Le vainqueur de cette compétition pourrait être offert un wild card pour l'Euroligue féminine.

Des mises à jour sont à trouver en bas de cet article.
Regular season articles
14 February 2014: Villeneuve d'Ascq qualify for semi-final

12 February 2014: Nantes Rezé draw, Basket Landes surprise Villeneuve

24 January 2014: 3 French teams with the favourites go onto next round

18 January 2014: Eighth-final first leg recap - 5 top seed win game one

17 December 2013: Regular season ending fireworks: last 16 pairings set
07 December 2013: Nantes-Rezé and Tarbes qualified

28 November 2013: A clean sweep for French teams in round four

23 November 2013: Watch out for Norrköping Dolphins

14 November 2013: Basket Landes and Villeneuve d'Ascq make it two

07 November 2013: A perfect start for French clubs on the opening day

---
Visit EuroCup Women news center

Picture Credits:
womensbasketball-in-france.com
Ahmet Tokyay
Date created: 06 November 2013
Last updated: 14 February 2014
Like this page / Aimez cette page