EuroCup Women round 5
Six teams eliminated

Dynamo Moscow, Nantes Rezé and Tarbes booked their EuroCup Women play-off spots this week. They join Dynamo Kursk, Botas, Istanbul Universitesi and Basket Landes, already qualified.

Veuillez trouver des informations en français en bas de la page sur la cinquième journée de l'Eurocoupe féminine 2014 pour les clubs français.
With one round of games to go the following teams are already out: Tsmoki Minsk, Dunav 8806, ACS Sepsi, Olimpia Grodno, Lotto Young Cats and Belfius Namur.
Only the top two teams from each group and the two best third place teams qualify for the next phase.
Last season (2012-2013) Basket Landes failed to qualify from the group phase after suffering back to back defeats against Dynamo Moscow and VS Prague.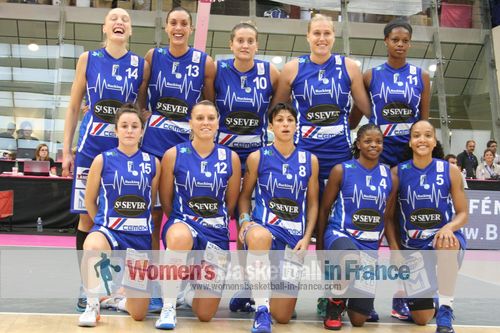 This season they have been unstoppable. They clinched their Group E title in a shoot-out victory against TSW Wasserburg (92-75). Yet again the duo of Danielle Page (26 points) and Kamila Stepanova (25 points) dominated the paint for Basket Landes.
Tarbes' problems domestically are pushed aside in their EuroCup Women campaign. They have got the Group G title and a place in the next round with a comfortable victory against MBK Ruzomberok (55-35). Serbia international Jovana Rad finished with 15 points in the victory.
In the all French match-up, Nantes Rezé came up with their best performance of the season in beating Villeneuve d'Ascq (72-61).
Marielle Amant led the charge offensively with 18 points while Cayla Francis and Aurélie Bonnan added 15 and 12 points each, while Caroline Aubert dished out 8 assists.
A victory for Villeneuve d'Ascq next week against PEAC Pecs will send them into the next round. A defeat may see them eliminated if they are not amongst the best two teams in third place. 
---
EuroCoupe féminine
Deux équipes françaises qualifiées pour la deuxième phase

Six équipes sont déjà éliminées dont aucune françaises: Tsmoki Minsk, Dunav 8806, ACS Sepsi, Olimpia Grodno, Lotto Young Cats and Belfius Namur.
Basket Landes, Tarbes et Nantes Rezé sont qualifiées comme Dynamo Kursk, Botas et Istanbul Universitesi. Mais Villeneuve d'Ascq a l'intérêt de gagner pour s'assurer à 100% une continuation dans cette compétition.

Après leur élimination précoce en 2012-13, Basket Landes assure et bat TSW Wasserburg (92-75) pour devenir leader dans leur groupe. Sous le panier se sont à nouveau Danielle Page (26 points) et Kamila Stepanova (25 points) qui commandent.

Tarbes est top de son groupe après avoir infligé une lourde défaite à MBK Ruzomberok (55-35). L'internationale Serbe Jovana Rad contribue 15 points.
Dans la rencontre entre Villeneuve d'Ascq et Nantes Rezé, ce sont les Déferlantes qui font mouche en gagnant (72-61) avec des bonnes performances par Marielle Amant (18 points), Cayla Francis (15 points) et Aurélie Bonnan (12 points) pendant que Caroline Aubert a 8 passes décisives sur son compte.
Pour toutes les résultats de cette journée, veuillez consulter la marge droite.

---
Picture credits:
womensbasketball-in-france.com

Date created: 6 December 2013
Like this page / Aimez cette page