French clubs on track for
EuroCup Women knock-out phase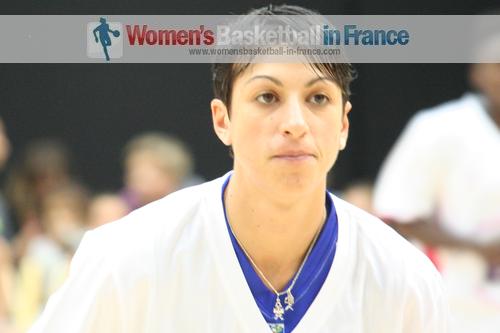 Just like on the opening day of the 2014 EuroCup Women, the four teams from France came out on top. With just two rounds of games left in the group phase all the French clubs are still on track for qualification for the second phase of the competition.

Veuillez trouver des informations en français en bas de la page sur la quatrième journée de l'Eurocoupe féminine 2014 pour les clubs français.
During the last ten minutes of the encounter between Basket Landes and Aluinvent Miskolc Anaïs Le Gluher-Cano (in picture above) shot the lights out. She scored 15 of her team's last 21 points to lead the French club to victory (72-68).
She finished the game as top scorer with 20 points while Valériane Ayayi and Olivia Epoupa chipped in 15 and 12 points apiece. 
With the top two teams from each group and the four best third placed teams qualifying for the next round, it is very unlikely that Basket Landes will not qualify.

Nantes Rezé have had a roller coaster ride all season. Yet again their coach Emmanuel Coeuret had to wait for an individual action from one of his players to save the match.
This time it was a couple of free throws by Cayla Francis at the end of game that sealed the victory (62-60) against PEAC-Pécs. Sarah Michel has been on fire all through the month of November and despite fouling out she still knocked down 23 points and picked up 5 steals.
Villeneuve d'Ascq bounced back from last week's defeat to beat Namur (73-53) with a balanced scoring attack. Whereas Tarbes completed the second French grand slam by beating Pinkk Pécsi 424 (70-53).
The competition is basically over for Olimpia Grodno, ACS Sepsi SIC, Dunav 8806, Tsmoki Minsk, Lotto Young Cats and Namur who are yet to win a game. A defeat in their next game will definitely eliminate them from the 2014 EuroCup Women.

---
EuroCoupe féminine
Les quatre équipes françaises assurent

Avec deux journées de plus dans la première phase en EuroCoupe féminine, Basket Landes, Nantes-Rezé et Tarbes ciblent la prochaine étape de cette compétition.

Pendant les dix dernières minutes de la rencontre entre Basket Landes et Aluinvent Miskolc, Anaïs Le Gluher-Cano (21 points en total, en image) fait la différence avec ses 15 points sur les 21 points marquées par son équipe pour arracher une victoire bien méritée (72-68).

Valériane Ayayi et Olivia Epoupa sont aussi présentes avec 15 et 12 points chacune.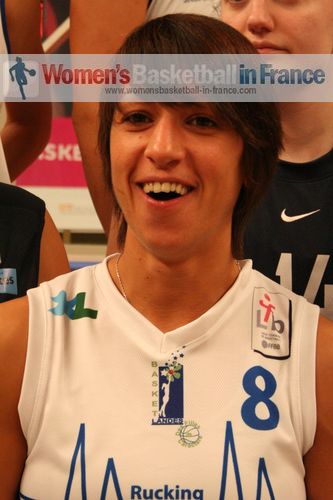 Villeneuve d' Ascq rebondit de sa défaite à domicile la semaine dernière et bat Namur (73-53) avec un effort collectif.
D'ailleurs Nantes-Rezé échappe à une défaite avec une Sarah Michel en feu avec 23 points et 5 interceptions et une Cayla Francis qui marque ses lancers francs pour faire gagner les Déferlantes (62-60) contre PEAC-Pécs.
Tarbes, par contre, bat plus facilement son adversaire Pinkk Pécsi 424 (70-53) et clôture ainsi le succès de cette journée pour les clubs français engagés dans l'EuroCoupe féminine.
Pour toutes les résultats de cette journée, veuillez consulter la marge droite.

---
Picture credits:
womensbasketball-in-france.com

Date created: 29 November 2013
Like this page / Aimez cette page