Two French clubs remain perfect
in EuroCup Women basketball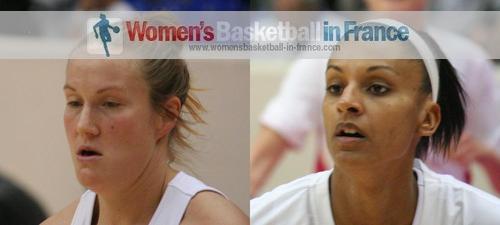 Villeneuve d'Ascq won their all LFB EuroCup Women clash on the first day of the second round against Nantes Rezé (83-56) while Basket Landes sneaked past SV Wasserburg (51-45) on the first day of the second round.

Veuillez trouver des informations en français en bas de la page sur la deuxième journée de l'Eurocoupe féminine 2014 pour les clubs français.
Tarbes on the other hand fell on the road to MBK Ruzomberok (56-78).
Tarbes trailed from the tip-off and scored just 18 points during the first 20 minutes. They picked up their offensive game during the third quarter by scoring 22 points. But they could not catch up on their deficit.
So Ruzomberok were able to pace themselves all through the fourth quarter for their first EuroCup win this season. Katrina Ristic had a nice stat line with 13 points, 6 assists and 2 steals for the winners, while Stefanie Murphy and Eve Kmetova chipped in 15 and 13 points each.
For Tarbes Alex Montgomery hit 7-of-10 shots from open play for a game high 17 points.
Basket Landes were involved in a low scoring battle with German team TSV Wasserburg (51-45) and escaped with the victory on the all-round display of Danielle Page with 16 points, 6 rebounds and 4 blocks.
Lenae Williams knocked down 24 points for Villeneuve d'Ascq while her team-mate Elin Eldebrink scored 14 points and dished out 12 assists in the (83-56) EuroCup victory against Nantes Rezé.
It was a difficult night for the Belgium clubs playing in Hungary. The Lotto Young Cats were overrun by Aluinvent Miskolc (60-106) while Wallonia Basket were edged out (63-69) by Pinkk Pécsi 424.
In the most exciting match of the evening Mersin required overtime to overcome Chevakata Vologda (83-80).
The Paris twins finished with double-doubles for the victors: Courtney (14 points and 11 rebounds), Ashely (10 points and 11 rebounds).
All the results from the second round can be found in the right margin.

---
EuroCoupe féminine
Villeneuve d'Ascq et Basket Landes
continuent leur sans faute

Nantes-Rezé s'incline contre leur adversaire en LFB, Villeneuve d'Ascq pendant que Basket Landes arrache une victoire contre une équipe allemande. Tarbes n'arrive pas à rentrer dans le jeu pour finalement perdre.

Toutes les joueuses de Villeneuve d' Ascq contribuent à la victoire contre Nantes Rezé (83-56) avec au moins 5 points de Chloé Westelink à Elin Eldebrink (14 points et 12 passes décisives) et Lenae Williams (24 points).

Les 8 passes décisives et 6 points de Caroline Aubert, les 17 points de Yuliya Andreyeva et les 12 points chacune de Cayla Francis et Marielle Amant ne sont pas suffisants pour combattre les Nordistes.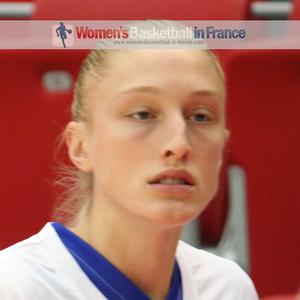 Basket Landes par contre a du mal à se débarasser de TSV Wasserburg mais parvient quand même à s'imposer (51-45) emmenée par Danielle Page (16 points, dans l'image). Olivia Epoupa fait 3 passes décisives et intercepte le ballon 6 fois.
Quant à Tarbes, les 17 et 11 points de Alex Montgomery et Sabrina Reghaissïa sont en vain contre MBK Ruzomberok qui s'impose (78-56) après avoir débuté le match en grande vitesse. Katrina Ristic (13 points, 6 passes décisives, 2 interceptions), Stefanie Murphy et Eve Kmetova avec 15 et 13 points célèbrent leur victoire.
Les deux clubs belgiques s'inclinent: les Lotto Young Cats (60-106) contre Aluinvent Miskolc et Wallonia Basket (63-69) contre Pinkk Pécsi 424.
Après une cinquième quart, Mersin arrive à vaincre Chevakata Vologda (83-80) avec une double prestation par l'équipe gagnante pour des jumelles Courtney et Ashley Paris avec 14 et 11 points et 11 rebonds chacune.
---
Picture credits:
womensbasketball-in-france.com

Date created: 14 November 2013
Like this page / Aimez cette page