A perfect start for French clubs
in EuroCup Women basketball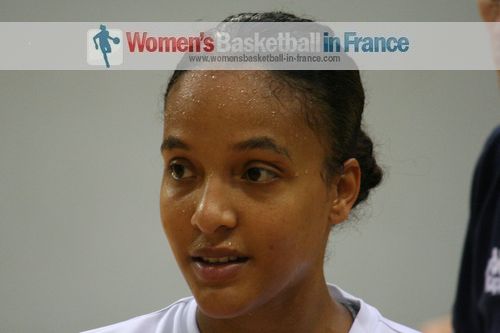 The conference system used for the 2014 EuroCup Women should favour the French teams during the first phase because they avoid match-ups with teams from Russia and Turkey.

Veuillez trouver des informations en français en bas de la page sur la première journée de l'Eurocoupe féminine 2014 pour les clubs français.
Basket Landes got off to a perfect start in Group E against Aluinvent Miskolc from Hungary (90-71).
Carmen Guzman (in picture above) and Kamila Stepanova shot the lights out combining for 41 points. Whereas Olivia Epoupa went a perfect 4-of-4 from the floor scoring 10 points and dishing out 6 assists. 
Brittainy Raven who played for Montpellier briefly during the 2010-11 season top scored for Miskolc with 15 points.
Also in Group E, TSV Wasserburg sneaked past Lotto Young Cats (79-73).
Tarbes, also with home court advantage, played against Hungarian opposition, Pinkk Pécsi 424, running out comfortable winners (71-48). While Jovanna Rad and Katelan Redmon dominated the scoring with 18 and 17 points apiece, it was the return of assistant coach Béatrice Castets to the playing line-up. She last played for Tarbes in 2010 when they had been French champions.
Tarbes' next opponents MBK Ruzomberok lost on the road to Wallonia Basket (76-67). Wallonia Basket is actually a combination of three Belgium club sides just for the EuroCup Women: Spirou Monceau, Point Chaud Sprimont and Castors Braine.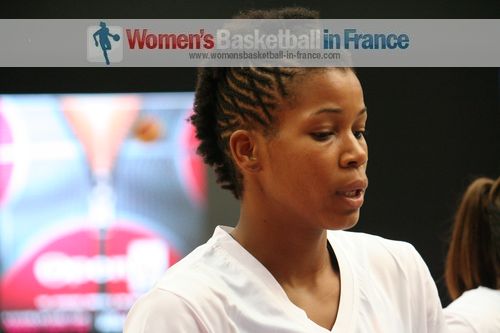 Villeneuve d'Ascq and Nantes-Rezé are both in Group F and will face each other in the next game of this EuroCup edition.
Villeneuve d'Ascq travelled across the boarder to Belgium and paced themselves to victory (67-60) against Namur. Elin Eldebrink and Johanne Gomis-Halilovic led the way with 17 and 16 points each for the victors, while Julie Wojta knocked down 16 points in defeat.

After six consecutive defeats Nantes-Rezé finally had something to smile about after holding off PEAC-Pécs from Hungary (69-64) in their EuroCup match. Caroline Aubert scored 12 points and dished out 10 assists while Marielle Amant (in picture) helped herself to 20 points and 14 rebounds.
Latoya Williams gave Nantes-Rezé all kinds of trouble while knocking down 27 points.
Elsewhere defending champions Dynamo Moscow bulldozed their way to victory (81-54) against Olimpia Grodno of Belarus with Tina Charles scoring 20 points and picking up 10 rebounds.
The most interesting match of the day ended up in defeat for the hosts. ACS Sepsi lost against Tarsus Belediye SK (88-93) despite 38 points by Samantha Prahalis.

EuroCoupe féminine
Les clubs de France avec 100 % de réussite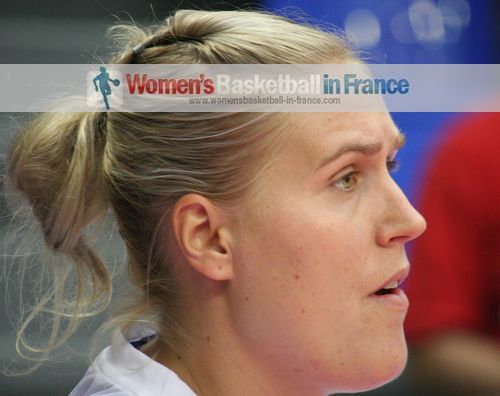 Après six défaites consécutives en ligue féminine, Nantes-Rezé arrache enfin une victoire en première journée de leur participation en EuroCoupe.
Les trois autres équipes de France, engagées dans cette compétition, ont eux aussi enregistré de bons résultats.

Les Nantaises se sont enfin retrouvées sur le côté de vainqueurs contre PEAC-Pécs (69 -64). Ce n'est qu'au rebond que Nantes-Rezé fait la différence. Marielle Amant porte haut les couleurs de l'équipe française avec 20 points et 14 rebonds contre Latoya Williams de l'équipe adversaire avec 27 poins. Compilant 12 points et 10 passes décisives, Caroline Aubert est aussi de nouveau présente.
L'effectif de Nantes-Rezé se trouve dorénavant sans Shamela Hampton et Chantelle Handy.

Tarbes rencontre Pinkk Pécsi 424 et remporte ce match (71-48). Les coéquipières de Sabrina Regaissïa (12 points) et Jovana Rad (18 points) sont emmenées par Katelan Redmon, auteur de 17 points, 7 rebonds et 5 interceptions.
Basket Landes gagne facilement à domicile contre leurs adversaires hongroises,  Aluinvent Miskolc (90-71) avec de bonnes prestations par Carmen Guzman et Kamila Stepanova (dans l'image) compilant pour un total de 41 points. Olivia Epoupa, elle aussi, a été parfaite, avec 4 sur 4 tirs pour ses 10 points et 6 passes décisives.
La seule équipe française qui jouait à l'extérieur, c'était Villeneuve d'Ascq. Les Nordistes gagnent leur rencontre contre Namur en Belgique (67-60) emmenée par Olayinka Sannu réalisant un double double avec 15 points et 13 rebonds. Mais ses co-équipières n'ont pas chômé non plus: Elin Eldebrink contribue 17 points et 5 rebonds pourtant que Johanne Gomis a 16 points et fait 3 passes décisives. Du côté belge, l'effectif réduit n'a pas su répondre aux attaques offensives. A noter quand même la prestation de Djénébou Sissoko avec 15 points et 10 rebonds et de Julie Wojta avec 16 points, 10 rebonds et 8 interceptions.
Pour la deuxième journée de la première manche de cette compétition, Les Nordistes vont jouer contre Nantes-Rezé.
---
Picture credits:
womensbasketball-in-france.com

Date created: 7 November 2013
Like this page / Aimez cette page