EuroCup Women group phase already at the half-way point

The 2014 EuroCup Women regular season has reached its midway point with just three teams undefeated. At the same time six teams are still looking for their first victory.

Veuillez trouver des informations en français en bas de la page sur la troisième journée de l'Eurocoupe féminine 2014 pour les clubs français.
Villeneuve d'Ascq turned the ball over 29 times and ended up losing at home to PEAC Pecs (49-64). Emma Meesseman (13 rebounds) and Olayinka Sanni with 15 and 11 points were the most dangerous players offensively for the hosts but Maurita Reid stole the show.
She finished with 17 points, 6 rebounds, 6 assists and 6 steals for the winners.
Nantes-Rezé needed a free throw from Caroline Aubert (in picture) to hold off Namur (80-79) and join Villeneuve and PEAC Pecs in a three-way tie at the top of Group F.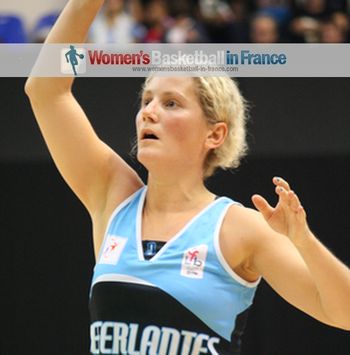 Aubert who finished with 18 points and 9 rebounds was outshone by Julia Wolja from Belgium club side Namur who scored 28 points while collecting 10 rebounds. Namur are still waiting for their first win of the season in the EuroCup Women competition.
At the moment nobody can stop Basket Landes: they rolled over winless Lotto Young Cats from Belgium (87-54). Danielle Page had 22 points while the hard working Kamila Stepanova fired in 18 points while picking up 8 rebounds.
Basket Landes are alone at the top of Group E with a perfect record while Aluinvent Miskolc moved in second place after beating TSV Wasserburg (69-53).
Wallonia Basket were not able to change the luck of Belgium clubs as they lost on the road to Tarbes (85-68). Tarbes share the lead with PINKK Pecsi who beat MBK Ruzomberok (72-63).
It was not a good week for Turkish basketball with three defeats in this competition. Norrkoping Dolphins from Sweden pulled off a road victory against Mersin (66-56). They finished the game with an 11-0 run to pull off the surprise of the evening for their second victory of the EuroCup Women regular season.

The Dolphins are coached by the Swedish national trainer Lars Johansso. They are led on the court by Kali Bennett and Elisabeth Egnell.
In addition to the two teams from Belgium yet to win a game, the following teams are also without a victory and very close to elimination: Olimpia Grodno, ACS Sepsi SIC, Dunav 8806, Tsmoki Minsk.
---
EuroCoupe féminine
Basket Landes, Nantes-Rezé et Tarbes
sortent de la 3ème journée avec une victoire

Il y a seulement trois équipes qui n'ont pas encore été battu: Basket Landes, Dynamo Kursk et Istanbul Universitesi. Par ailleurs, il y a six équipes qui ont perdus chaque match dans la première partie de cette compétition: de Belgique: Lotto Young Cats et Namur, de Belarussie: Tsmoki Minsk et Olimpia Grodno, de Bulgarie: Dunav 8806 et de Romanie: ACS Sepsi SIC.

Villeneuve d' Ascq perd à domicile contre PEAC Pecs (49-64). Les 29 balles perdues coûtent cher aux Nordistes malgré les efforts de Emma Meesseman (15 points, 13 rebonds) et Olayinka Sanni (11 points).
Par contre les Déferlantes, dans le même groupe, célèbrent une nouvelle victoire arrachée dans les dernières secondes par Caroline Aubert (18 points, 9 passes décisives) au lancer franc. Namur perd (79-80) contre Nantes-Rezé. D'ailleurs Sarah Michel (15 points), Isis Arrondo (13 points) et Claire Stievenard (12 points), Marielle Amant (10 points) contribuent au succès.
Si Namur perd le prochain match, son élimination de l'EuroCoupe féminine est inévitable.
Après leur défaite en EuroCoupe la semaine dernière, Tarbes gagne (85-68) contre Wallonia Basket. Tarbes partage la première place dans leur groupe avec PINKK Pecsi qui bat MBK Ruzomberok (72-63).
Tous les résultats de cette journée se trouvent sur la droite.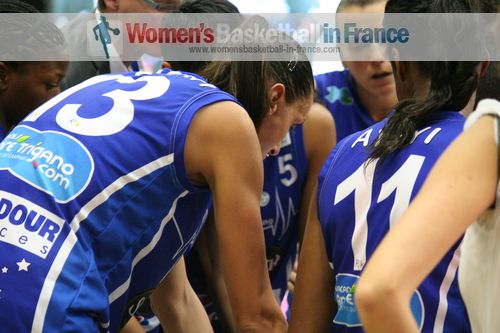 Basket Landes gagne facilement par contre les Lotto Young Cats (87-54) ce qui est leur 6ème victoire consécutive dans toutes leurs compétitions.
Le duo Danielle Page (22 points) et Kamila Stepanova (18 points) font mouche dans le secteur intérieur.
Dans leur groupe Aluinvent Miskolc prend la deuxième place derrière Basket Landes après avoir battu TSV Wasserburg (69-53).

---
Picture credits:
womensbasketball-in-france.com

Date created: 23 November 2013
Like this page / Aimez cette page