Succès dans le basket pro et
trouver son identité :
Caroline Aubert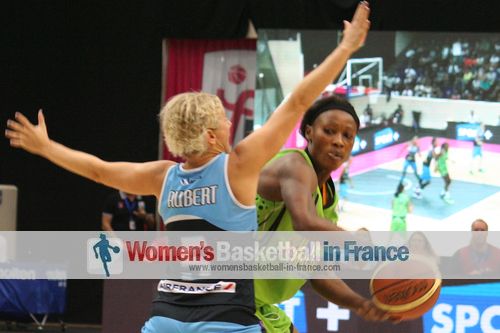 Pendant le Open LFB 2013, wbbif n'a pas seulement lancé sa vidéo, Le basket pro féminin,  mais a aussi rencontré une icône du basket français, Caroline Aubert, meneuse de Nantes Rezé, qui nous a accordé un interview.
Dans notre vidéo, vous allez découvrir ses secrets d'une maman heureuse et d'une joueuse de basket comblée.
Click on this link for information in English about the one on one with Caroline Aubert.

Depuis 13 ans Caroline Aubert évolue dans la ligue féminine de basket.
Elle joue également en Euroligue en 2006 et 2007 terminant en tant que meilleure passeuse. Elle participe aussi au All-Star Game de l'Euroligue en 2007 où elle remporte en même temps le concours de shoot à 3 points.
Quel est son secret de rester au top de ce sport aussi longtemps? Régalez-vous en regardant cette vidéo.

Caroline Aubert unplugged!

This is the 13th season (2013-14) for Caroline Aubert in the Ligue Féminine de Basketball. Aubert only joined the professional ranks in 2001 after spending a year in America at the University of Colorado.

In her 276 LFB games prior to this season she has knocked down 339 three-pointers. Although Aubert has a number of titles for assist leader, the LFB official records only started in 2007-2008. 
This was a season in which she averaged 8.1 assists per game while knocking down over 50% of her shots before leaving for Russia.
She is also 2007 EuroLeague Women All Star while also winning the All Star three-point shooting contest.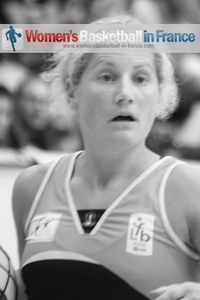 womensbasketball-in-france.com met up with Aubert in Paris prior to the 2013 Open LFB for an unplugged one-on-on session in which she spoke about:
how the game has changed since she has been playing,
her progression as a point guard and why she thinks she is still a player in the LFB,
why she decided to have a break from playing basketball,
how to become a good professional
three special moments in her playing career.
Although the interview is in French, you can follow in English by turning on the youtube caption editor for subtitles.
---
Basket pro picture credits:
womensbasketball-in-france.com
Date created: 14 October 2013
Like this page / Aimez cette page