Le basket pro est
dans des bonnes mains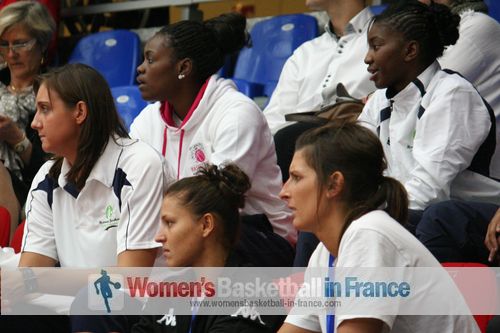 Quand on parle du basket pro en France pour les filles, on pense tout de suite à la ligue féminine de basket.
Womensbasketball-in-france a rencontré - lors de la 9ème édition de l'Open à Paris - six entraineurs, enthousiastes à vous encourager de regarder le basket féminin de haut niveau.
Click on this link for information in English about this promotional video about professional women's basketball.

Voici leurs noms :
de Angers : David Girandière

de Basket Landes : Olivier Lafargue

de Mondeville : Romain L'Hermitte
de Nantes Rezé : Emmanuel Coeuret

de Toulouse : Jérôme Fournier
de Villeneuve d'Ascq : Frédéric Dusart
Convaincu de venir regarder
du basket féminin?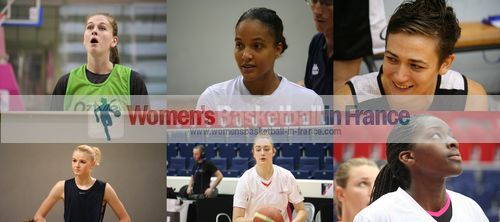 Il ne fallait pas demander deux fois. Ils étaient d'accord de promouvoir le basket pro en portant haut chaque joueuse de leur club respectif.
Est-ce que vous savez que le basket est esthétique et une affaire de glamour, vu la tenu et l'apparence des joueuses? Que talent et technique font un dans ce sport? Que d'être pro se rime avec d'être proche de vous. Que un match est comme un spectacle?
Le basket féminin est athlétique avec des sauts spectaculaires, avec des passes et tirs précis, des contres bien calculés, avec un collectif remarquable.
Mieux encore, regardez la vidéo et laissez-vous enchanter par les entraineurs-ensorceleurs!
Come and watch women's basketball!

In the video above, the following coaches explain why people should come and watch women's basketball in France: David Girandière (Angers), Olivier Lafargue (Basket Lands), Romain L'Hermitte (USO Mondeville), Emmanuel Coeuret (Nantes-Rezé), Jérôme Fournier (Toulouse Métropole) and Frédéric Dusart (Villeneuve).
You not only find out all the reasons why to watch women play but also get to see the players, watch short game and training clips.
Wbbif conducted these interviews in French and found out what makes the LFB so special: Although the basketball has a very physical aspect, is technically very sound, can be very aggressive, you still be seduced by its team play, its precision, and the elegance and glamour of the sport.
---
Visit our 2012-2014 Ligue Féminine de Basketball section

Visit our home page
Visit our "What's New" page

picture credits:
womensbasketball-in-france.com

Date created: 10 October 2013


Like this page / Aimez cette page