Caroline Aubert
---
---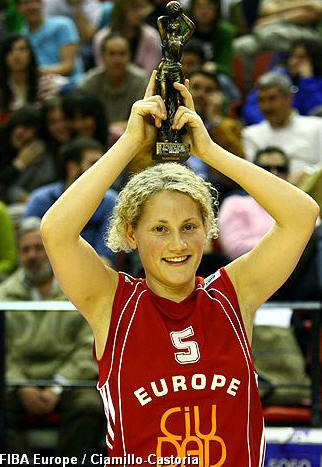 Caroline Aubert had announced last week after Mondeville's final match in this season's EuroLeague Women competition that she would be leaving the club and be joining UMMC Ekaterinburg in Russia.
With Mondeville eliminated from the EuroLeague Aubert could not refuse Laurent Buffard's proposal to join him in Russia. Ekaterinburg offers her the possibility of a EuroLeague final four appearance.
Aubert promised the home fans before her departure to suit up one more time as Mondeville travelled to Aix-en-Provence. She not only finished the match with 14 points, 8 rebounds and 11 assists but also scored the very last points of the match, a three-pointer.
If the LFB had a player-of-the-month award she would have certainly been a contender for January 2008: She dished out 48 assists in four matches and scored 58 points including 7-of-12 from behind the arc.
Aubert may have come to prominence in Europe last season with her display during the EuroLeague all star game as winner of the 3-point contest but at Mondeville she has always been special.
At the end of the 2002-2003 season with Montpellier she decided to leave them as she had not been satisfied with the playing time offered to her. Aubert she went to Mondeville where she then made a big contribution as her club rose in the ranks domestically and briefly challenged the supremacy of Bourges Basket and USVO.
During her time at Mondeville she picked up a French Cup runners-up medal in 2004 and a Federation Cup third-place medal in 2005. At the same time she has bagged many personal accolades: domestically she was the best passer (assist queen) on three occasions. She missed out on this title in 2006 when injury cut short her season. In addition to that she also topped the steal statistics in 2005. She also led the assists statistics in the EuroLeague women for the past two seasons.
Aubert made her debut for France in 2004 and has represented France on 21 occasions. She played with France B at the 2005 Mediterranean games and then went on to play with the main squad at EuroBasket 2005.
Injury in 2006 hampered her chance of making the 2006 World Championship French squad while in 2007 she was not selected in the final 12 for FIBA Europe EuroBasket 2007.
Caro, as she is known locally, will not be only missed in Mondeville but also in the LFB. Yet she will be back in France for her new club when Ekaterinburg meet Villeneuve in the next round of EuroLeague during the second leg of the eighth final.
Return Caroline Aubert to "What's New" page
Return from Caroline Aubert to Basketball LFB News
Pictures courtesy of FIBA Europe and Ligue Féminine de BasketBall


Date: 31 January 2008
You can follow her time in Russia by reading her blog MA GRANDE AVENTURE EN RUSSIE
---