Russians in charge in EuroCup Women after quarter-final game 1

The EuroCup Women (ECW) road wins by Dynamo Moscow and Dynamo Kursk EuroCup put them in a good position towards qualifying for the semi-final. Nantes Rezé were held to a draw at home while Basket Landes edged out Villeneuve d'Ascq.

Veuillez trouver des informations en français en bas de la page sur le premier manche de la quart de finale de l'Eurocoupe féminine 2014 pour les clubs français.
Dynamo Moscow, led by Lindsay Whalen and Tina Charles (14 rebounds, 4 assists) with 14 points apiece, just held off their hosts Adana Botas Spor (72-64) in an up and down game. Michelle Snow fired in 21 points in defeat.

Dynamo Kursk also returned from Turkey with an important advantage after defeating Mersin Büyüksehir Bld (76-66).
Dynamo Kursk led from start to finish with Candice Dupree knocking down 16 points, dishing out 5 assists and pulling down 14 rebounds. Israeli international Shay Doron was also on fine form with 16 points. Courtney Paris was the leading player for the hosts with 18 points and 8 rebounds.
The two teams from Russia have had their hands on the EuroCup Women winners trophy in the last couple of seasons.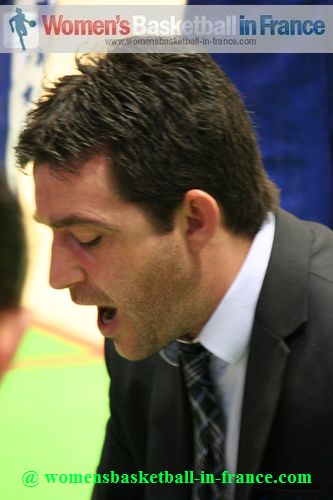 The risky tactics of Olivier Lafargue (in picture) paid off with his team Basket Landes going on a 22-6 run from the 28th minute until the 35th minute to silence the home fans of Villeneuve d'Ascq while taking the lead for good (68-58).
Basket Landes then survived a late fightback from Elin Eldebrink (14 points) to beat their hosts for the first time this season (72-64). Danielle Page and Anaïs Le Gluher-Cano were the leading scorers for Basket Landes with 14 points each.
For the second consecutive EuroCup Women match Nantes Rezé were involved in a game that ended up in a draw. They were held at home (74-74) by Istanbul Universitesi.
Nantes Rezé went into the final quarter with a 13-point lead but were caught practically at the buzzer when Shanice Johnson won 3 free throws which she converted.
Cayla Francis who starts the games from the bench knocked down 18 points while Sarah Michel filled the stats sheet with 13 points, 6 assists and 4 steals. Caroline Aubert had 10 assists to add to her season's tally.
The team from Turkey were led by the captain of the Israeli national team Liron Cohen with 17 points.
---
EuroCoupe féminine
La permière manche des quarts de finale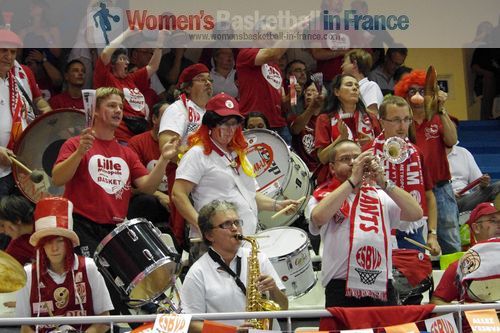 Au match aller des quarts de finale, Nantes Rezé n'a pas su faire compter son avantage de jouer à domicile en faisant match égal pendant que Basket Landes gagne à Villeneuve d'Ascq.
Les deux autres rencontres voient les clubs Russes dominant leurs adversaires Turcs.

Au départ du dernier quart, Nantes Rezé a 13 points d'avance (61-48) contre Instabul Universitesi quand Gabriela Marginean (11 points) diminue le score en marquant ses premiers points dans cette rencontre. Presque au buzzer Shanice Johnson met 3 lancers francs pour égaliser le score (74-74).
Cayla Francis (18 points), Sarah Michel (13 points, 6 passes décisives, 4 interceptions) et Caroline Aubert (7 points, 10 passes décisives) sont impressionnantes pour les Déferlantes contre Liron Cohen (17 points) du club turc.
C'est Basket Landes qui s'impose à Villeneuve d'Ascq (72-64) dont les tactiques du coach landais Olivier Lafargue sont payantes. Danielle Page et Anaïs Le Gluher-Cano (14 points chacune) font des belles opérations quoique Frida Eldebrink (14 points) se révolte pour faire revenir son équipe dans ce match.
Adana Botas Spor ne permet pas à Dynamo Moscow de les battre si facilement (64-72) avec une Michelle Snow marquant 21 points. L'équipe Russe est emmené par Lindsay Whalen et Tina Charles avec 14 points chacune.

Dynamo Kursk gagne en Turquie (76-66) contre Mersin Büyüksehir Bld pour les affronter plus sereinement à domicile.
Dynamo Kursk a l'avantage pendant toute la rencontre. Candice Dupree (16 points, 5 passes décisives, 14 rebonds), Shay Doron (16 points) font le show pour le vainquer pendant que Courtney Paris est la meilleure joueuse pour Mersin avec 18 points et 8 rebonds.
---
Picture credits:
womensbasketball-in-france.com

Date created: 11 February 2014
Like this page / Aimez cette page