No shocks as the EuroCup Women
quarter-final pairings are set

The eight teams left in the 2014 EuroCup Women represent three federations, the French, Russian and Turkish one. Basket Landes and Mersin overturned their first-leg deficits to join the other five top seeds in the quarter-final.

Veuillez trouver des informations en français en bas de la page sur le deuxième manche de la huitième de la finale de l'Eurocoupe féminine 2014 pour les clubs français.
The quarter-final pairings are as follows:

Mersin Büyüksehir Bld vs. Dynamo Kursk

Villeneuve d'Ascq vs. Basket Landes

Adana Botas Spor vs. Dynamo Moscow

Nantes Rezé vs. Universitesi Istanbul
The games are scheduled to be played on the 6 and 13 February 2014.
Tarbes was the only higher seed to be eliminated in the eighth-final. They failed to make up any ground on Nantes Rezé and ended up drawing the second match (57-57) and hence losing the series (111-129).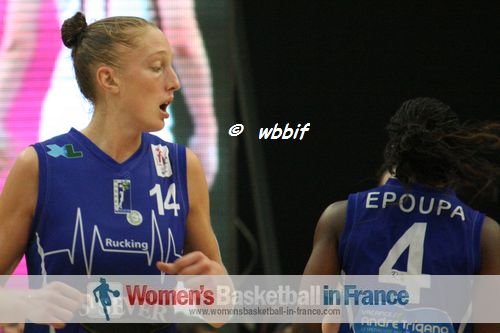 Danielle Page had a monster of a match for Basket Landes with 24 points, 12 rebounds and 2 blocks in helping her team overcome their 2-point deficit from game one.
Basket Landes beat Tarsus Belediye (72-63) and took the series (157-150). Only four players did the scoring for the Turkish side.
Villeneuve d'Ascq made no mistakes and crushed Horizont Minsk (86-40) for an aggregate win (151-101).

Swedish side Norrkoping Dolphins were unable to get their nose in front of their hosts Botas during the second leg and ended up losing the match (54-60) and the series (107-115).
Mersin were involved in the most dramatic game of the evening against Vologda-Chevakata in which they recovered from a 16-point deficit midway through the second quarter to win the game (74-63).
Matee Ajavon was the hero of the evening with 32 points while Ana Lelas (in picture) chipped in 15 points as Mersin picked up the aggregate win (133-124).
In the remaining three games, the winners' advantage from the first leg was too big for their guests to overturn. Istanbul Universitesi led Aluinvent Miskolc by 32 points coming into game 2. They just paced themselves - despite 33 points by Helena Sverrisdotti - to win the match (82-76) and the series (169-131).
Defending EuroCup Women champions Dynamo Moscow completed the sweep against PEAC Pecs (78-57) for an aggregate score (147-112). 
Dynamo Kursk, also from Russia did not break sweet in completing the EuroCup Women series win (147-101) over MBK Ruzomberok with a 23-point win (65-41).

---
EuroCoupe féminine
3 clubs français qualifiés pour les quarts de finale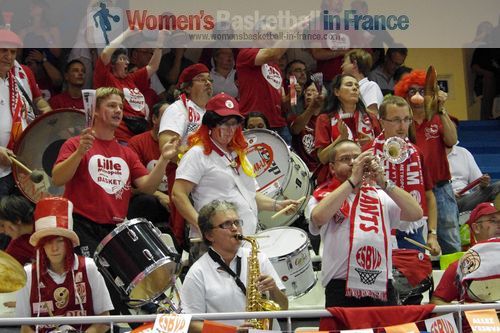 Les huitièmes de finale retour de l'EuroCoupe féminine voit trois clubs français se qualifier pour les quarts de finale. Ensuite en moins une place en demi-finale est garantie pour une formation de France car Villeneuve d'Ascq affronte Basket Landes.
Tarbes échoue également dans le match retour contre les Nantaises (57-57) de remonter les 18 points concédés en aller (72-54) et succombe ainsi (111-129) d'aller et de retour. Avec cette victoire Nantes-Rezé se qualifie pour la deuxième année consécutive pour les quarts de finale.

Villeneuve d'Ascq par contre se qualifie pour la première fois pour les quarts de finale après avoir écrasé Horizont Minsk (86-40), emmené par Emma Meesseman (14 points, 7 rebonds, 4 passes décisives) et Laetitia Kamba (14 points, 10 rebonds) pour gagner l'aller et le retour par une marge de points (151-101).
Basket Landes aussi tourne une page de son histoire dans cette compétition et monte en quart de finale.  La belle prestation de Danielle Page avec 24 points, 12 rebonds and 2 interceptions contribue à la victoire aux Landaises pour remonter le handicap de 2 points du match aller et s'impose contre Tarsus Belediye (72-63).

Dans les quarts de finale les clubs suivants vont s'affronter avec un match aller le 6 février et le retour prévu pour le 13 février:
Mersin Büyüksehir Bld vs Dynamo Kursk
Villeneuve d'Ascq vs Basket Landes

Adana Botas Spor vs Dynamo Moscow

Nantes Rezé vs Universitesi Istanbul
---
Picture credits:
womensbasketball-in-france.com

Date created: 24 January 2014
Like this page / Aimez cette page