EuroCup Women adventure ends for:
Basket Landes and Nantes Rezé

For Basket Landes and Nantes Rezé the 2014 EuroCup Women ended in a dramatic fashion while Russian club sides Dynamo Moscow and Dynamo Kursk rolled over their Turkish opponents.

Veuillez trouver des informations en français en bas de la page sur la deuxième manche de la quart de finale de l'Eurocoupe féminine 2014 pour les clubs français.
Basket Landes failed in their quest for a semi-final place after falling at home to Villeneuve d'Ascq (70-85) and losing the series (142-149).
Villeneuve d'Ascq dominated the first quarter (26-10) and led by over 20 points early in the second quarter (31-10).
The hosts played catch-up the rest of the way. Despite regaining the series' lead (41-47) with 15 minutes to play they were unable to regain control of the match.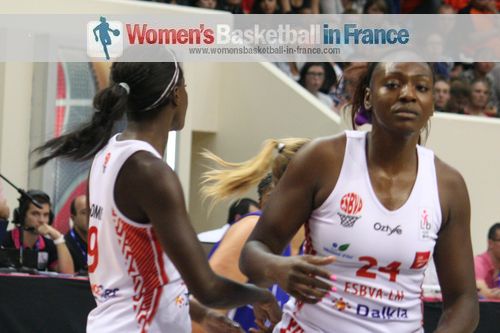 The ability of Olayinka Sanni (in picture) to get to the free-throw line enabled Villeneuve to pull away for good and take the series (149-142).
The major scorers from both sides were:
Basket Landes: Valériane Ayayi  15 (5 rebounds), Danielle Page 13 (6 rebounds, 3 blocks), Carmen Guzman 12 (5 assists), Olivia Epoupa 10
Villeneuve: Olayinka Sanni 18 (10 rebounds), Elin Eldebrink 17, Lenae  Williams 15, Emma Meesseman 14 (7 rebounds)
Nantes Rezé might feel that the 3 free throws awarded to Shenice Johnson from Istanbul Universitesi at the end of game one that left the teams tied cost them this series.

Istanbul Universitesi held on in a hectic finish to beat Nantes Rezé (65-63) to clinch the series (139-137). Gabriela Marginean (13 points) was again decisive during the closing minute to secure the victory from the free-thow line. Shenice Johnson topped the scoring with 16 points.
For Nantes Rezé the top players were Aurélie Bonnan (13 points, 10 rebounds) and Marielle Amant (10 points) who had an active evening.

Dynamo Moscow completed the sweep against Adana Botas (79-53) for an aggregate score (151-117). The 2013 EuroCup Women champions were led by Tina Charles (9 rebounds) and Ana Dabovic with 17 and 15 points respectively.
The 2012 ECW champions, also from Russia, Dynamo Kursk, paced themselves against Mersin (66-46) for a comfortable series victory (142-112). Shay Doron helped hersef to 22 points for the Russians while Courtney Paris picked up 23 points and 21 rebounds in defeat.
The EuroCup Women semi-final pairings are as follows:
Istanbul Universitesi vs. Dynamo Kursk
Villeneuve d'Ascq vs. Dynamo Moscow
The first games are played on 27th February with the return legs on 6th March.
---
EuroCoupe féminine
Nantes Rezé et Basket Landes éliminés

Nantes Rezé perd les matchs aller-retour par 2 petits points alors qu'un mauvais départ au match retour fait perdre à Basket Landes non pas seulement cette rencontre mais aussi la série.
Pour les demi-finales, c'est alors Villeneuve d'Ascq qui affrontera le club Russe Dynamo Moscow et Istanbul Universitesi l'autre formation Russe, Dynamo Kursk (27.02. et 06.03.2014).

Les Déferlantes font trembler Istanbul Universitesi en Turquie mais échouent finalement de peu (63-65) avec de belles prestations par Aurélie Bonnan (13 points, 10 rebonds) et Marielle Amant (12 points). C'est ainsi que le club turc se qualifie pour la demi-finale de l'EuroCoupe féminine et non pas Nantes Rezé.

Absente en défense, les Landaises succombent aux Nordistes (70-85). Villeneuve d'Ascq entâme cette rencontre avec beaucoup d'élan pour prendre un avantage jusqu'aux 20 points pendant le premier mi-temps grace à Olayinka Sanni (18 points, 10 rebonds) et Elin Eldebrink, l'auteur de 17 points. Pourtant Basket Landes se resaississe, mais les co-équipières de Valériane Ayayi  15 (5 rebonds), Danielle Page 13 (6 rebonds, 3 contres) et Carmen Guzman 12 (5 passes décisives) n'arrivent pas à réduire l'écart.
Pour les Nordistes, c'est une première de jouer aux demi-finales.
Dynamo Moscow a jeu facile contre Adana Botas (79-53) grace aux performances de Tina Charles (17 points, 9 rebonds) et Ana Dabovic (15 points).
L'autre club russe, Dynamo Kursk s'impose à Mersin (66-46) dont Shay Doron marque 22 points. Les efforts Courtney Paris (23 points, 21 rebonds) pour le club turc sont en vain.
---
Picture credits:
womensbasketball-in-france.com

Date created: 14 February 2014
Like this page / Aimez cette page