EuroCup Women round 6
wins pay off

The 2014 EuroCup Women regular season ended with a big bang. With some incredible results the final rankings were altered with a few surprise eliminations. 
Villeneuve d'Ascq, the last French team to qualify, required a final-quarter push and a little magic from Emma Meesseman to secure their place for the next round.

Veuillez trouver des informations en français en bas de la page sur la sixième journée de l'Eurocoupe féminine 2014 pour les clubs français.
Tarbes and Nantes-Rezé both lost and as result will now face each other in the next round. Basket Landes kept their unbeaten record to finish the first phase of the competition as number two seeds.
However the big results from round 6 did not involve French teams.
Norrkoping Dolphins from Sweden required a victory against Mersin to qualify from EuroCup Women Group B. Despite leading for most of the game, they found themselves trailing with 90 seconds to play.

Tanya Massamba brought her team back on level terms. Then the hard working Kail Bennett - with the block of the match - knocked down a free throw with 52 seconds to play to secure victory. Both teams missed potential game winning shots down the stretch in a heart beating finish.
Elisabeth Egnell finished with 28 points in taking her team from third place to group winners in a three-way tie. Each team won four games and Mersin qualified in second place, while Russian club Vologda Chevakata  went through as one of the two clubs with the best third place finish.
It was not to be for another Russian club. Dynamo Novosibirsk held all the aces leading (47-41) against the already eliminated ACS Sepsi with eight minutes to play. The Russians then had a shooting block and ended up not only losing the game (53-57) but also their place in the next round.

The draw (brackets) for the rest of the EuroCup Women is based on teams rankings (seeds) at the end of the regular season. The highest ranked team always plays the second leg at home.
The defeats for Tarbes and Nantes Rezé on the last day of regular season play has resulted in them facing each other in the next round.
The Eighth Finals of EuroCup Women are scheduled to be played on the 16 and 23 January 2014 with the following pairings:

MBK Ruzomberok vs. Dynamo Kursk
Nantes Rezé vs. Tarbes

Tarsus Belediye vs. Basket Landes
Norrkoping Dolphins vs. Botas
PEAC Pecs vs. Dynamo Moscow
Horizont Minsk vs. Villeneuve d'Ascq
Aluinvent Miskolc vs. Istanbul Universitesi
Vologda Chevakata vs. Mersin BSB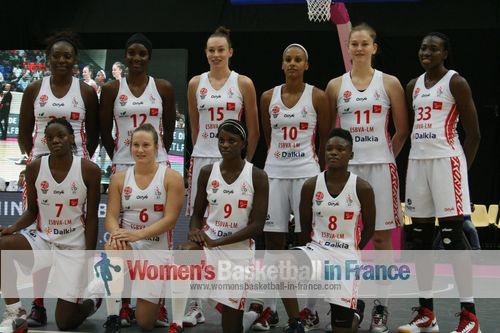 ---
EuroCoupe féminine
Deux équipes françaises se confronteront
dans la prochaine phase

La journée 6 de ECW clôture le premier tour. Pendant que Villeneuve d'Ascq arrache une victoire (63-57) contre PEAC Pecs dans le dernier quart et se qualifie pour le 1/8e de finale, Nantes Rezé et Tarbes perdent leurs matchs respectifs et ainsi doivent se confronter à la prochaine rencontre. La seule équipe française invaincue est Basket Landes.

Basket Landes, terminant à la deuxième place du ranking global, gagne (82-72) contre les Young Cats de la Belgique avec une bonne prestation de Danielle Page (26 points) .
La victoire contre PEACS permet Villeneuve d'Ascq d'accéder en tant que la dernière équipe française en 1/8e de finale. Emma Meesseman (17 points, 4 rebonds, 4 passes décisives, 3 interceptions, 1 contre) et Olayinka Sanni, auteur de 20 points, sont à nouveau très actives.

Malgré les 22 points de Marielle Amant, Nantes Rezé subit une défaite (69-73) contre l'équipe Belge, Namur.
Tarbes aussi tombe contre une équipe de la Belgique (71-77), Wallonie Basket. Pourtant le duo Joyce Cousseins-Smith (24 points) et Jovana Rad (17 points) font des merveilles mais en vain.

Le programme de 1/8e de finale (se déroulant le 16 et le 23 Janvier 2014) avec les 16 équipes qualifiées est:
Ruzemberok (SVK) - Dynamo Kursk (RUS)
Tarsus Belediye (TUR) - Basket Landes
PEAC Pecs (HUN) - Dynamo Moscou (RUS)
Miskolc (HUN) - Istanbul Universiti (TUR)
Nantes Rezé - Tarbes
Norrköping Doplhins (SWE) - Adana Botas (TUR)
Horizont Minsk (BLR) - Villeneuve d'Ascq
Chevakata (RUS) - Mersin (TUR)
Pour tous les autres résultats de la 6ème journée, veuillez consulter la marge droite.

---
Picture credits:
womensbasketball-in-france.com

Date created: 17 December 2013
Like this page / Aimez cette page