womensbasketball-in-france
LFB player of the month for March
Nwal-Endéné Miyem

Since September 2006 Nwal-Endéné Miyem has been playing basketball in the LFB and EuroBasket Women for Bourges Basket.
She is one of the toughest players in France but has a soft touch round the basket. In her LFB career at the time of this article she has played in 184 games scoring 1863 points (10.12 ppg).

Her EuroLeague Women scoring record is similar to her domestic average with 1118 points in 110 games (10.16 ppg).
Her medal collection is also impressive with four French Championship titles and three French Cup wins. She also picked up medals of various colours while playing in the French youth teams.
With the Senior French national team she was a member of the EuroBasket Women squad that were champions in 2009 and Bronze medallists in 2011.
She also won a silver medal at the 2012 Olympic Games with France but had to miss the final match after injuring herself during the semi-final.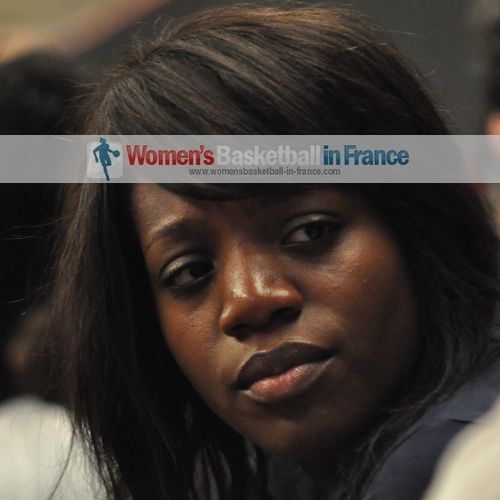 Despite all this success, her only personal accolade for playing basketball came in 2008 when she was the Young Player of the Year in the Ligue Féminine de Basketball ("MVP espoir de LFB en 2008").
womensbasketball-in-france have decided to award her the wbbif player of the month for March for her courage in helping Bourges Basket to finish third at the 2013 EuroLeague Women (ELW) Final 8.

In the last domestic match before the ELW F8, Miyem almost had her nose broken against Montpellier. With her team in trouble she returned to the court for a couple of minutes wearing a face mask. Yet it was in vain because her side lost.

Despite her pain and discomfort she played in the first three games of the EuroLeague Women Final 8 and was leading her team's offensive effort. Unfortunately she could not play in the semi-final because of back-pains and Bourges ended up losing.

However Miyem put all her discomfort behind her and played for 32 minutes in the EuroLeague Women third place game which Bourges won.
---
Like this page / Aimez cette page