womensbasketball-in-france's
LFB player of the month for January
Céline Dumerc

Céline Dumerc has picked up the accolade of the wbbif LFB player of the month for January 2013. In the six games she played during the month in the LFB and EuroLeague Women she scored 60 points and dished out 39 assists.
Veuillez trouver en bas de la page des informations en français sur l'élection de Céline Dumerc en tant que meilleure joueuse en LFB pour Janvier.

The new year did not start well for Bourges with the confirmation that Frida Eldebrink' s season was over.
To make matters worse during the month Nwal-Endéné Miyem had to miss games with an ankle injury and Cathy Joens' season also came to an abrupt end with a foot injury.
However all was not lost for Bourges as "Caps" Dumerc raised her game with some solid performances and deadly shooting beyond the arc.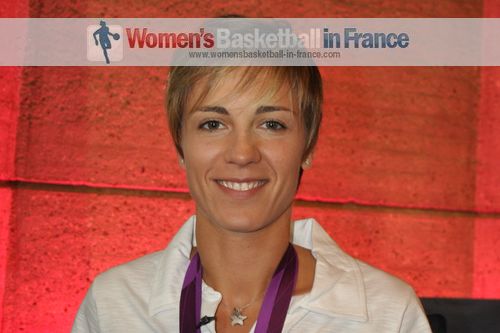 Bourges won all three domestic games and are currently alone in second place, one game behind the leaders Lattes Montpellier.
Bourges Basket also punched their ticket for the EuroLeague Women play-off with 2 wins from the 3 games played this year.
Céline Dumerc has also been busy collecting awards. She won the 2012 Radio France Sports Person of the year award, a first time for a woman to receive this award which proves that our readers agree by voting her as the LFB player of the month for January.

She also collected the prestigious La Gazzetta dello Sport Female European Basketball player of the year award for 2012.
Now the readers of womensbasketball-in-france.com have chosen her as the LFB player of the month for January.
Déjà une grande dame, Céline Dumerc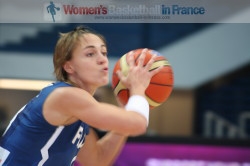 Capitaine tricolore depuis 2008, Céline Dumerc est une icône du basket féminin.
Les lecteurs de womensbasketball-in-france l'ont choisit en tant que meilleure joueuse en LFB pour le mois de janvier. De retour de Russie à son club à Bourges, elle fait l'unanimité. Dans les six matchs contestés en Janvier en LFB et en EuroLigue, Dumerc accumule 60 points et 39 passes décisives.

Le choix de nos fans du basket féminin prouve qu'on peut compter sur cette joueuse, surtout dans des phases difficiles. Dumerc accumule des titres dans son sport, entre autres l'Argent aux JO en 2012, la Bronze à l'Euro en 2011, Championne d'Europe en 2009, la Bronze au Mondial espoirs en 2003, la Bronze à l'Euro espoirs en 2002 et la Bronze à l'Euro cadettes en 1997.
Il s'y ajoute son palmarès individuel: All Star Euroleague FIBA en 2009 et en 2011, MVP LFB en 2008, MVP du Tournoi de la Fédération en 2007 et MVP espoirs LFB en 2001 et en 2002.
En plus Dumerc gagne des Coupes avec ses clubs respectifs et se voit maintenant propulsée dans la notoriété avec des distinctions telles que: Chevalier de l'ordre national du mérite en 2012, lauréate du prix du sportif français de l'année des auditeurs de Radio France en 2012 en étant la première femme à recevoir ce prix décerné par le public. Il ne faut pas non plus oublier son élection de joueuse européenne de l'année par la Gazetta Dello Sport en 2012.
---
Like this page / Aimez cette page