womensbasketball-in-france's
LFB player of the month for November
Edwige Lawson-Wade

Edwige Lawson-Wade picked up the 2012 LFB player of the year in April and an Olympic Silver medal in August. The accolades have not stopped as our readers have nominated her as the player of the month in the Ligue Féminine de Basketball for November.
Veuillez trouver en bas de page des informations en français ...

Lawson-Wade edged out her team-mates Gaëlle Skrela (September player of the month), Géraldine Robert, last month's winner and Fatimatou Sacko.
The other players in the running for the award were Bintou Diémé from Villeneuve d'Ascq, Kimberly Smith from Tarbes as well as the Aix-en-Provence duo Marianna Tolo and Cayla Francis.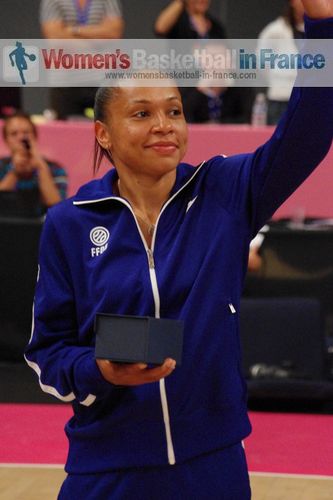 Lawson-Wade averaged 15 points and 4 assists in domestic action during November. She also scored 31 points and dished out 13 assists in the EuroCup competition.
While Dumerc mania still reigns in France, it has been the performance of Lawson-Wade in the last few weeks that have the fans of Lattes Montpellier dreaming to win the LFB title as champions of France 2013.
Her ability to deliver the perfect pass or set up a fast break during the closing stages of tight games have proved to be the difference this season as her team lead the regular season with just 1 defeat in 11 games.

L'imperturbable Lawson-Wade


Après avoir été élu en tant que meilleure joueuse en LFB pour la saison 2011-2012 et après avoir gagné une médaille d'argent avec les Braqueuses, Edwige Lawson-Wade ne se repose pas sur ses lauriers.
Lattes Montpellier espère devenir Champion de France et leur meneuse Lawson-Wade fait tout pour que ce rêve se réalise avec en moyenne 15 points et 4 passes décisives en ligue.

Elle apporte à l'équipe pas seulement l'élan et la vitesse mais aussi - surtout dans les moments critiques pendant les matchs - son intrépidité pour prendre des décisions.
Donc ce n'est pas surprenant qu'elle devance ses co-équipières Skrela, Robert et Sacko, de Villeneuve Diémé, de Tarbes Smith et de Aix Tolo et Francis pour devenir meilleure joueuse pour Novembre.

---
Visit our 2012-2013 Ligue Féminine de Basketball section

Visit our home page
Visit our "What's New" page
picture credits:
womensbasketball-in-france.com

Date created: 04 December 2012
Like this page / Aimez cette page