LFB round 23 recap
No joy in Bourges

Lattes Montpellier are one victory away from winning the 2013 LFB regular season title after seeing off Bourges Basket in the top game of round 23.

At the bottom end of the table Arras did not help themselves by losing. Yet with Charleville-Mézières and USO Mondeville also defeated, the suspense continues on which two teams will finish in the relegation zone.
For Toulouse Métropole Basket the worries of relegation are over as they notched up their 10th victory of the season in beating Nantes-Rezé (82-73).
For Nantes-Rezé this defeat has more or less killed off their ambition for top 4 finish.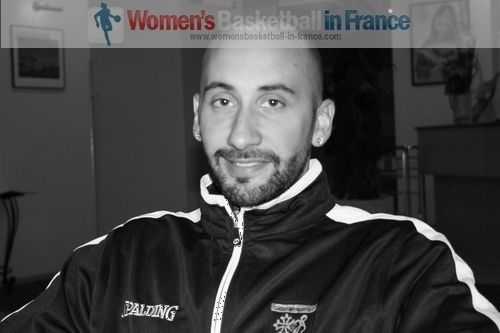 It is smiles at last for Matthieu Chauvet (in picture) and Agathe Degorces (6 assists) with their first home win after losing seven home games in a row since 17 November 2012.
The three foreign players from Toulouse combined for 48 points: Chalysa Shegog 20, Carrem Gay 15 and Adrijana Knezevic 13 (8 rebounds). For Nantes-Rezé Marielle Amant, Antonia Bennett and Caroline Aubert were the leading scorers with 19, 18 and 10 points each.
Tarbes did not give Charleville-Mézières much of a chance and hit them 27-6 during the third quarter to win comfortably (80-44).
Jovana Rad and Paoline Salagnac were the leading scorers for Tarbes with 18 and 15 points while Gabriela Ocete helped herself to 5 assists.
USO Mondeville - who were without Laëtitia Kamba and had Ingrid Tanqueray playing on one leg - had no energy at home to compete against Basket Landes and lost (50-59).
For Basket Landes Carmen Guzman continues to impress in the LFB with 18 points and 4 assists while Valériane Ayayi is becoming stronger with 11 points (5-from-6 shots) and 7 rebounds.
Giedre Paugaite and Naignouma Coulibaly (11 rebounds) were the only players from Mondeville that played to their potential to both score 14 points.
The final match from LFB round 23 between Hainaut Basket and Villeneuve is scheduled for 20 March.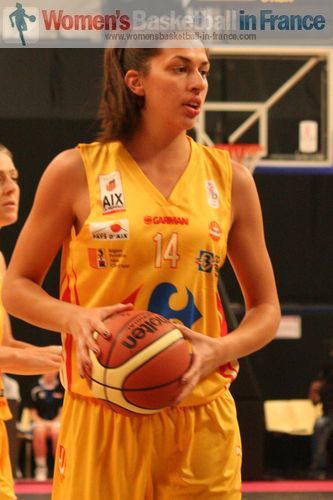 Bruno Blier's return to Arras, his old hunting ground, with Aix-en-Provence and walked away with the victory (81-66).
Australian international Marianna Tolo (in picture) was on top of her game with 19 points and 12 rebounds. Sylvie Gruszczynski (4 assists) was also in good form with a game high 21 points.
For Arras Dawn Evans (5 assists) was the leading scorer with 19 points. This defeat leaves Arras with no more jokers, one defeat in their last three games will leave them in the relegation zone.
Due to technical problems the planned LFB TV broadcast by Perpignan did not take place for their match against Lyon.
Perpignan missed the chance of securing third place in the regular season standing by losing at home to Lyon (54-64).
Lyon edged the free-throw contest 17-of-19 compared to 12-of-18 of their opponents. However the game was won from the three-point line by Lyon with 5-2.
Danielle Page (10 rebounds) and Mistie Mims scored the most points for Lyon with 13 and 12 points while Diandra Tchatchouang had 15 points for Perpignan.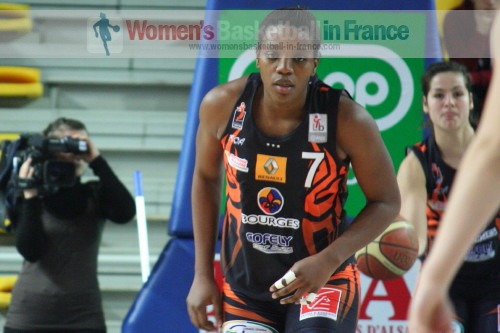 This has been a bad week for Bourges with the elimination from the French cup and the ACL injury to Stella Kaltsidou, followed by a defeat at home to Lattes Montpellier (55-67).
The defeat came at a big price with Nwal-Endéné Miyem (10 points) having to leave the game in the second quarter with a suspected broken nose. She appeared briefly in the final quarter wearing a face mask.
Lattes Montpellier never trailed in the game and were paced to victory by Géraldine Robert (14 points and 10 rebounds) and Fatimatou Sacko (13 points).
Emméline Ndongue was the leading scorer for Bourges with 12 points.
March Madness continues for Bourges Basket with a trip to Ekaterinburg (Yekarerinbug) for the EuroLeague Women Final Eight.

Despite the defeat Bourges can finish no lower than second in the LFB regular season standing.

Tarbes 80-44 Charleville-Mézières
Toulouse Métropole 82-73 Nantes-Rezé
Perpignan Basket 54-64 Lyon BF
USO Mondeville 50-59 Basket Landes
Bourges Basket 55-67 Lattes Montpellier
Arras 66-81 Aix-en-Provence
---
Like this page / Aimez cette page