Playing basketball in the LFB is
now over for Hainaut Basket

Unless teams are not promoted Hainaut Basket will be playing basketball in the LF2 (division 2) next season (2013-2014). They became the first team to be officially relegated from the Ligue Féminine de Basketball after their home defeat against Villeneuve d'Ascq (71-74) in the final game from LFB round 23.

Villeneuve d'Ascq on the other hand had something to celebrate because they left the relegation zone for good.
The game was not pretty. By the end of the third quarter Villeneuve d'Ascq looked home and dry leading (59-39).
However during the final quarter Villeneuve d'Ascq fell apart and allowed Union Hainaut to make up 22 points.
Ify Ibekwe (16 points) and Ashley Houts (21 points) from Hainaut Basket connected with back-to-back three-pointers to make it a 1-point game (69-70) with nine seconds to play.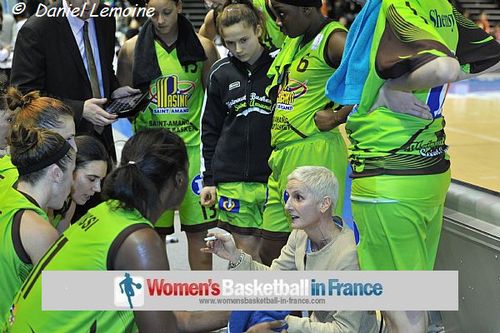 Unfortunately the officials managed to spoil the ending with an unsportsmanlike foul on Houts.
Corinne Benintendi, the Union Hainaut coach, was annoyed with the call by the officials but had to calm down so as not to pick up a technical.

Olayinka Sanni (22 points) knocked down the two free throws. Then on the inbound (side line throw-in) Emma Meesseman (18 points) was fouled. She also hit her free throws.
Hainaut had less than five seconds to score 5 points. They just managed 2 and the game was gone along with their hopes of escaping relegation.
Lenae Williams who was playing with a face mask had 16 points for Villeneuve d'Ascq while Laura Garcia and Petra Stampalija contributed 13 and 11 points for Hainaut Basket.
Hainaut Basket's remaining games for this season see them visiting Lyon and Bourges while hosting Basket Landes.

---
Like this page / Aimez cette page