Agathe Degorces will soon be playing basketball in the LFB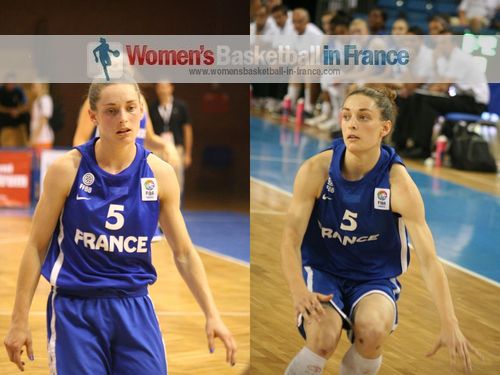 Agathe Degorces has been playing basketball since she was seven and will - for the first time in her career - play in the Ligue Féminine de Basketball (2012-13) with the newly promoted Toulouse Métropole Basket.
However Agathe has another passion which is just as important: art. During the U20 European Championships in Debrecen womensbasketball-in-france had the opportunity to sit down for a one on one with Degorces.

Veuillez trouver en bas du page un résumé en français sur le succès d'Agathe Degorces.

Her career has seen her rise from third division to the elite in three years. Agathe started playing basketball at her home town club in Saint Astier while also participating in other sports.
Besides running, football (soccer) and basketball she was like the rest of her family into music where she learnt to play the saxophone.
Her further development in basketball meant that she had to travel a few kilometres down the road to play at clubs in Razec and Périgueux.

By 2007 Agathe had to make the first big decision of her career that is to leave home and join the basketball academy at Mourenx Basket Club, just over 330 kilometres away.
Unfortunately the club lost its LFB status in 2008 and dropped to the third division. Mourenx Basket club eventually disappeared due to financial problems and Elan Béarnais Pau Lacq Orthez was created.
All the behind-the-scene problems turned into a blessing in disguise for her because she was promoted to the first team by her coach Aurélie Lopez.
Agathe was soon the starting point guard and considered to be one of the most exciting players in the division. In 2010 she won the Basquetbol.org player of the year award for her region.
In 2011 she left Pau and joined Toulouse. Agathe was a key figure as Toulouse outfoxed COB Calais during the LF2 Final Four.
Agathe has been in the group France youth programme since 2008, winning a Bronze medal in 2008 with the U16 team at the European Championship.
Yet she had to wait until 2011 for her next major championship which was the U19 FIBA World Championship for Women.
Agathe has now finished playing basketball in youth competitions with a fifth place finish with the U20 team.
Playing Basketball versus Art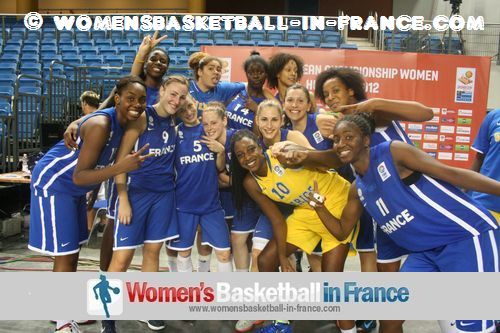 Agathe followed the traditional high school system in France with school all day and basketball training in the evening at the basketball academy.
After passing her French Baccalaureate in 2010, she spent one year on a distance learning programme.
She said she missed the interaction and she did not enjoy finding herself stuck in her apartment most of the day.
Her main reason for moving to Toulouse in 2011 was to actually attend classes with other students. Agathe also had a wider choice of higher institutions to choose from. In addition with Toulouse playing basketball in LF2 it was a perfect situation.

Last season she studied full time and then was playing basketball with Toulouse Métropole Basket (TMB) in the evenings.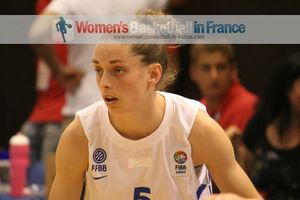 Agathe Degorces has a first step that Usain Bolts would like to have out of the starting blocks.
She explained that her speed came naturally. When she was younger she used to run a lot and played football with the boys. So she had to prove that she was capable.
However she said that she had to spent a lot of time in improving her shooting technique, especially finishing off the dribble. Although we think she has really improved in this area of her game, she is still continuing to train on it.

Interesting enough one of her strong points in LF2 was her distance shooting. But Agathe thinks she is not a pure shooter and does not have the qualities as a shooting guard.
However she likes to play at point guard position because her strength comes in her passing game. She also loves the tactics in setting up the systems.
For her last youth tournament it was nice to see her smile after the last game because she admitted to have been frustrated with France's elimination in the quarter-final.
She hopes that in a few weeks time she will be able to look back with fond memories of this tournament.
Her reaction to the success of the Olympics

She believes this is a great opportunity to raise the profile for women playing basketball after the French women picked up a silver medal. She also hopes that the explosion in media interest flows down to the grass route level with more people taking up the sport.
Her thoughts on the new season in LFB
Agathe is expecting the season to be hard because the team is young and not many players have experience at that level.
Nonetheless she is looking forward to the challenge, and first and foremost the baptism of fire against Montpellier at the Open LFB.

All the same Agathe is not on this journey on her own: Her fan club and her saxophone will accompany her in her strive for success.

Agathe sait jongler entre sa passion le basketball et ses études dans l'art plastique

Venant d'une famille passionnée en musique, elle débute dans le basket à l'âge de sept ans. Pourtant le basket n'est pas son seul passe-temps: elle joue, entre outres au foot avec les garçons et apprend à profiter de ses talents dans la vitesse, l'endurance ce qui lui permet de progresser dans le basket. En même temps, elle joue le saxophone.

Dès 15 ans, elle occupe le poste de meneuse en utilisant les bonnes passes, les tactics ce qu'elle aime, mais elle ne s'arrête pas là en travaillant sur son shoot en suspension. Mais elle surprend ses adversaires surtout avec sa vitesse de point.

Son parcours dans le basket montre ses qualités. Elle est choisie pour les moins 16 en 2008 et gagne une médaille de bronze. Pendant ce temps, elle s'entraîne dans le centre de formation à Mourenx. Agathe alors sort de l'anonymat et devient première meneuse à Pau en NF2.
Puis elle passe son bac et basquetbol.org la récompense en tant que meilleure joueuse pour sa division. Après elle commence une formation par correspondance ce qu'elle trouve un peu trop seche. Et en 2011, elle participe au championnat du monde des moins 19.
Après quatre ans à Pau, elle part à Toulouse pour ses études supérieures et devient une des joueuses majeures dans la chasse à la promotion à Toulouse Métropôle Basket et se montre à la hauteur. Toulouse est promue.

Pour la saison 2012-13, Agathe jouera en LFB et se voit confronter aux géants comme Montpellier, Bourges Basket etc. C'est sûr elle va tout donner et certainement l'échec au championnat de moins 20 ou la France termine que 5ième sera une motivation pour mieux faire.
---
Visit our home page

Visit our "What's New" page
Playing basketball picture credits:
womensbasketball-in-France.com
Date created: 3 September 2012

Like this page / Aimez cette page