Ligue Féminine 2: Defense was
Toulouse's way to the final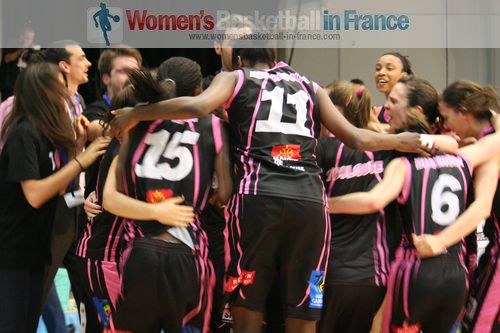 The first semi-final of the Ligue Féminine 2 Final 4 between COB Calais and Toulouse lived up to its billing of a tough game.
Toulouse are the second team in the defense statistics and they gave a good demonstration during the last 13 minutes in knocking over COB Calais.
Veuillez trouver en bas du page un résumé du match Calais contre Toulouse.
Matthieu Chauvet's tactic of keeping Manon Sinico off the ball worked well because she only managed to score 3 points for the whole game. Also Toulouse won the more crucial rebounds when they were on the back foot.
While Carrem Gay led the team in scoring and rebounding, it was the unselfish work of Lorraine Lokoka and Darline Nsoki that proved to be decisive towards the end of the game.
Calais had their chances to blow the game away during the second quarter but failed and ended up losing to a more organised team.

Toulouse Métropole Basket Féminin still in title race fro title
The match started with a very interesting opening sequence with Toulouse scoring with mainly individual drives while Calais settled for fast breaks and long-distance shooting.
After a positive start (4-0), Toulouse lost their way letting Calais tie the game at (4-4). Then Toulouse was missing their captain Emilie Maurice who had to sit out with 2 early fouls.
Agathe Degorces and Carrem Gay did their best to slow down COB Calais from running away as they were faster and more aggressive.
The lead changed hands four times during the quarter and the teams were level on three other occasions before Calais edged the first quarter.
At the start of the second quarter Toulouse were more lively and went 5 points clear (25-20) with just over 14 minutes played.
Cyril Sicsic (in picture) was forced to call a time-out and basically told his players off. His approach worked as Mélanie Arnaud went on the war path with Calais regaining the advantage (28-27).
In the meanwhile Mélanie Devaux from Calais and Degorces were having a private match-up in which neither player won.
The two teams continued their cat and mouse game with most of the scoring coming from second-chance points.
Although not spectacular the game was intense and interesting as Calais went into the locker room leading (32-31).
You could not ask for a better third quarter in terms of defending with most of the points coming with back door cuts, reverse lay-ups and shots from nowhere.
Calais made the first break with Aurélie Cibert pushing her way into the paint for a lay-up (47-43) with 90 seconds left to play in the quarter. Cibert followed this up immediatley with a steal and then a pass for Arnaud to score.
Matthieu Chauvet (in picture) called for a time-out with his team trailing (44-49) with 44 seconds to play. His team went on a fast break and worked the ball to Darline Nsoki who hit a long distance two-pointer. Toulouse then forced Calais into a turnover and to the ball to Jessie De Colo who hit a tree-pointer.
The game was tied once more (49-49) going into the final quarter.
After the offensive storm of the third quarter, nothing happened for three minutes of the final quarter with the first points coming from the charity stripes with 2 points for Grey, Toulouse.
Devaux went on a coast to coast for Calais but De Colo hit back with a big three from the top of the arc. Toulouse were winning all the lose balls and with three minutes to play they led (58-53).
Calais were beaten physically and could do nothing right in the closing minutes and their chance of a final disappeared.

COB Calais: Pauline Diawakana DNP, Floriane Herrscher 10, Emilie Duvivier 5 (4 assists), Mélanie Devaux 8, Aurélie Cibert 11, Mélanie Arnaud 17, Manon Sinico 3 Marine Capon DNP, Constance Delbecque DNP, Britany Miller 2
Toulouse: Lou Mataly DNP, Agathe Degorces 7(5 assists), Jessie De Colo 9, Nina Bogicevic 11, Darline Nsoki 7, Emilie Maurice 2, Maud Medenou 2, Lola De Angelis, Carrem Gay 15 (11 rebounds), Lorraine Lokoka 13
Pas moins que le titre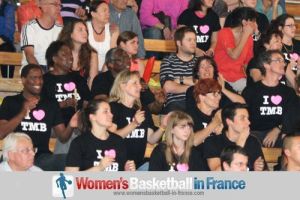 La première semi-finale entre COB Calais et Toulouse, des anciens clubs en Ligue Féminine de BasketBall, était un match de haute qualité dont ses actrices ne lachaient pas prise.
Carrem Gay et Mélanie Arnaud poussaient leurs équipes respectives pour reprendre les commandes de la rencontre. Avec une Lorraine Lokoka en feu, les Toulousiennes reprennaient 5 points d'avance à la 13ème minute. Mais Calais revenait et à la mi-temps les deux équipes étaient presque coude à coude (31-32).
Même dans le troisième quart le chassé-croisé était au menu pour finalement - au money time, laisser l'avantage aux Toulousiennes avec une Jessie De Colo adroite avec son deuxième 3-points et une Agathe Degorces qui élargait l'écart. Leurs défenses, leurs hargnes aux rebonds et leurs adresses a permis aux Toulousiennes de battre leus adversaires (65-56).
Ligue Féminine picture gallery: COB Calais vs Toulouse Métropole Basket Féminin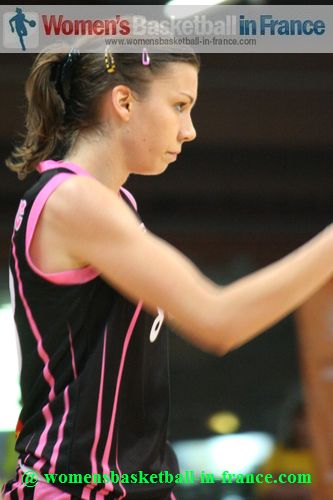 Move your mouse on the small pictures to view

---
Perpignan qualify for the 2012 Final 4 final match
Look back at what happened in the final weekend of the regular season
Visit LF2 2011-2012 basketball news page
Visit the Ligue Féminine de Basketball news for 2011-2012
Leave Ligue Féminine 2 news and return to home page
Return to the top of Ligue Féminine 2 news page
Ligue Féminine 2 2012 Final 4 picture credits:


womensbasketball-in-france
Date created: 12 May 2012

---