Ligue Féminine 2 regular season champions
qualify for final
Although the Ligue Féminine 2 regular season winners Perpignan Basket came into the semi-final as favourites against Voiron, François Gomis, Perpignan's coach just saw this as another game they had to win and did not put any extra pressure on his players.
Veuillez trouver en bas du page un résumé en français de la rencontre entre Perpignan et Voiron.
Voiron had the better game plan at the start of the game. If not for the injury to Magali Mendy early in the first quarter the outcome might have been different. Bertrand Parvaud, the coach from Voiron, had his team playing aggressively in the first quarter not allowing Héléna Ciak room to work.
What hit Voiron in the end was the foul count against senior players as well as with Mendy on the bench and the absence of Mélanie Vernier (injury) and Perpignan were able to contain Amanda Lassiter.
Perpignan did not play well and huffed and puffed for 40 minutes. Ciak got them out of trouble during the middle part of the game. When Clémentine Samson found her scoring touch during the final quarter it was one-way traffic. However the spark came off the bench by Princesse Goubo during the second quarter bringing the hosts into the game.
Hosting a Ligue Féminine 2 final 4 is not easy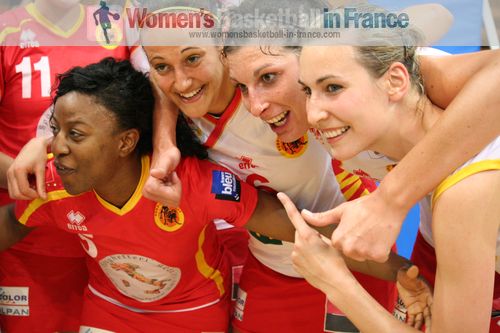 The game was just 10 seconds old when Isabelle Strunc had to go off after she had ran into Khadidiatou Gassaman and had to go off for treatment. Strunc was to return and finish the game.
Seconds later Voiron struck first with Faëza Bouderra finishing off a fast break transition with a lay-up.
Héléna Ciak responded with an easy tap seconds later for her only points of the quarter. The game was slow with neither side able to get anything going. Unfortunately with the game tied (8-8) the match was held up for several minutes while Magali Mendy received treatment before being carried off the court.
Bouderra was on a one-lady demolition mission for Voiron as her team edged the first quarter (16-12). However more importantly her aggressive style pushed Fatou Dieng into committing 3 first-quarter fouls.
The second quarter should be remembered for the work of Ciak with 8 points and the scoring of Laina Badiane and Pauline Lo with the hosts regaining the advantage (23-20) five minutes into the quarter.
Perpignan had to thank Princesse Goubo who was electrifying with her cross overs, it was just a pity that her legs carried her too quickly to the basket.
Bouderra picked up 2 fouls against Goubo in a fascinatig battle between the two players. All the same Perpignan led (33-29) at the break.
Perpignan continued to feed the ball to Ciak during the third quarter and as a result allowed Voiron back into the match. Voiron were able to read the plays and basically cut off the ball from reaching Ciak or double teamed her into for her to turn the ball over.
This pressurizing resulted in the unlucky Strunc getting called for an unsportsmanlike foul when trying to save a turnover. Bouderra hit the free throws and Voiron were back into the lead (43-42) with 27 minutes played.
The lead did not last long as Strunc was fouled on a drive to the basket for her to convert the free throws.
The final quarter turned into a festival of misses from both sides. Amanda Lassiter was pushed further and further into the corner for Voiron but continued to shoot, Perpignan were just lucky that her shoots kept rimming out. Her highlight was a rejection on Ciak.
All the same Perpignan had taken control and when Pauline Lo hit a shot from nothing (53-46) with 35 minutes played, the pendulum had finally swung in favour of the hosts.
Clémentine Samson then took over and the Ligue Fémnine 2 champions cruised to victory and to qualification for the final of the Final 4 (63-52).
Perpignan: Princesse Goubo 2, Clémentine Samson 15, Laina Badiane 8 (4 assists), Nzumba Kamalandua DNP, Fatou Dieng 0, Camille Ruiz 2, Pauline Lo 8, Pauline Thizy 4, Isabelle Strunc 2, Héléna Ciak 21 (16 rebounds)
Voiron: Faëza Bouderra 17, Johanna Joseph 5, Magali Mendy 4, Khadidiatou Gassaman 7, Laure Mercier 5, Julianne Anchling 3, Cyrielle Reccoura 2, Amanda Lassiter 7, Cassandre Blanchon 0, Ivona Jerkovic 2
Perpignan ne gagne pas sans peine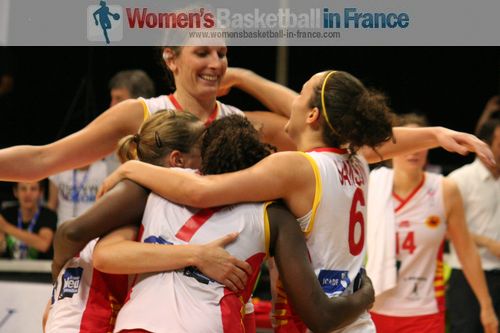 Quoique Voiron perdait Magali Mendy dans le premier quart, leurs joueuses étaient une menace pour Perpignan avec une défense intelligente écartant Héléna Ciak.
Surtout grace à Faëza Bouderra, Voiron restait en contact de ses adversaires avec l'aide de ses co-équipières Amanda Lassiter et Khadidiatou Gassaman.
Avec Clémentine Samson et Ciak retrouvant un peu l'adresse au shoot, les Perpignanaises enfin se débarassaient de Voiron dans le 4ème quart pour gagner le match (63-52).
Picture gallery: Perpignan Basket vs Etoile de Voiron Basket Féminin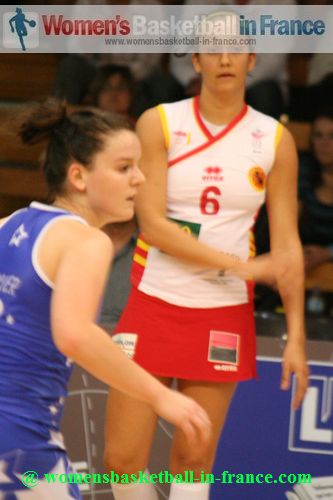 Move your mouse on the small pictures to view
---
Toulouse first to qualify for Final after knocking off COB Calais
Visit LF2 2011-2012 basketball news page
Visit the Ligue Féminine de Basketball news for 2011-2012
Leave Ligue Féminine 2 news and return to home page
Return to the top of Ligue Féminine 2 news page
Ligue Féminine 2 2012 Final 4 picture credits:


womensbasketball-in-france
Date created: 13 May 2012

---